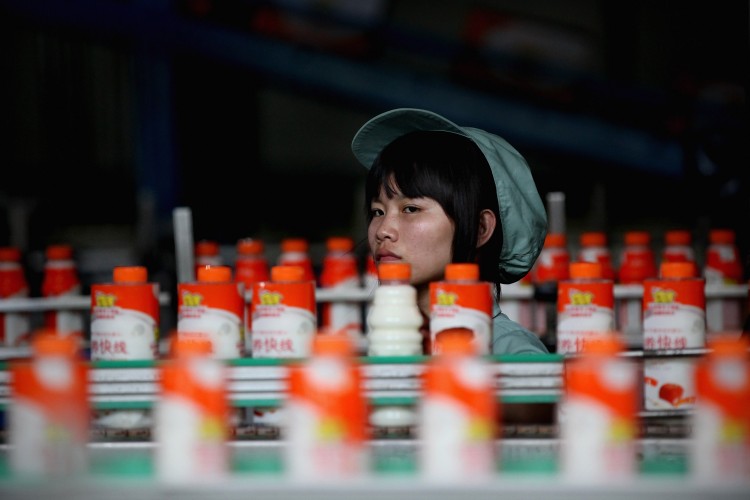 On Sept. 9, a report by the National Bureau of Statistics of the People's Republic of China showed that the consumer price index (CPI) increased 2 percent year-on-year in August. Compared to last month, it increased 0.6 percent and ended a 4 month downtrend. Some components of the basket like the price of fresh vegetables increased 23.8 percent and fresh fruit went up 9.7 percent compared to August last year. 
Some professionals don't think inflation will stay low though. Zuo Xiaolei, a Managing Director with China Galaxy Securities, believes the CPI will be higher than 2 percent for the next few months, he told state run media. Analysts from Barclays also expect inflation of 3-3.5 percent each month until the end of the year.
Food products are a very important component of CPI for China, as they make up a large share of spending. Food prices rose 3.4 percent in August, higher than the 2.4 percent increase in July. Apart from the jump in fresh fruit and vegetables, aquatic products rose by 5.6 percent, grain by 3.2 percent, and fats and oils by 4.5 percent. All of those increases are higher than the consumer price index; food inflation made up 1.1 percentage points of the total 2 percent.
Multi-faceted Inflation
In discussions on microblogging website Sina Weibo, Minzu Securities Chief Strategist Xu Yiding explained that there is a difference between official numbers and people's perception of prices, a point of view which has been echoed by some officials. The original post, however, had been deleted when by Sept. 11.
Chen Bingcai, a well-known Chinese economist, told Phoenix Finance: "According to statistical analysis, even if monetary policy is kept [at a stable expansion rate], in the future it will take time for prices to fall. Real estate prices have not dropped significantly, and they are even rebounding. … Commodity prices are still a problem."
Analysts believe that part of the problem is the lax monetary policy and excessive fiscal stimulus from central and local authorities. Nonetheless, in order to shore up growth, the regime is trying more of the same, as local governments have a total over $1.1 trillion worth of stimulus projects in the pipeline which will be implemented over the coming years.  
It seems the regime will relax monetary policy again and lower interest rates to spur growth. As it has been shown in the past, however, both of these policies will result in further and even higher inflation. 
Producer Prices Different
While the CPI is trending up—mostly because people still have jobs and are demanding wage increases— the producer price index, or PPI, used to measure input prices for companies, continues to drop and went down 3.5 percent in August, a 34 month low, signaling an important divergence that could be a signal of a bleak outlook for the Chinese economy. 
HSBC's chief economist Qu Hongbin points out that a falling PPI is due to the downtrend in the real economy, he commented in the state-run media China Enterprise News online.  
Financial commentator Hong Hao also thinks that the falling PPI means that China's manufacturing industry is in a downtrend and continues to slip, according to Economic Daily online, a newspaper directly managed by the Chinese Communist Party.  
Hong Hao says that within the latest 6 months, the decline in the PPI accelerated, which led the market to worry about potential deflation risks in manufacturing. Weak economic data for August—slowing industrial production and export growth—confirms his analysis. It also corroborates the theory that China is facing massive overcapacity in manufacturing, as a Barclays analysts wrote in a note to clients: "The sharp deceleration in PPI confirms anecdotal evidence that a rapidly weakening demand is exacerbating the overcapacity situation in various industries…" 
Read the original Chinese article.
The Epoch Times publishes in 35 countries and in 19 languages. Subscribe to our e-newsletter.
Click www.ept.ms/ccp-crisis to read about the most recent developments in the ongoing crisis within the Chinese communist regime. In this special topic, we provide readers with the necessary context to understand the situation. Get the RSS feed. Who are the Major Players?