Natural Gas Demand Forces Fracking Issue
August 30, 2012 11:32 pm Last Updated: September 29, 2015 5:15 pm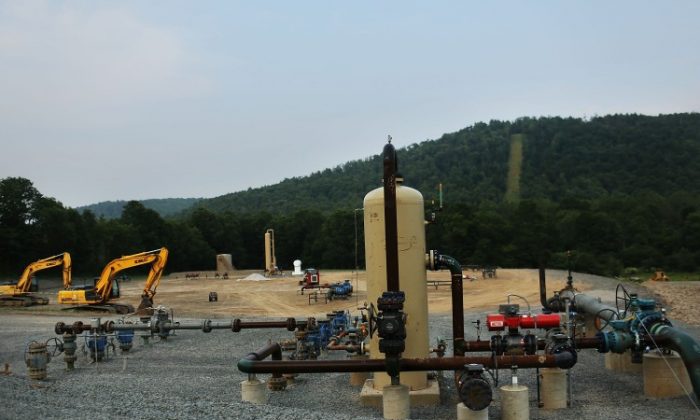 NEW YORK—The fate of hydraulic fracturing, otherwise known as "fracking," in New York state is an unsettled debate; and while many residents in The Empire State work toward banning the practice, the demand for natural gas is rising.
"We need that gas," Mayor Michael Bloomberg said Thursday. "We need it at a reasonable price. I would rather have it done here where upstate New Yorkers can make some money."
Currently, fracking is the most widely used way to extract natural gas, and while it is not currently allowed in New York state, the Department of Environmental Conservation is expected to release its draft environmental impact statement and recommendation by the end of the year.
The fracking process has attracted considerable concerns from stakeholders, mainly about possible contamination of ground water from the chemicals used in the process, which forces a mixture of water, sand and chemicals deep into the earth's core to extract the gas.
"From a practical point of view you are either going to have coal spewing stuff into the air, or you are going to use natural gas," Bloomberg said Tuesday. "[Fracking] isn't perfect, but it is better, and we should have natural gas, and the only way you get natural gas is to frack."

On Aug. 24, the mayor came out in support of safe fracking methods, donating $6 million to the Environmental Defense Fund, through Bloomberg Philanthropies. On Aug. 27, his office released a report it had commissioned to ICF International, titled "Assessment of New York City Natural Gas Market Fundamentals and Life Cycle Fuel Emissions."
According to the report, the higher demand in New York City would be met by natural gas supplied within the region, a shift away from Gulf/mid-continent shale production. New York City gas supplied from the northeastern region, which includes the Marcellus Shale and Utica Shale, is projected to increase to 91.5 percent by 2030, the ICF report said. Production in 2005 was 13 percent.
There is no mention in the report if the increased gas production would be coming from New York-specific wells where there is a moratorium on fracking. The Marcellus Shale, which accounts for almost half of the total shale resource in the country, stretches across large parts of Pennsylvania, New York, and West Virginia.
Demand and Supply
The increase in demand for natural gas is due to a number of factors, including recent policy changes at both the federal and local levels to shift away from coal toward natural gas for power generation.
In June of 2011 the Environmental Protection Agency implemented the Cross State Air Pollution Rule, which requires states to decrease power plant emissions. The rule does not specify natural gas as a cleaner alternative, however natural gas production has been increasing for the past 15 years.
On a local level, the impact of a ruling to convert heavy oil boilers in buildings is a significant factor in the increased demand for natural gas. No. 6 boilers must be converted from heavy oil to a cleaner fuel by 2015 and No. 4 boilers by 2030.
"The increase in peak demand would be more pronounced on ConEd, where 89 percent of the increase in gas use from conversions is expected to occur," according to the ICF International report. "For ConEd, the impact is expected to be up to a 58 percent increase in gas consumption on a peak day."
There is no way to tell if all of the boilers will be converted to natural gas, the report said. However, it cited the low cost of gas currently, as well as the projected low cost in the future.
"Within New York City, most power plants already use natural gas as their primary fuel source," the report stated. "Therefore, natural gas consumption is expected to grow primarily due to the conversion of boilers from heavy fuel oil to natural gas."
With a 25 percent conversion rate, ConEd is expected to see a 14 percent increase in its natural gas use on a peak day, according to the report. A rise in population of 30,000 people between 2005 and 2009 was listed as another contributing factor to increased gas use.
Safety Issues
As the state moves away from coal-powered electric plants and heavy oil boilers in New York City buildings, the demand for natural gas is currently outstripping other renewable energy sources.
"Solar and wind are nice but are not real term solutions unless we improve the capacity to transmit energy long distances, without sufficient losses," Bloomberg said Thursday. "We are going to have to depend on coal or natural gas or nuclear here for an awful long time."
Thomas Cluderay, assistant general counsel for Environmental Working Group, said, "Natural gas has been touted as alternative in a coal world. Those talking points are appealing, but the science is troubling still. There are a lot of gaps here that need to be addressed."
Cluderay cited studies that suggest the environmental impact of methane leaks during the fracking process may have been downplayed. The studies say methane is far more harmful to the environment than carbon dioxide released from coal-burning plants.
Studies have been released both supporting and denouncing methane leaks, a disparity Cluderay said was likely do to with who drafted the report and where their interests lie.
As the air quality debate continues, the risk fracking brings to the water supply is a little clearer cut. Bloomberg has been adamant about no drilling around the New York City water supply, saying while contamination is unlikely, the risk of contamination in the water for 8 million people is too great.
Dusty Horwitt, senior counsel at EWG, agrees drilling around the New York City watershed is a bad idea, but pointed out the current draft plan from the DEC would allow drilling within 1,000 feet of water supply tunnels, with a special permit.
Horwitt said the other concern is the drilling buffer zone. "The buffer zone around the New York City watershed is 4,000 feet, but that is 4,000 feet from the well pad," Horwitt said. A driller could drill a horizontal well stretching much closer to the New York City watershed.
According to the PlaNYC, the mayor's vision for a greener New York, if fracking were allowed to threaten New York's water supply, the city could be forced to build a filtration plant that could cost more than $10 billion to construct and $100 million per year to operate.
The natural gas demand will need to be met and whether or not that comes from natural gas via fracking in New York state will be decided by the end of the year.
The Epoch Times publishes in 35 countries and in 19 languages. Subscribe to our e-newsletter.