A mysterious boom was heard in Caledonia, Mississippi, according to local media outlet WCBI-TV.
The noise was heard at around 11 a.m. ET on Tuesday, shaking windows, surprised residents told the station.
The nearby Columbus Air Force Base Office of Public Affairs said they don't have a reason to believe the base was behind the boom. An investigation was launched, a spokesperson told the news outlet, which had suggested that a plane may have produced a sonic boom.
WCBI noted that the base rarely permits supersonic travel after it "caused lots of damage on the ground in the 1960s and 1970s."
The Tennessee Valley Authority, meanwhile, said there were no problems at the Caledonia Combined Cycle Plant.
Several local officials – including Caledonia Mayor Mitch Wiggins and Lowndes County Emergency Management Agency Director Cindy Lawrence – said they got no reports of the boom or damage.
Wiggins, however, said he saw reports online from local residents in Caledonia, but he added that no 911 or emergency calls went out.
The U.S. Geological Survey said there was no earthquake in the area.
It comes after more than five-dozen mysterious booms were felt across the world in 2017, according to a recent tally.

A recent boom was reported on Nov. 20 at around 9 p.m. in Lochbuie, Colorado.
"[O]ur officers were notified of a suspicious sound, described as a 'loud boom' that shook multiple houses, coming from the northwest side of Lochbuie. At this time, the origin of the sound is unknown," Lochbuie Police Department stated on Facebook.
There were also booms recorded in places like New Zealand, Detroit, and New Jersey.
A few weeks ago, a boom was felt near Birmingham, Alabama. The U.S. Geological Survey also said there was no earthquake related to this incident.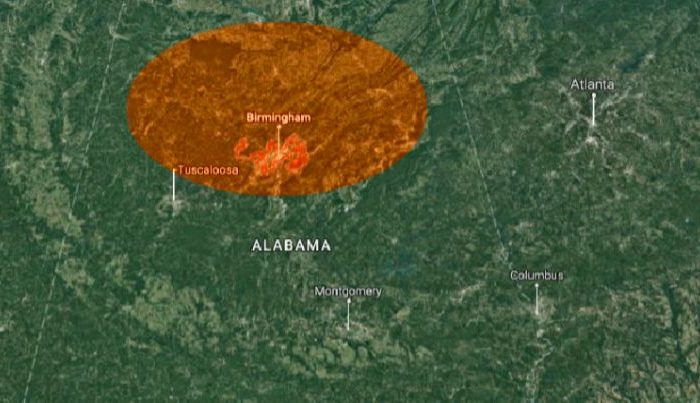 "Reports of a loud sound coming from various parts of the county," St. Clair County Emergency Management Agency said on Twitter after the Nov. 15 "'Bama Boom." "We will post information as soon as it becomes available."
And while you're here… we have a little favor to ask of you. We work hard to deliver important and interesting articles to you, but we can't do it without ad revenue.
Please help support independent journalism by sharing this article with your friends and family. It takes less than a minute. Thank you!