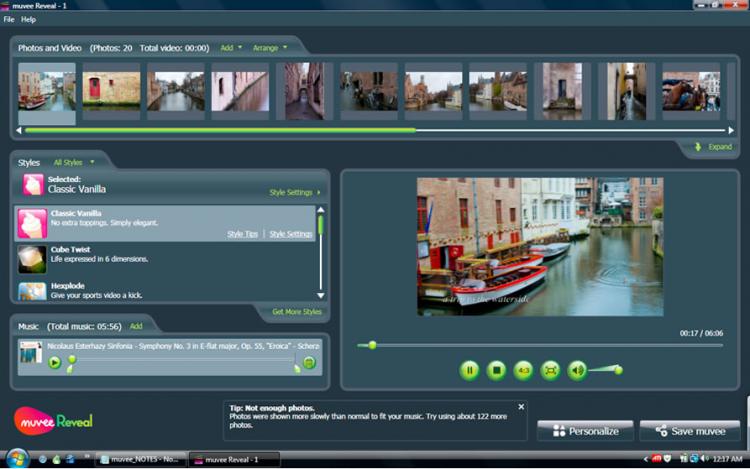 Muvee Reveal 8 rests at the top of the list when it comes to easy-to-use video editing applications. The software for PC allows users to create home videos and slideshows that have a fairly professional look, in a matter of minutes.
There are a limited number of tools in this application, that limit what can be done. But the light toolset is also part of the point of Muvee Reveal 8, as the lack of advanced tools keeps the application simple enough for just about anyone to use.
Those who know video editing in even entry-level applications such as Adobe Premier Elements 8, will probably want to look elsewhere, as they will feel the limitations of Muvee Reveal 8. However, for those without much experience in video editing, Muvee Reveal 8 is a great option as it has a low price and is easy to learn.
It is for those out there who have no desire to try and learn professional video editing—someone who just wants to take photos and family videos and who does not want to read a textbook on how to make a family video or slideshow.
Working in Muvee
I found the workspace in Muvee Reveal 8 to be easy to navigate and simple. There are only four menus—one to select images and videos, one to choose music, one to choose a style, and one to watch a preview of the video.
Anyone who knows how to use a computer should be able to use Muvee. This is as simple as it gets. Just add the images and videos you want to include, choose a soundtrack, select a style from a list, and the video is ready.
To begin the testing process, I imported a few images and a video clip to the image panel that is shown as a banner across the top of the workspace. A small thumbnail is shown of each image and they can be moved and swapped with other images by simply clicking and dragging on them.
The photo and video menu only has three buttons—one to add files, one to arrange files, and one to view all the files. The application is also compatible with most major files for images, videos, and audio.
There are no complex tools for editing scene length, cutting, and so on. All of this is done by clicking an image or video, which brings up a small menu. From there, basic features can be edited, such as how long a scene displays for. Videos can be divided into smaller scenes, and simple thumb up and thumb down buttons are used to choose which parts stay and which parts go.
I had no trouble with any of the features, although I would have liked to see the ability to make longer scenes.
Many features are automated, such as spacing scenes to keep pace with the soundtrack, transitions, and some effects. A lot of these also have a bit of customization options, but stay simple. The automated element of Muvee is helpful, as it gives new users a chance to create something right away, but users with a bit more experience will want to customize these elements themselves.
I was able to make some basic adjustments to the images, such as 90 degree rotation. There are also some automated editing features. A color correction tool seems to also correct lighting, and works fairly well. The features definitely help users who may not use photo editing applications.
Adding Style
After preparing the images and video, I moved to the Styles panel. The Styles add effects to the video and determine the overall look and feel of it. Some styles make the images move along with the beat of the music, some have transition effects, while others just keep a smooth look.
Muvee Reveal 8 comes with 10 styles by default. A few more can be downloaded from the Muvee Web site—some are free while others cost around $14 a pack.
Selecting a style for the video is very easy. All I did was clicked on the one I wanted and it was done. Elements of the style can also be customized and there is a tips button that tells a bit about the features. The customization menu adjusts the intensity of some of the effects and allows individual to be turned off if desired.
Adding music was just as easy. There are only thee buttons—one to select a music file from the computer, a play button, and a delete button. Multiple audio tracks can be added and where the tracks begin and end can be adjusted using two simple slider tools.
After adding a second song I found the transition options to be a bit difficult to time correctly at first. I wanted to have the video play a different song at a specific scene, but since there is no timeline displaying at which point a specific image or video will be displayed, it was a bit difficult.
I then realized that this could be done using the preview player. I played the video and set the end of the song according to time when the image I wanted appeared. It worked just as well.
Since the draw of Muvee is its simplicity, it could be a good thing that a timeline is not included—since the preview screen can be used for the same purpose. Still, more experienced users will desire more.
A "Personalize" button in the lower right corner of the workspace brings up a menu where a user can add a title screen, credits, and customize a few other features. It seems to be Muvee's way of adding a few additional tools without cluttering the workspace.
When all is said and done, a save button brings up a large list of save options—High Definition (HD) quality, make a DVD, save for mobile devices, a button to save and upload to YouTube, and a few others. Once an option is selected, it brings up a few file types, shows how much memory each will take, and gives a brief description of the benefits of each one.
In a Nutshell
All around, Muvee Reveal 8 is a good application for the casual user. Again, the simplicity is the real draw. It has a pleasant workspace, intuitive tools, and the videos it produces look pretty good.
The contender here would be Premier Elements 8, which is also aimed toward beginners. The main difference is that while Premier Elements offers more features, Muvee is much easier to use. If a user is looking for a wider range of capabilities, Premier may be the better bet, but if they are looking for an application without much of a learning curve and that produces videos quickly, Muvee may be the better choice.
Although it does have its limitations, Muvee is a pleasure to use, and produces good results while keeping things simple.
Price: $38.98
Web site: www.muvee.com
[etDetailsBox Muvee Reveal 8]
Effectiveness:C+
Interface:A
Usability:A
Installation:A
Overall:B
[/etDetailsBox]