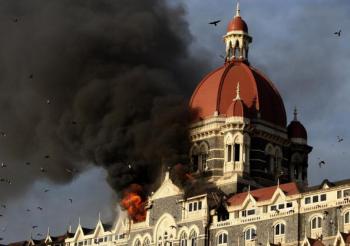 For many in Mumbai—and in fact, all over India—November 27, 2008, will be remembered as a night without end. In several audacious terror attacks in India's financial captial, Mumbai, at least 101 people have been killed and 287 injured.
UPDATE, November 28, 9:15 am EST: According to latest news reports in Indian media, Indian commandos are reported to have secured the Taj Mahal hotel and released all hostages held there. Hostages are still believed to be held at the Oberoi hotel and Nariman Point, where paramilitary troops are fighting pitched gun battles with militants. More explosions have been reported at the Oberoi.
In one of the attacks the Taj Mahal Hotel—one of India's oldest, most prominent hotels and the namesake of one of the world's most prized landmarks—was damaged by an explosion on its roof, followed by a fire.
Over 100 have been reported to have been taken hostage in the Oberoi hotel, and militants armed with guns and grenades were reported to hold the Charapathi Shivaji rail station. Both locations had been subject to terrorist violence just earlier in the night.
Audacious and Horrific Attacks

Terrorist violence is nothing new to Mumbai, where in July 11, 2006, over 175 people were killed in seven serial bomb blasts on suburban railways across the city.

But today's attacks seem to be set apart by the absolute verve and tenacity with which they have been planned and executed.
The carnage is reported to have started at 10:30 p.m. in Mumbai, when two men carrying AK-47 automatic rifles and grenades made their way into Chhatrapati Sivaji Terminus, Mumbai's railway hub that commutes millions of people a day. The men then started spraying the concourse with machine gunfire, killing many and leaving the terminal blood-stained.
The assault at the rail station was only the beginning. Within minutes, men with machine guns, bombs and grenades stormed the Taj Mahal Palace, Mumbai's premier hotel. A British guest, Raj Patel, told media that the gunmen were "very young, like boys" and aged in their early 20s.
The gunmen then herded "anyone with British and American passports" to the roof.
At 3:30 am, a loud explosion was heard in the heritage wing of the hotel. The explosion ripped apart one of India's most enduring iconic structures.

Explosions had also been heard at the Oberoi hotel, another landmark hotel in Mumbai. Gunmen are believed to have also taken dozens of hostages at the Oberoi and sealed them off at the roof.
Gunfire and explosions have also been reported in at least 7 to 16 other locations across Mumbai.
Paramilitary and anti-terrorist forces have been stationed in full force outside the Taj Mahal as well as the Oberoi.
Targeting the Bush-Obama Transition?
The U.K. Times reported that the coordinated terrorist attacks, focusing on Western targets, carried the trademarks of an al-Qaeda attack. Intelligence discussions in recent weeks had pointed to a "terrorist spectacular" somewhere around the world to mark the transition as President George Bush leaves the White House and President-Elect Barack Obama is sworn in his place.
Intelligence forces have apparently said that the expected terrorist assaults were planned to target a "soft" target and have maximum impact. The assault on the most prominent hotels frequented by Westerners provided exactly such an opportunity for al-Qaeda militants.
The terrorist attacks took the lives of Hemant Karkare, the head of Anti-Terrorism Squad (ATS), the city's premier operations unit for handling terrorism cases. Mr. Karkare and two of his most senior men were reported to have perished in the line of duty after being injured seriously in counterattacks on the terrorists.
While it is not clear why Mr. Karkare was in the line of fire, it is believed that Indian security forces simply did not have anyone with the experience to handle such a large-scale and unprecedented attack on Mumbai, and ATS had to pick its best and most experienced men for the job.
Four terrorists were reported to have been killed, and nine apprehended.