Motorexpo Brings Luxury Cars to New Yorkers
September 9, 2013 10:23 am Last Updated: September 9, 2013 12:27 pm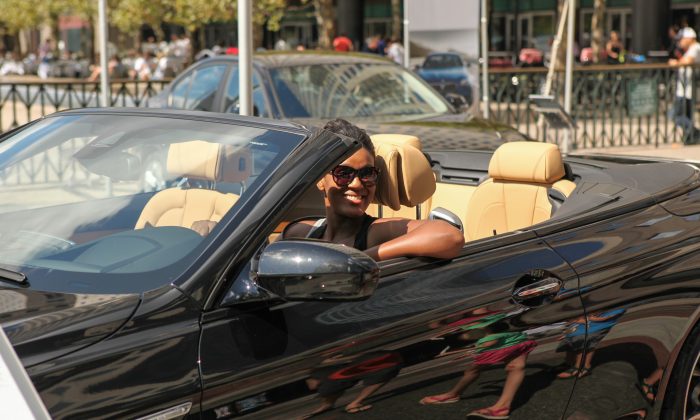 NEW YORK—There's no need to go from car dealer to car dealer when you have the biggest car show in the world coming to lower Manhattan for a whole week.
The Motorexpo opened this Sunday afternoon. The CEO of the event, Graeme Carver, said it's a perfect opportunity for people who've had their eye on a car, or who've been thinking of an upgrade, to make a purchase.
"The people who are here are so busy, they don't want to spend going around a lot of car dealerships, they just want to kind of come down from their office and go 'You, know I might have a corvette, or I might have a Cadillac,'" Carver said.
Carver founded Motorexpo in London, England, in 1996, when he determined that the people at high-end business centers were mostly white-collar men between 25 and 45 years of age. Men at that age have only three interests, according to Carver, "Girls, money, and cars." He said the first two seem to be covered already, so he decided to bring in the luxury cars.
He showed 29 cars at the first event. Now Motorexpo has grown to include shows in three metropolitan cities—London, Toronto, and New York—showing about 70 to 80 cars per show. According to Carver, manufacturers keep coming back to his show because it works.
"There's no real sign of it stopping," he said. Although this year the event was smaller, because of the construction inside the center, Carver still managed to get all the big brands involved.
There were Jaguars, BMWs, Mercedes, Cadillacs, Range Rovers, Minis, and more. The center also offered multiple charging stations for those at who drive electric.
The Brookfield Place building, also known as the World Financial Center, is located at the harbor of the Hudson and is a popular spot for joggers and bikers.
"We love watching the boats and nice cars," said Brooklyn resident Marina Schneider who was strolling around the harbor with her husband Stan.
"I think it's a good way to exhibit the car," Schneider said, as long as it doesn't interfere with the people who are jogging and biking.
Another young couple, Eddie Rodriguez and Andrea Bojaca, had their eyes on a red BMW M6. The couple lives close to the trade center, and said that they typically use public transportation during the week. They also own a Nissan that Rodriguez uses to get to work in Long Island.
"We just got the Nissan, but in a year we will probably make it," said Bojaca about their plans about buying the BMW.