Dozens of people have been left injured after a powerful magnitude 5.9 earthquake struck Tokyo on Thursday evening.
The earthquake—the largest Japan has seen since 2011—occurred at 10:41 p.m. local time and damaged underground water pipes, derailed passenger trains, and caused fires in at least one home, according to The Japan Times.
Japan's Meteorological Agency said the quake was centered in Chiba prefecture, just east of Tokyo, and first registered the magnitude as 6.1, with an initial depth of 80 kilometers (50 miles).
The earthquake has since been updated to a 5.9 magnitude with a depth of 62 kilometers (38.5 miles), according to the United States Geological Survey (USGS). There was no danger of a tsunami.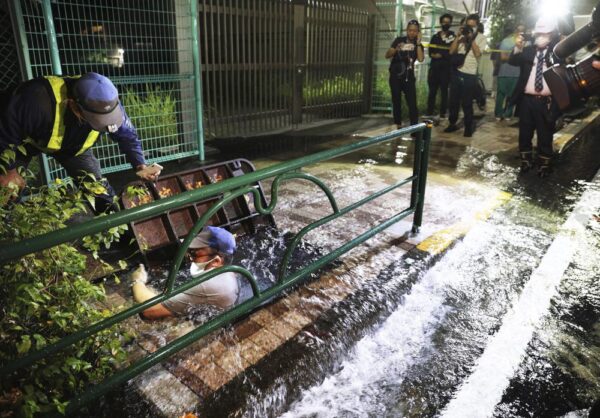 China's Fire and Disaster Management Agency said Friday that 32 people were injured, of which three sustained serious injuries from the quake, The Associated Press reports.
In Chiba prefecture, police said 11 people were injured, and two women in separate locations sprained their ankles after being violently thrown to the floor during the quake.
A commuter train partially derailed in eastern Tokyo when it made an emergency stop, leaving three passengers with slight injuries after they fell, AP said, citing the disaster management agency.
Other people suffered injuries in the Kanagawa, Saitama, and Gunma prefectures.
The earthquake caused buildings to sway and street signs to swing violently, and left some trapped inside elevators when they automatically stopped working.
Over 20 commuter lines in Tokyo and the surrounding area went offline, leaving passengers stranded. Some passengers were able to take shelter at facilities set up by local municipalities. Some commuter lines were operating again by early Friday morning.
Tokyo Electric Power Company said about 250 households were without power in the capital's Shinjuku Ward but service has since been restored.
Chief Cabinet Secretary Hirokazu Matsuno said there were no abnormalities at nuclear power facilities in the area.
New Japanese Prime Minister Fumio Kishida returned to his office at 11:20 p.m. on Thursday to respond to the situation, and ordered officials to help rescuing victims and prevent further damage from spreading.
The Prime Minister also instructed relevant ministries and agencies to assess the damage that the earthquake had caused and asked train operators to support passengers who were not able to return home.
Kishida posted a message on Twitter urging people to "check the latest information and take action to protect your lives." He said it was the strongest shaking in Tokyo since March 2011.
The PM told reporters in a press conference on Oct. 8 that the latest earthquake was the first time in 10 years that Japan has experienced a wake with a seismic intensity of 5 or higher in the 23 wards of Tokyo, since the Great East Japan Earthquake.
The March 2011 earthquake struck off the northeast coast of Honshu, Japan, and registered 9.1 in magnitude. It generated a powerful tsunami that hit the coast and damaged the power supply and cooling of three Fukushima Daiichi reactors, causing the country's worst nuclear disaster on record.
The event led to 18,000 deaths, including several thousand victims whose bodies were never recovered, and the destruction of more than 123,000 houses, according to the National Centers for Environmental Information (NCEI).