More details have been revealed on the father of Stephen Paddock, the gunman who shot and killed 58 people in Las Vegas in early October.
Benjamin Hoskins Paddock was a fugitive bank robber who was on the FBI's top ten most wanted list until 1977.
But it has also been revealed that he was a self-ordained minister who married couples in Las Vegas and had plans to open a church there. Investigators are looking into every aspect of Paddock's family life, reported the Las Vegas Review-Journal.
Like his son, Benjamin Paddock was described as an avid gambler. An FBI poster had described him as a "psychopath" who should be treated as "armed and very dangerous."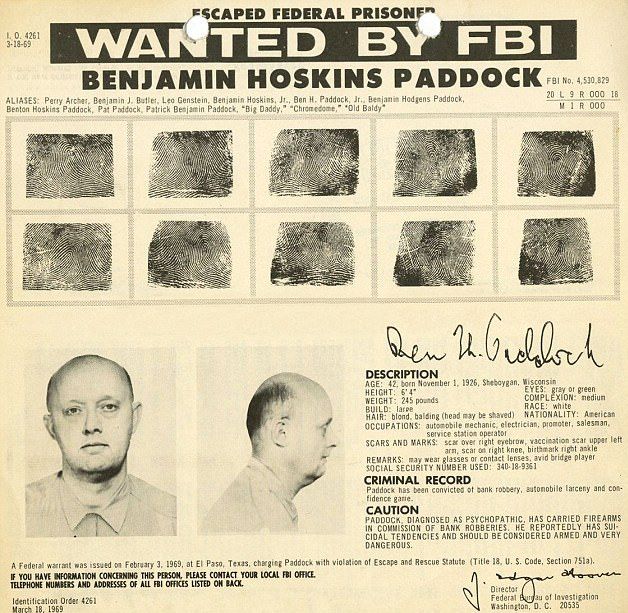 He was found one year after he was removed from the most wanted list in 1978 in Oregon. He had been running a bingo parlor, it has been reported.
He tried to exploit a loophole in Oregon by starting a church, allowing him to pocket some of the money from bingo. He was caught in 1987 and charged with running an illegal gambling operation. Two years later, he tried to start another church in Vegas, the Review-Journal reported.
A 1971 Tuscon Daily News story on Benjamin "Chromedome" Paddock, father of Joseph Paddock, who was on FBI Most Wanted List. pic.twitter.com/tABwQXOFYa

— Gregory Korte (@gregorykorte) October 2, 2017
Stephen Paddocks Dad

Benjamin Paddock pic.twitter.com/Iz9GCiKvSE

— ?️?️?️?️?️❗ (@__0HOUR1_) October 8, 2017
"He wanted [to set the church up] in Nevada because he liked to go there and gamble," Bernie Sue Warthen, a friend of Benjamin Paddock, was quoted by MailOnline as saying. Warthen said he invited her to the city in the late 1980s so they could start the Holy Life Congregation, which never materialized.
Officials still can't figure out a motive for Stephen Paddock's attack.
Associate criminology professor at the University of Nebraska, Joseph Schwartz, cautioned against drawing conclusions about Stephen Paddock based on his family or his antisocial behavior.
"It's human nature to try to speculate and try to understand something so terrible," Schwartz told the Review-Journal. "In reality, [mistreating someone] is not a precursor to collecting multiple semi-automatic weapons and shooting at people from a hotel window."
"If he had a high predisposition for criminal and violent behavior, we likely would have seen that earlier in his life," Schwartz said.
According to Reuters, a complete picture of his finances is still being assembled by investigators who are trying to understand what drove an apparently wealthy retiree to haul 23 guns up to a hotel suite before commencing one of the deadliest shootings in U.S. history.
"He was kind of a scruffy dude," said Jim Hearn, a broker who recalled showing Paddock around the complex of small, middle-class apartments in early 2004. "Didn't look like he had two nickels to rub together, but he had a few million bucks in an exchange account, which was clearly real, and he did his due diligence and closed the deal."
Reuters contributed to this report