The Food and Drug Administration (FDA) has announced a further voluntary recall of certain Beauty Plus Global and Claire's makeup products after tests showed they may contain asbestos.
Officials announced in an advisory on June 6 that two additional products from the two brands have been pulled from the shelves after they tested positive to asbestos during the FDA's ongoing testing.
The products that are affected include:
Beauty Plus Global Contour Effects Palette 2, Batch No. S1603002/PD-C1179
Claire's JoJo Siwa Makeup Set, SKU #888711136337, Batch/Lot No. S180109
The FDA will continue to update its Safety Alert with new information as it becomes available. Consumers may subscribe to receive updates at the bottom of the Cosmetics Recalls and Alerts page. https://t.co/pBtrD2vRGg pic.twitter.com/4tfQt0ENOi

— U.S. FDA (@US_FDA) June 6, 2019
Today, the FDA is releasing new results from its continued testing of cosmetic products for asbestos & is warning consumers to not use 2 additional products that have tested positive for asbestos & have been recalled https://t.co/p4AACHd9y8 pic.twitter.com/DYtSelENEj

— U.S. FDA (@US_FDA) June 6, 2019
It comes after the federal agency announced an earlier voluntary recall of Claire's makeup products in March. That announcement advised people to not use Claire's eye shadows, compact powder, and contour palette "because they may be contaminated with asbestos fibers."
According to the recall notice, the products were sold between October 2016 and March 2019.
The recall covers Claire's eyeshadows, UPC #888711847165, SKU #84716, Lot No. 08/17, Claire's compact powder, UPC #888711839153, SKU #83915, Lot No. 07/15, and Claire's contour palette, UPC #888711401947, SKU #40194, Lot No. 04/17.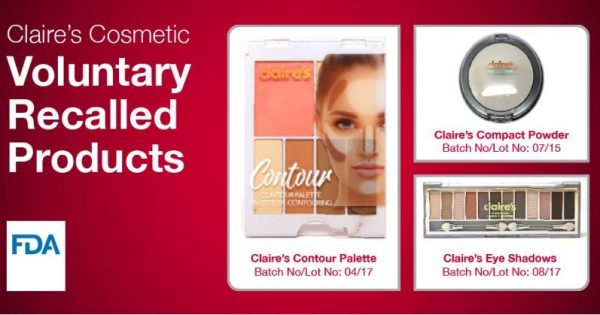 The SKUs and UPCs can be found on the price tags affixed to the products, and all batch numbers are shown on the back panels below the ingredient lists, according to the recall.
Consumers with any of the recalled makeup should stop using it and return them to a Claire's store for a full refund.
"Claire's understands many parents trust and expect us to hold the cosmetics purchased by and for their children to the highest possible safety standards. In the last year, Claire's switched to talc-free manufacturing for all its cosmetics," the company's recall notice said.
The company added, "To date, Claire's is not aware of any adverse reactions, injuries, or illness caused by the possible presence of asbestos in the recalled products."
The FDA explained how asbestos may have found its way into the samples of makeup that were tested.
"Asbestos is a naturally occurring mineral that is often found near talc, an ingredient in many cosmetic products. Asbestos, however, is a known carcinogen and its health risks are well-documented. During talc mining, if talc mining sites are not selected carefully and steps are taken to purify the talc ore sufficiently, the talc may be contaminated with asbestos."
Due to its soft and silky texture, talc is used in many cosmetics such as baby powder, foundations, and blush. Currently, the FDA doesn't require cosmetic companies to provide the agency with their safety information and most cosmetic products and ingredients, except for color additives, do not have to undergo FDA review or approval before they go on the market, according to its website.
However, companies must label their products properly. The federal agency says it monitors cosmetic products on the market for potential safety problems and takes action when needed.
Tom Ozimek contributed to this report.