An Amazon warehouse employee in Alabama who is seeking to convince her co-workers to unionize told senators on March 17 that the company can afford to treat its workers better.
"Amazon brags it pays workers above the minimum wage. What they don't tell you is what those jobs are really like. And they certainly don't tell you that they can afford to do much better for the workers," Jennifer Bates told the Senate Budget Committee in Washington.
While Amazon began paying all workers at least $15 an hour in 2018, employees at the Bessemer site say working conditions need improvement as they press to become the company's first U.S.-based union.
Workers receive two 30-minute breaks during a 10-hour shift, which includes the time it takes to get to and from the bathroom or cafeteria; Bates said she's on her feet for most of the time, constantly walking and climbing stairs. Some workers noticeably limp from climbing four sets of stairs in the facility; its elevators aren't available for human use.
"We the workers deserve to be treated with dignity and respect, and deserve to be given the same commitment that we give to the job every day we go in. We give 100 percent at work, but it feels like we're being given back only 30 percent. We're committed to make sure the customers get a nice package, the whole product in a couple of days. But who is looking out for us?" Bates said.
The first talk of unionization came one day during a break, when one worker posited that conditions would be better with a union, according to Bates.
Bates is among the workers advocating for joining the Retail, Wholesale, and Department Store Union. Workers are currently engaged in a mail-in election. Votes are due to be counted on March 30.
Amazon didn't have a representative at the hearing after declining to send CEO Jeff Bezos. The company opposes unionization, arguing it already treats its workers well, and telling employees they could buy more belongings with money they would spend on union dues.
An Amazon spokesperson told The Epoch Times via email: "We take employee feedback seriously, including Ms. Bates's, but we don't believe her comments represent the more than 90% of her fulfillment center colleagues who say they'd recommend Amazon as a great place to work to friends and family."
"We encourage people to speak with the hundreds of thousands of Amazon employees who love their jobs, earn at least $15 an hour, receive comprehensive healthcare and paid leave benefits, prefer direct dialogue with their managers, and voted Amazon #2 on the Forbes best employers list in 2020," the spokesperson added.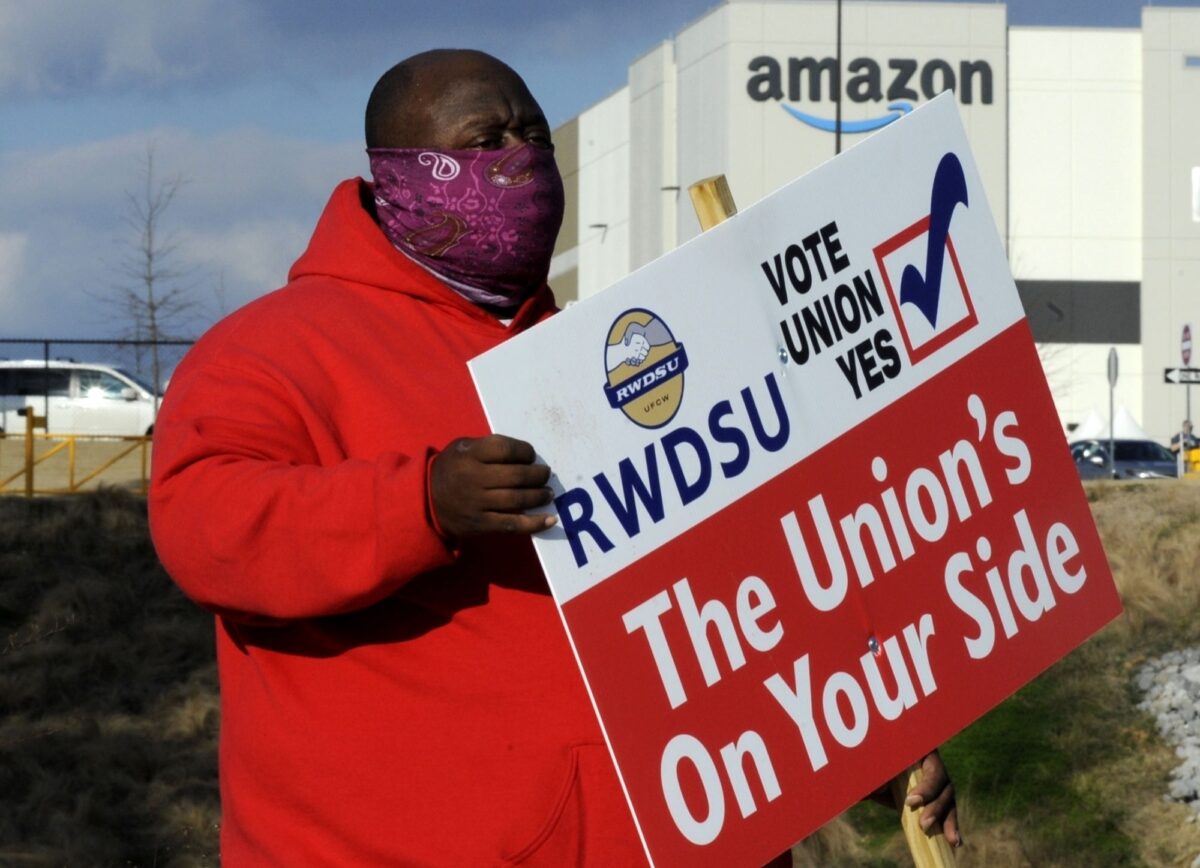 Senate Budget Chairman Bernie Sanders (I-Vt.) condemned Bezos during the hearing, noting that Bezos has become $77 billion richer during the pandemic. That growth came as Bezos denied workers paid sick leave and hazard pay, Sanders said.
"If he was with us this morning, I would ask him … 'You are worth … $182 billion, you're the wealthiest person in the world. Why are you doing everything in your power to stop your workers in Bessemer, Alabama, from joining a union?"
Ranking Republican Sen. Lindsey Graham (R-S.C.) differed in his remarks, saying he sees the government's role as making sure there's a level playing field in terms of regulations and taxes, and education opportunity.
"I think that's the role of the government, not picking who gets this and who gets that and what is too much money," he said. "I think if the government gets in that business, I think that will do more harm than good."
Several experts told senators during the hearing that income inequality has become worse in recent years because of loose antitrust regulations and a payment system that encourages CEOs to take short-term risks.
Robert Reich, a former economic adviser to former President Barack Obama and secretary of labor during the Clinton administration, called for higher taxes on the most wealthy, stronger labor protections, and more vigorous use of antitrust.
"Ultimately, the trend toward widening inequality in America will be reversed only when the vast majority, whose incomes have stagnated and whose wealth has failed to increase, join together to demand fundamental changes in the rules," he said.
However, Scott Winship, director of poverty studies for the American Enterprise Institute, told the hearing that the current levels of wealth inequality don't constitute a crisis and encouraged lawmakers to focus more on emphasizing upward mobility.
"Many policies that would reduce inequality or short-term poverty might be counterproductive in terms of increasing upward mobility or reversing declines in association of life," he said.