As many across the nation peacefully protest the death of George Floyd with demonstrations against racism and police violence toward black people, some of the marches have devolved into looting, fires, and vandalism.
Across Orange County, California, protests that began last weekend have remained relatively peaceful, although protesters in Santa Ana did throw fireworks at police and loot several stores, police reported. In Huntington Beach, tensions rose, purportedly incited by counter-protesters.
Some parts of Orange County continued under curfew into the week as a precaution against violent confrontations. Boarded-up windows remained a normal sight in affected areas.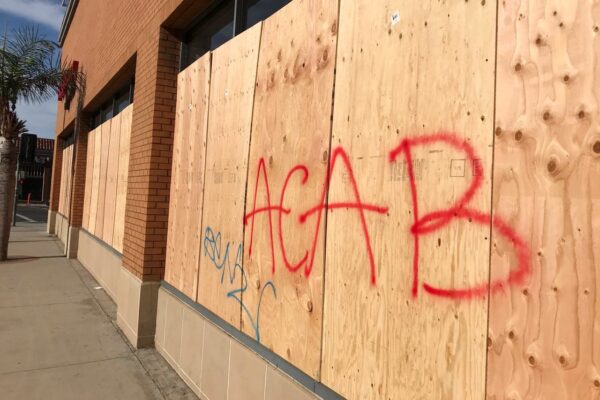 Floyd died in Minneapolis May 25 after an arresting police officer knelt on his neck for nearly nine minutes, with the incident recorded on video. As with many other cases involving a white police officer and the death of a black man, Floyd's death has ignited outrage and protest.
The Black Lives Matter (BLM) movement has especially mobilized protests across the nation, including in Orange County.
Counter-Protesters, Clashes in Huntington Beach
On May 31, scuffles broke out in a crowd of more than 500 protesters who had gathered at Main St. and the Pacific Coast Highway (PCH) in Huntington Beach. Mayor Lyn Semeta told The Epoch Times that "in the morning, the police found some kind of weapons stashed around near the downtown area, things like cinder blocks with handles attached to them and that kind of thing, so we knew that potential for violence was there from the very beginning."
The Huntington Beach Police Department declared the protest an unlawful assembly.
"What was most interesting and frightening to see were the tensions between HB locals and protesters," Johnny Dupriest, who  has lived in Huntington Beach for 10 years and observed the protest, told The Epoch Times.
"The locals on several occasions I witnessed surrounded people they assumed were from out of town and demanded to see people's IDs," he said. It seemed to him that many of the protesters were from out-of-town.
Police reported 20 arrests total, 12 of which were not local residents.
Dupriest described several aggressive counter-protesters as "covered head-to-toe in skinhead tattoos⁠—the Celtic cross to be specific."
On the other hand, several BLM protesters were also aggressive toward the counter-protesters, he said. He observed the BLM organizers trying to quiet down any rowdy behavior.
"One girl even tried banging on a stop sign to make noise and the BLM organizers said she had to stop right away," Dupriest said.
Dupriest did not witness any serious fights, and police did not report any injuries. He said he "did not see a single shred of destruction."
Huntington Beach police spokeswoman Angela Bennett told reporters, "We declared the unlawful assembly at 1300 hours and that was due to tensions rising, people yelling at each other, and people blocking traffic on PCH."
"We don't have counter-protesting specifics; we know that tensions are high and people are arguing with each other, but we don't have a specific on who is who," she said.
The unlawful assembly declaration drew criticism from some protesters. They said the "Reopen Orange County" protests had been permitted in the preceding weeks.
Some shop owners boarded up their windows as the day progressed, as a precaution. A sign outside The Wet Dog Tavern read "Local minority owned business" to deter potential destruction or looting, according to the Orange County Register.
No looting was reported in Huntington Beach, however, and many business owners began taking the boards down on Monday.
After law enforcement declared the unlawful assembly, protesters moved from Main St. to the sidewalks on side streets. The protesters stayed out until curfew at 8 p.m. After that, most dispersed, but some refused to leave and law enforcement shot pepper balls to drive them away.
The day ended in 20 arrests of individuals who remained "at the scene of riot," according to the Huntington Beach Police Department.
Peaceful Protest in Irvine
Shannon Paigah, who has lived in Irvine for about 20 years, attended the BLM protest outside of Irvine City Hall on May 31 with her husband and two sons, who are 9 and 12 years old. She said she was encouraged to protest by social media.
"We went to the protests and I wanted to take my kids too. You know, we didn't grow up like that, so I wanted them to experience it too," Paigah told The Epoch Times.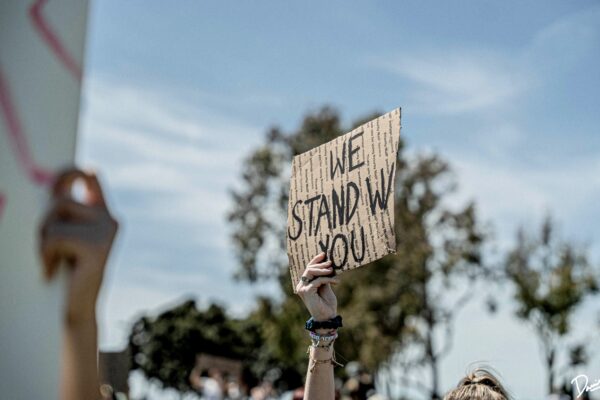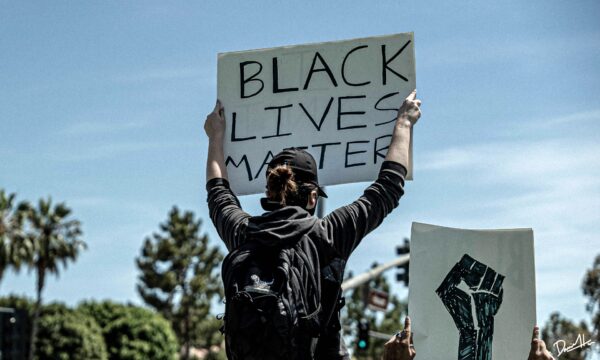 Many protesters held signs that said "Silence is Violence" and "To: Irvine Police, Join Us."
Paigah feels "guilty and ashamed" that she didn't speak up sooner against racism, she said.
"And it took to come in front of my face so many times to actively do something about it," said Paigah. "So, you know, I just felt like it was a good experience. I was happy that it was a peaceful protest."
Another protester, Portola High School senior and aspiring filmmaker Daniel Han, said he wanted to use his talents to contribute to the BLM movement.
"I'm trying to be a filmmaker and I have this artistic vision," Han told The Epoch Times. "I can kind of share these pictures of peaceful protests and maybe spread the word and impact the world in that way."
"And so really my main focus when I was in the protest was to capture a lot of the moment that people were protesting and figure out ways for me as an artist to kind of display that."
Nearly 100 who gathered outside of the Irvine City Hall remained peaceful and no arrests were made after a few hours of demonstrations ended around 5:00 p.m. Irvine did not enact any curfews.
"As we were leaving to walk back toward our car, there were these two lovely African American ladies thanking us and they were so thankful that we were there to support them," Paigah said.
"My boys gave them one of their signs; they didn't have signs with them. And it was just very touching."
Rumors and Precautions
The Orange County Sheriff's office tweeted a notice on June 2 warning that many reports of violence and destruction circulating on social media are unsubstantiated.
The notice was from the OC Intelligence Assessment Center: "During these uncertain times, it's normal for rumors and uncorroborated information to spread rapidly on social media and message boards."
It said many reports of looting and vandalism in Orange County cities "do not appear to be legitimate."
The Epoch Times visited several businesses reportedly looted in Santa Ana, according to Facebook posts. Employees at the shops said they did not have any trouble and only saw peaceful protesting.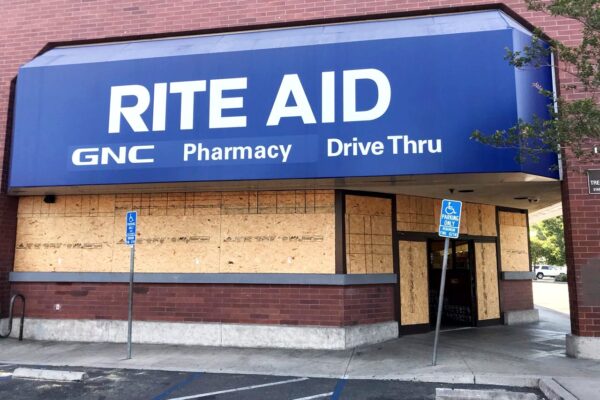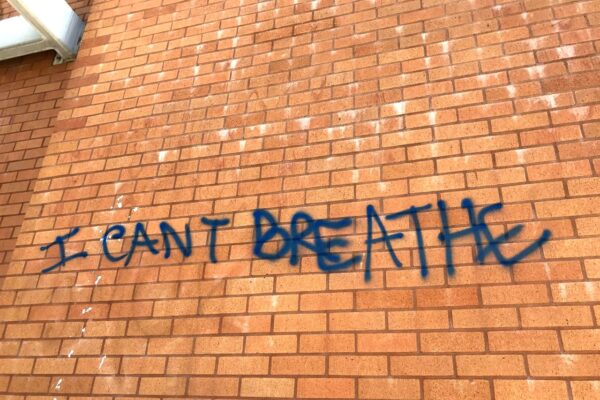 In Old Towne Orange on May 30, a man wearing sunglasses and a mask walked around posting notices that bore the symbol of the sickle and hammer. The notices said "It should be abundantly clear that the pigs are the enemy of the people."
It demanded a world without police or prisons; it demanded decolonization, political autonomy for "the New Afrikan nation," and an end to capitalism.
Officials prepared for the worst ahead of other protests planned in the region continuing into the week.
Costa Mesa announced a 7 p.m. curfew ahead of a protest announced at the South Coast Plaza on June 1, but no violence or looting ensued.
The plaza had been set to reopen June 1 after an extended closure due to COVID-19, but it delayed opening.
Gov. Gavin Newsom tweeted on June 1: "The Black community is not responsible for what's happening in this country right now—we are. Our institutions are.
"We are accountable to this moment. People have lost patience—I've lost patience—because they haven't seen progress."
Over the weekend, Santa Monica, Long Beach, and Los Angeles were among dozens of other cities across the nation that experienced destruction and violence. Mayor Eric Garcetti of Los Angeles called on the governor to send in 1,000 National Guard troops.
The Epoch Times reporter Chris Karr contributed to this report.