Microcredit Helps Quake-Hit Businesses in Italy
July 26, 2013 6:05 am Last Updated: July 28, 2013 3:52 pm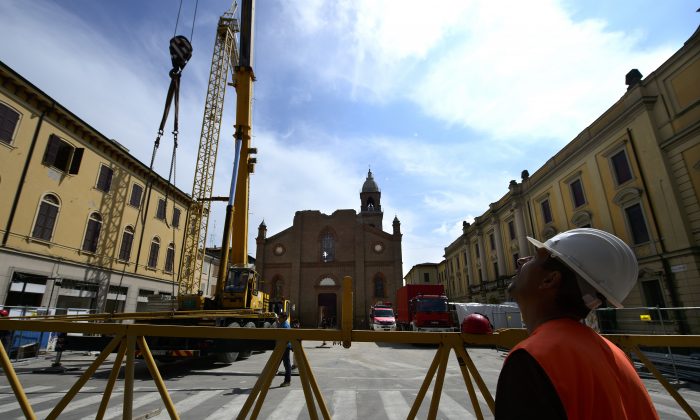 FLORENCE, ITALY—The earthquake a year ago in the Italian region of Emilia caused damage estimated at 13 billion euros ($17.25 billion) and affected 35,000 businesses. Now some of those hardest hit businesses have found their feet again, not through the help of insurance, government handouts, or even bank loans, but through microcredit. 
"Microcredit supports people excluded from banking circuits, because they have no personal or financial guarantees," said Marco Santori, president of Etimos Foundation, which was responsible for managing the fund of 5 million euros ($6.6 million) made available by Renzo Rosso, the owner of clothing brand Diesel.
Etimos Foundation and another organisation, MXit-Microcredit for Italy, have helped 80 small businesses. 
Microcredit is not to be confused with solidarity or grants. It is the giving of credit on a smaller scale, without the criteria of a typical commercial bank loan. 
For the lender of microcredit, that means taking a direct risk, which is mitigated by two factors, Santori said: First, a deep understanding of the economic and social environment at the local level; second, a constant working relationship, which involves accompanying and listening to the recipients, before and after delivery of funds. 
"Unlike banks, this allows us to widen the scope of access to credit," explained Santori. "The first results are very encouraging and the trend is one of significant growth. Microcredit is an act of respect and trust which provides the possibility of receiving and returning."
Manuela Malavasi runs a company that makes clothing for third parties in Mirandola, a town hard-hit by the earthquake. Her factory was damaged, and for five months she could not fulfill the orders. 
"As soon as we knew about microcredit, we started working on that," Manuela said."We have eight employees and we have to be responsible to them. Our concern was not being able to pay their salaries. With 30,000 euros ($39,800) we could breath again … but the earthquake has destroyed our sense of optimism about the future," she said.
Sarah Bellini is a young midwife in the little town of Cavezzo, another place where the earthquake hit hard. With 20,000 euros ($26,500), she was able to open up a clinic, where she guides women during pregnancy and into the stage of weaning.
Strong shocks, at level 5 on the Richter scale, affected the Italian provinces of Modena, Ferrara, Mantua, Reggio Emilia, Bologna, and Rovigo from May 20 to June 3, 2012. The quake killed 27, injured hundreds, and destroyed the homes of tens of thousands.
Maino Benati, mayor of Mirandola, said microcredit has produced results, but he calls for government intervention that goes beyond the 9 billion euros ($12 billion) already made available by Rome.
"We have three needs," he said. He listed: "A tax regime more beneficial to those who have suffered physical damage and turnover; 1 billion euros [$1.32 billion] to rebuild public facilities that have been put into the background, such as town halls, museums, theaters, and churches; and [to] increase the staff available to affected municipalities to advance the required contributions in a faster manner."