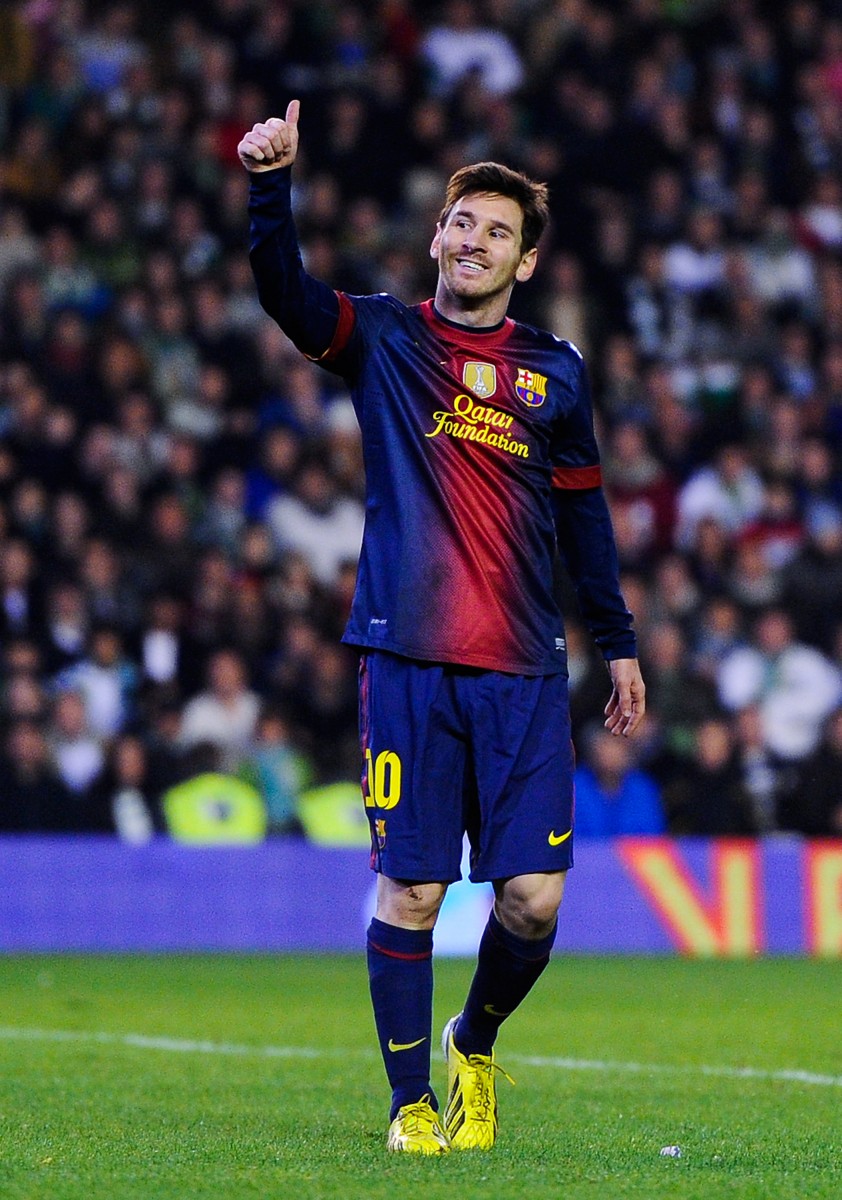 Will FIFA's Golden Ball trophy go to an alien?
By beating Gerd "Torpedo" Müller's record of goals during a calendar year, Lionel Messi only confirmed what many until now believed to be the truth— he doesn't belong to planet Earth, but is, in fact, an extraterrestrial being.
Gerard Piqué—famous because he is one of the best players in his team, FC Barcelona, and also because his partner is Shakira, the widely known Colombian singer—believes that Messi is probably the best player ever.
Messi has already won FIFA's Ballon d'Or (Golden Ball, given to the best player of the season) three times. After beating Müller's record, Messi will probably win the award for a fourth time. His close competitor, Cristiano Ronaldo has only won it once and few people are betting on him.
"I respect those that believe Cristiano Ronaldo deserves the Golden Ball, but I interact with Leo, I see he is an extraterrestrial, and Cristiano is the best of humans," Piqué said in an interview with radio station RAC1.
"I was also [Ronaldo's] teammate in Manchester United. He is a hard worker, very good, but he is nowhere next to Messi."
One of the few who believes that Ronaldo may be this year's winner is Jose Mourinho, Real Madrid's manager.
"It would be a crime if Cristiano didn't win the Ballon d'Or," Mourinho told A Bola, a Portuguese sports newspaper. "If Messi is the best in the world, it's only because Cristiano is from another planet.
"He wasn't born in Madeira [a Portuguese archipelago, Ronaldo's birthplace] but on Mars."
Although one may disagree with Mourinho about who is a better player, one should agree with him when he says about Ronaldo, "If Cristiano doesn't win it [the Golden Ball] this year, it will be because of his image. He doesn't sell himself well and he isn't always a nice guy."
And indeed, while Ronaldo can come across as arrogant and boastful, Messi is quiet and takes things in stride.
The Ball Is a Sponge
What explains Messi's unique abilities and that he became the world's best player and the one that beat Müller's record of goals in a year?
The best explanation may be an article written by the Argentine journalist Hernán Casciari, published in his blog and ironically titled "Messi is a dog."
Casciari, who doesn't hide his admiration for Messi, tells how, after watching several of Messi's goals on YouTube he realized that Messi plays as if in a trance, hypnotized.
His only wish is to see the ball in the opposing team's goal. He writes, "We must look well into his eyes to understand this: he looks cross-eyed at the ball, as if reading an out-of-focus subtitle; he focuses on it and does not lose sight of it even if they knife him.
"Where had I seen that look before? In whom? I knew that gesture of supreme introspection. I pressed the pause key in the video. I zoomed in Messi's eyes. And then I remembered it: those were the eyes of 'Totín' when he became crazy for the sponge.
"I had a dog in childhood, which was called 'Totín.' Nothing moved him. He wasn't a smart dog.
"Thieves came in and he just watched them carry the TV. The buzzer sounded and he didn't hear it.
"However, when someone [my mother, my sister, myself] grabbed a sponge—a particular yellow sponge for washing dishes—Totín became mad.
"He wanted this sponge more than anything in the world; he wished with all his heart to take this yellow rectangle to the doghouse," Casciari writes.
"I showed it to him holding it in my right hand and he focused on it. I moved the sponge from one side to the other and he never stopped looking at it. He couldn't stop looking at it.
"No matter how fast I moved the sponge, Totín's neck moved with equal speed through the air. His eyes had the searching look of Sherlock Holmes.
"I discovered this afternoon, watching that video, that Messi is a dog. Or a man-dog. That's my theory," Casciari writes.
"I regret your having read up to here with better expectations. Messi is the first dog ever who plays soccer."
And this is the best explanation of Messi's talent.
Dr. Cesar Chelala is an Argentine writer.