Meryl and Maks Dating? Couple Kiss on 'Dancing With the Stars' Finale (+Photos)
May 22, 2014 12:28 pm Last Updated: June 24, 2015 8:05 pm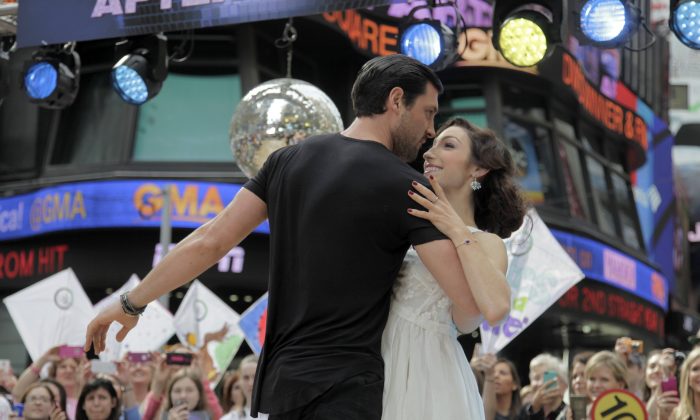 As "Dancing With the Stars" contestants Meryl Davis, 27, and Maks Chmerkovskiy, 34, walked away as winners of the 18th season of the show on Tuesday May 20, rumors about their relationship haven't subsided. 
Even though the couple have not confirmed their relationship status, interviews with the two winners and Chmerkovskiy's brother, provide insights into their romance. 
When talking at the Good Morning America "Dancing" after party, Chmerkovskiy said "It was an incredible connection right away," when asked about the possibility of the rumors being true. He wanted to "weasel out" of the question, trying to pass it on to Davis, while looking nervous. 
"She's so inspiring, it just sucked me in," he said. 
Chmerkovskiy's brother, Val, who is also a professional dancer, told US Magazine that the couple's relationship is unconventional. 
"He loves her probably more than I've seen him love another woman—he loves and adores her—but it's like a King Kong type of relationship," Val Chmerkovskiy told the magazine.
"He definitely loves her, and I know she loves him back," Val Chmerkovskiy told the publication. 
On the finale, Maks Chmerkovskiy joked that he wanted to have "big, ice-dancing" babies with Davis, and when explaining his first victory of the 14 seasons that he's competed in, he said there was a reason for that.
"It's because I was meant to do it with her," Maks Chmerkovskiy said.
Davis, in a much less revealing tweet, said after the show's finale: "So proud of @maksimc. So lucky to have gone on this ride with you," Davis tweeted, posting a picture of the couple's embrace after they won the trophy. The couple was also caught kissing during the credits roll of the show's finale.