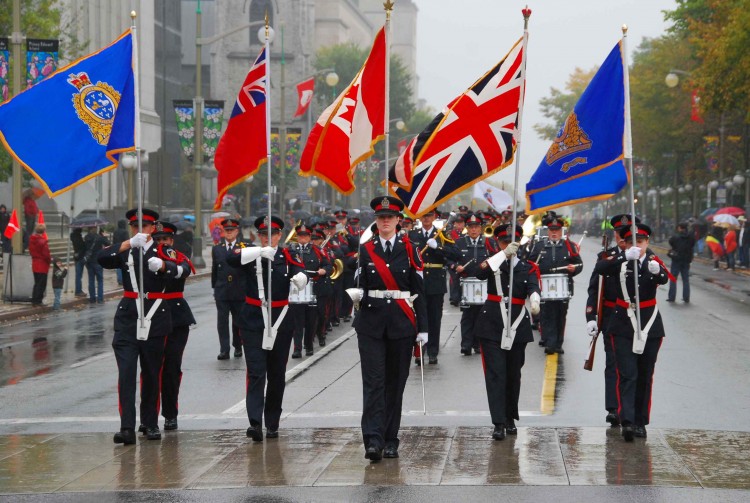 OTTAWA—Thousands gathered on Parliament Hill on Sunday morning to pay respect to police and peace officers across Canada who lost their lives in the line of duty.
The 35th annual Police and Peace Officers' Memorial Service was attended by hundreds of officers in uniform, from the Royal Canadian Mounted Police (RCMP) to local police forces across the country.
"I bring greetings and condolences from the Prime Minister and the Government of Canada and indeed from all Canadians," said Minister of Public Safety Vic Toews, describing the fallen officers as heroes.
"I know well the vital role that police and peace officers play in serving our communities and keeping them safe."
Towes said these officers maintain order, fight crime, manage our corrections system, defend our natural resources, protect our borders, and help our communities to deal with emergencies.
"No job is more important, and few are as difficult or as dangerous," he said.
The names of more than 820 fallen officers are now engraved on the glass panels of the Honour Roll at the Memorial Pavilion on Parliament Hill.
In the past year one officer was killed: Constable Vincent Roy of Bromont, Quebec, who died in the line of duty on Dec. 1, 2011.
The memorial service also recognized the historical deaths of three officers: Staff Sergeant George H. Bossange of the Royal North West Mounted Police, the precursor to the RCMP, who died in 1919; Constable George Armstrong of the Nipigon Police in northern Ontario, who also died in 1919; and Ontario Provincial Police County Constable Harry Fordham, who died in 1942.
In 1998, the federal government proclaimed the last Sunday of September each year as Police and Peace Officers' National Memorial Day.
On this day, the Canadian flag is half-masted on the Peace Tower as well as all federal buildings and establishments nationwide from sunrise to sunset, expressing the deep sense of loss shared by all citizens.
The Epoch Times publishes in 35 countries and in 19 languages. Subscribe to our e-newsletter.