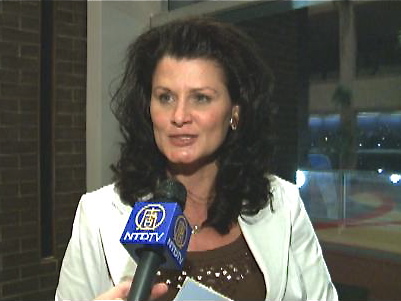 REGINA, Canada—This was the third year Regina Leader Post staffer Cindy Zawislak had come to see the Shen Yun Performing Arts at the Conexus Arts Centre, and said she was already looking forward to the next time.
"This is my third time seeing the show, and every time I see it, I am blown away. The costumes, the design, the choreography, the orchestra, and all the elements are absolutely phenomenal," she said.
Ms. Zawislak is a sales manager, overseeing key/national accounts at the Regina Leader Post, and former President of the Regina Women's Network.
She said no matter how many times she sees the show, it's always outstanding.
"There's a little bit of everything—every element changes just enough to make it more interesting to come back the next time."
According to their website, New York-based Shen Yun is leading a renaissance of traditional Chinese culture.
Known for their story-based dances, the company's three touring groups travel the world each year, reviving five millennia of traditional Chinese culture through the medium of classical Chinese dance and folk dance.
"This is the only group that comes through [Regina] with this type of [classical Chinese] dance, and that's amazing," said Ms. Zawislak.
"The costumes and the dance is the most incredible. Just the beauty of the detail … it's phenomenal."
Ms. Zawislak said she appreciated sitting close to the orchestra, where she could witness the "passion" of the musicians.
"I got to actually see a little of them performing, and the passion and the detail was very, very good," she said.
Shen Yun's orchestra is unique in its blending of Western instruments acting as the foundation of the scores, and traditional Chinese instruments leading the melody of each original composition.
Ms. Zawislak said she felt "awe" after watching the "outstanding beauty" in the performance.
"If you haven't seen the show, you are missing out on a lot of detail, a lot of colour, a lot of great entertainment; I would highly recommend the show," she said.
Reporting by NTD Television and Justina Wheale.

Shen Yun Performing Arts has three equally large companies touring the world. Shen Yun Performing Arts Touring Company will next travel to New York to perform at the David H. Koch Theater at Lincoln Center from Apr. 18 to Apr. 22.
For more information, visit ShenYunPerformingArts.org.