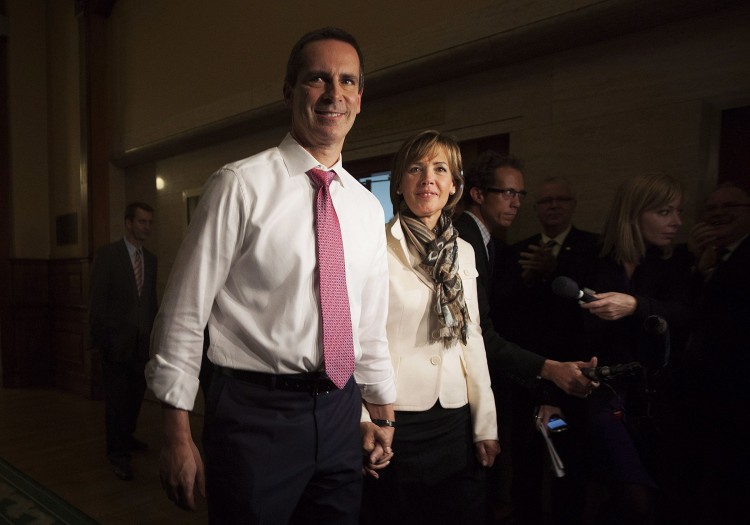 Ontario Premier Dalton McGuinty's sudden resignation has sparked speculation that the Ottawa South MPP will run for the leadership of the federal Liberal party in the upcoming race.
McGuinty, who has served as premier of Ontario since 2003, announced his plan to step down in an emergency caucus meeting at Queen's Park on Monday evening.
A draft for McGuinty's campaign is already in the works, according to media reports, and supporters are prepared to back him although he hasn't confirmed his plans yet.
If McGuinty runs, he would be up against Justin Trudeau, who pundits believe has a good chance of becoming the next Liberal leader.
On Tuesday, Interim Liberal party leader Bob Rae said it's an open race and that McGuinty is free to run for the position.
"Mr. McGuinty's a politician, albeit one who's decided to step down as premier. He'll have to make that decision in his own way, in his own good time," he said.
The surprise resignation has also led to speculation that McGuinty wanted to leave his post before the minority Ontario Liberal party fell, as opposition from both the Conservatives and the NDP has been gaining momentum.
McGuinty, who will continue as premier until a leadership convention can be held, has drawn criticism over his handling of negotiations with public sector workers and his imposition of wage freezes.
In announcing his resignation, he said he would seek to prorogue the legislature to give the government time to settle agreements with the public sector workers.
The NDP doesn't support prorogation, and party leader Andrea Horwath said she will "keep debating him" on the issue.
"We have important work to do and stopping that work while the Liberals select a new Leader isn't serving the people who elected us," she said.
Wayne Fraser, the United Steelworkers Ontario director, said there is "no justification" for prorogation.
"This is a reprehensible and historic abuse of power. McGuinty must respect our democracy, reverse his decision and reconvene the legislature immediately," he said in a press release Wednesday.
Party leaders and organizations have issued statements thanking the premier for his work over the nine years that he led Ontario and sending him well wishes.
Names being bandied about as possible contenders for leadership of the Ontario Liberal party include Health Minister Deb Matthews, Finance Minister Dwight Duncan, and Municipal Affairs Minister Kathleen Wynne.
The Epoch Times publishes in 35 countries and in 19 languages. Subscribe to our e-newsletter.