McDonald's Strike in NYC: Workers Demand $15 an Hour Wage
April 4, 2013 1:53 pm Last Updated: April 6, 2013 11:10 pm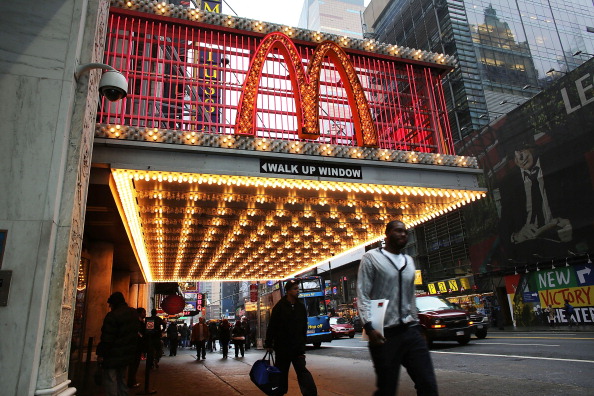 McDonald's strike: Workers at McDonald's, Wendy's, Domino's Pizza, and other chains went on strike Thursday to demand higher wages.
McDonald's and other fast food workers went on strike in New York City on Thursday in a bid to get higher wages.
"By far, it will be one of the biggest actions that fast- food workers have taken in this country," New York Communities for Change organizer Jonathan Westin told Bloomberg News.
He said the fast food employees want the rights to form a union and a wage of $15 a hour.
Westin said that workers from around 60 restaurants around the city are striking, meaning that some businesses might be forced to close.
The strike also includes employees from Burger King, Wendy's, Pizza Hut, Domino's Pizza, and Papa John's pizza.
"At several of the stores we will have the majority of the workforce in the stores out on strike," Westin said. "It will be difficult for businesses to continue as usual."
New York's minimum wage is currently $7.25
Noel Scott, who delivers pizza for Domino's, said that he works two jobs, including at Domino's, to pay rent.
"You don't have a life when you get paid this little. My body is breaking down," he told CNN, while taking part in a strike in midtown Manhattan. "And with no benefits, we can't afford to get sick."
McDonald's worker Linda Archer says she can't survive on the $8 an hour she earns after three years on the job.
McDonald's said in a statement that it values and respects all the employees who work at McDonald's restaurants.
"Employees are paid competitive wages and have access to a range of benefits to meet their individual needs," Heather Oldani, a McDonald's spokeswoman, told Bloomberg.
And Scott DeFife, who is an executive with the National Restaurant Association, told CNN that raising wages could burden franchises.
"Any additional labor cost can negatively impact a restaurant's ability to hire or maintain jobs," he said.
The Associated Press contributed to this report.
The Epoch Times publishes in 35 countries and in 21 languages. Subscribe to our e-newsletter.