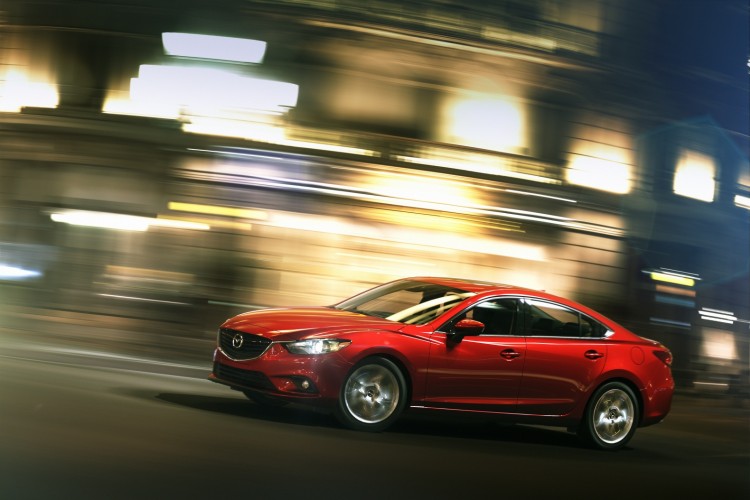 The new 2014 Mazda6 made its North American debut at the Los Angeles Auto Show on Nov. 29.
The 2014 model has been given a new exterior design based on Mazda's new Kodo design theme, which can already be seen on the company's 2013 CX-5 crossover. The bold look of the Kodo theme will replace the current Nagare theme, which has generated its share of controversy over the grill design.
Together with the new look, the SKYACTIV-D 2.2-L clean diesel engine also made its North American debut at the LA Auto Show.
Diesel engines are well known for their low-end torque and fuel efficiency, and they have been very popular in European countries. But due to different regulations and market dynamics, the North American market is heavily dominated by gasoline engines.
Due to soaring gas prices over the past few years, a few companies are hoping there will be adequate demand for diesel engines in the market.
The new Mazda6 will go on sale in January 2013, but only with the SKYACTIV-G 2.5-L gasoline engine initially; the diesel version will become available in the second half of the year. This will make Mazda the first Asian manufacturer to offer a modern-technology clean-diesel engine in a non-commercial vehicle.
The SKYACTIV-G 2.5-L gasoline engine has a high compression ratio of 13:1 and cranks out 184 hp at 5,700 rpm and 185 lb-ft of torque at 3,250 rpm.
The SKYACTIV-D 2.2-L diesel engine has a very low compression ratio of 14:1, but its output numbers are not available yet. The low compression ratio allows the diesel to burn more cleanly, thus requiring no additional nitrogen oxide after-treatments. A new two-stage turbocharger helps producing a smooth and steady response across the engine range.
These engines will be mated to a choice between a 6-speed manual or a 6-speed automatic transmission.
The 2014 Mazda6 also will be the first production vehicle to feature Mazda's capacitor-based brake energy regeneration system called i-ELOOP.
"We've talked about it long enough, and now we are incredibly excited to officially introduce North America to our latest next-generation product, the 2014 Mazda6," said Kory Koreeda, president, Mazda Canada.
"The Mazda6 is a showcase of our latest engineering accomplishments under our SKYACTIV Technology umbrella, with the SKYACTIV-D clean diesel engine, i-ELOOP, and our new suite of i-ACTIVSENSE safety technology. And we're just getting started."
Recovering Lost Energy
A brake energy regeneration system recovers and stores a portion of the vehicle's kinetic energy lost from braking. Electric hybrid vehicles use regenerative braking to recharge the battery, but motors and batteries impose a significant weight penalty—hence the use of capacitors in the i-ELOOP system.
This in-house developed system is derived from the Intelligent Energy Loop system and was first introduced globally in the TAKERI concept vehicle.
The 2014 Mazda6 will be the first production vehicle to be equipped with this technology. The recovered energy will be used to power every electrical component in the vehicle, including air conditioning and the audio system. By taking some of these loads off the engine, it is expected to improve the overall fuel economy of the vehicle.
An all-new safety component called Smart City Brake Support (SCBS) will be offered and is designed to assist a driver in avoiding front collisions when traveling at speeds of less than 19 miles per hour.
An embedded laser sensor detects an obtrusive object and will reduce the brake rotor travel to quicken braking should the system calculate that there is a risk of a collision occurring. If the driver fails to perform an avoidance maneuver, the SCBS system will activate an automatic braking function.
Final specifications for all 2014 Mazda6 models will be available closer to the on-sale date. Standard features, optional packages, and pricing also will be released at a later date.
The Epoch Times publishes in 35 countries and in 19 languages. Subscribe to our e-newsletter.