If the U.S. military is to maintain its world-leading status, budget caps need to be removed, lest troops be put at greater risk and the deterioration continue.
"Congress as a whole has met the present challenge with lassitude, not leadership," charged Mattis.
The Budget Control Act caps military spending for the coming fiscal year at $549 billion. Trump's budget calls for $603 billion, while Republican defense hawks have called for $640 billion.
Mattis described the automatic spending cuts, or sequestering, that the act put in place as deeply damaging, saying he was shocked by the impact on the forces' readiness to fight.
"No enemy in the field has done more to harm the readiness of our military than sequestration," said Mattis. "Because as expensive as it is for the American people to fund the military, it is far less costly in lives and treasure than a conventional war that we are unable to deter because we are seen as weak."
He laid out four forces wearing down military advantage, starting off with 16 years of war that has exhausted equipment, and finances.
The second is a dark turn in global security, and the decline in the rule-based international order the United States helped create. The result, said Mattis, was a global security environment more volatile than any he'd seen in four decades of military service.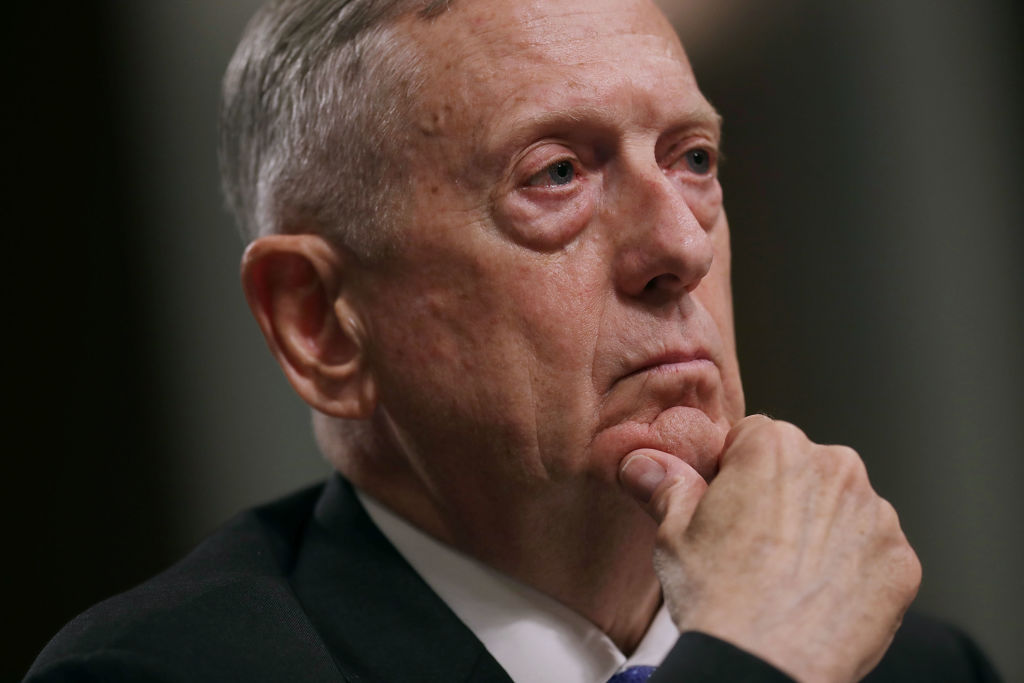 Beyond the most urgent and pressing threat of North Korea's nuclear ambitions, Mattis points to Russia and China's long-standing objections to key aspects of the current international order.
"Both countries are making their objections known by challenging established international norms, such as freedom of the seas and the sovereignty of nations on their periphery," he said.
A third force affecting the department are the adversaries obstructing and challenging the United States to new degrees.
"For decades the United States enjoyed uncontested or dominant superiority in every operating domain or realm. We could generally deploy our forces when we wanted, assemble them where we wanted, and operate how we wanted. Today, every operating domain is contested," Mattis continued.
Outer space, air dominance, and command of the land and seas are all challenged by new technology particularly long-range missiles and other guided munitions.
Cyberspace is also contested and plays an every growing strategic role in the modern battlefield.
Technological change is itself the fourth force that impacts the department.
"Rapid technological change includes developments in advanced computing, big data analytics, artificial intelligence, autonomy, robotics, miniaturization, additive manufacturing, meta-materials, directed energy, and hypersonics—the very technologies that ensure we will be able to fight and win the wars of the future," said Mattis.
Because many of these advances are driven by the commercial sector, other nations, and "nonstate actors" will also have access to them, he warned.
"That will continue to erode the conventional overmatch our nation has grown so accustomed to," he said.
Mattis said, "Constrained budgets and acquisition regulations have limited our ability to keep pace with rapid changes and sustain our competitive advantage."
Despite those threats, Mattis said it was essential to keep military spending in check, being mindful of a duty to the American public to "spend each dollar wisely."
At present, political issues are blocking one of the most significant cost savings the department has identified: base closures.  
For politicians in affected communities, base closures are disastrous. For the military as a whole, they are a cost cutting that makes little impact on readiness to fight.
Mattis is seeking Congress authorization to conduct a 2021 Base Realignment and Closure (BRAC) round.
Current law prohibits even research into closing bases despite Pentagon estimates that the Department of Defense holds about 20 percent more infrastructure than needed to operate efficiently.
Mattis said his department has forecast that base closure could save $2 billion or more annually "enough to buy 300 Apache attack helicopters, 120 F/A-18E/F Super Hornets, or 4 Virginia-class submarines."