Massive Arrests on Tiananmen Square during the CCP's National Day Holiday
October 6, 2005 12:00 am Last Updated: October 6, 2005 12:00 am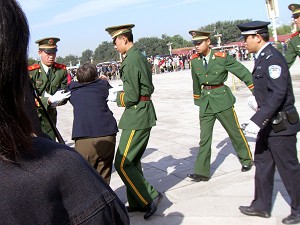 During the Chinese Communist Party (CCP)'s National Day holiday, many people took the opportunity to protest on Tiananmen Square. Every day, after one group of protesters was arrested, another group soon followed. Sometimes, several protests could take place simultaneously. Dozens of arrests have been witnessed just in Tiananmen Square each day. During the holiday season, the Beijing government has arrested 30,000 to 40,000 people.
There have been more and more protesters, and more and more people are using the CCP's national flagpole on the square as the focus of their protest. The Beijing government has increased the number of armed policemen guarding the flagpole from 5 to 13. On October 3, an Epoch Times reporter took a picture of an elderly lady being dragged away from the flagpole to a police vehicle by a gang of paramilitary police. CCP officials oversaw the arrest. This scene saddened the many bystanders. The petitioners said that they had witnessed too many similar incidents; the policemen often handle people callously, as if they were dead pigs.
Massive Arrests Before October 1 in Beijing; 30,000 to 40,000 Petitioners Have Been Arrested
A veteran petitioner, who has been making appeals for a long time and who has been arrested over 100 times, was taken to the Majialou Detention Center on September 27 and was released three days later. She revealed that from September 27 to 30, the courtyard and over 20 rooms of the Majialou Detention Center were all filled by detainees. People hardly had any space to stand. She estimated that at least 30,000 to 40,000 people had been detained at Majialou during those few days.
Another petitioner, who did not want to be identified, was also detained at Majialou for a few days. She said that she did not check the exact number of detainees, but as soon as regional officials took away detainees from their region, a new batch of people took their place. The petitioner estimated that the number of people being captured here was at least 10,000 each day. The fate that awaits the petitioners once arrested is even more miserable. Many petitioners were in tears in Majialou. They said, "We cry because we know we'll be severely punished after we are taken back home." Once returned to their hometowns by their regional office in Beijing, these petitioners will face government monitoring, detention and even forced labor camp terms of up to three years. Many have died in labor camps.
"Many innocent people have been detained in labor camps. They are forced to write reports admitting their guilt every day. Whoever shows resistance is locked up in solitary confinement, with their mouths stuffed with socks and taped shut and are beaten while hanging on the wall…. It is not a place for humans to stay."

Beijing Authorities Continue To Make Arrests During the Holiday, While Petitioners Continue Their Protest
Because the CCP plans to hold a conference from October 8 to 12, the massive arrests at the petitioners' village are not over. The Beijing authorities conducted secret raids during the October 1 National Day holiday. It is said that according to a high-level command, if people from a particular region create trouble, the corresponding local government will be fined and its officials will be punished.
During the holiday the petitioners have been monitored. Zhang Shufeng, a petitioner from the Shunyi district in Beijing, complained that there were security officers sitting in front of her door monitoring her 24 hours a day. On October 2 and 3, she and her child wanted to take the bus to make an appeal, but three security officers blocked the bus and refused to let it go.
On October 4, Zhang was finally able to make an appeal to the Beijing municipal government by taking the bus. The local police did not forcefully stop her that time, but instead followed her all the way and monitored her movements.
Zhang saw over 10 petitioners from Beijing in front of the municipal government. She said, "Police officer Wang Xiaoquan (phoenetic translation) from our police station tried to cheat me and told me that if I did not appeal from the 1st to 15th of October I would be given 1000 yuan (US$123.58) on the 16th."
Zhang added, "We have not been able to have one single holiday for the past four years. The head of the police station even said to us, put your hand to your own head, can you hold it up to next year? We have already been driven to this extent, so what can we fear? We must expose them".

Beijing Can No Longer Suppress the People At Will
With the number of protestors growing, it is evident that the Chinese people are no longer afraid of the CCP's suppression. The "harmonious" society that the Chinese government has laboriously constructed is not that harmonious after all.
For instance, on October 1, among those who rushed toward the Chinese national flag [for protest], three were detained (Note: The national flagpole's region is the police cordon). However, the waves of protestors kept pounding forward.
On October 2 at 9 a.m., about a dozen people stood in front of the flagpole and shouted slogans. One woman raised her fist in the air and shouted, "Murder someone and suffer nothing." Within three minutes, armed police officers rushed them onto a police van and drove them away.
On the same day, an elderly woman who appeared to be a retiree, went to Tiananmen Square with her husband, where they cried breathlessly. Adding to their misery, they were shocked by the police officers' unbridled behavior on Tiananmen Square. The police officers brazenly searched the bodies of the protestors from top to bottom for appeal documents or flyers. Even when body-searching females, male police officers did not hold back one bit.
Since October 2, the number of armed police officers stationed in front of the flagpole has increased from 5 to 13 due to the large number of people rushing toward the national flag.
On October 3, the waves of protestors around the national flag kept coming. In one incident, over ten protestors suddenly appeared around the flagpole but they were quickly surrounded by armed and unarmed police officers and were rushed onto a police van. At the same time, other police officers monitoring the square arrested a foreigner who was taking pictures. On the other side of the flagpole, a plain-clothed official was ordering several young police officers to drag away an elderly woman who had almost made her way to the flagpole. The woman struggled in the grip of the armed police officers. The young police officers appeared to be less violent with the elderly woman but under the CCP officials' orders and the many watchful eyes on the square, they had no choice but to drag the elderly woman into a police car.
Afterwards, another woman and her two children rushed toward the flagpole but were also arrested. Until they were shut up in the police van, her children kept mumbling to themselves, "Wipe out corruption! Corruption brings disaster to the country!"
The number of petitioners like Chang Shufeng is growing. They said, "There are more and more armies of us. If this continues, then won't the [CCP's] country collapse?"