Martial Law Enforced Around Tiananmen on National Day
September 30, 2009 11:13 pm Last Updated: September 30, 2009 11:25 pm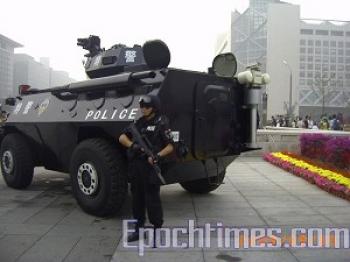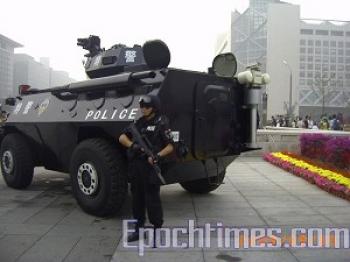 On October 1, China's National Day, officials in Beijing intensified the city's security measures to prevent any disruptions.
Rather than allowing open celebration of the 60th anniversary of the Chinese Communist Party, martial law was enforced along Chang'an Street, the major path to Tiananmen Square. Traffic control in the nearby area has been in place since September 30.
"They are there with bayonets mounted on the end of their guns loaded with pellet. It seems they are ready to fight with someone. At each intersection, you would see armed soldiers and SWAT police. It is alarming," said Mr. Nan, a Beijing resident.
Since September 29, the hotels around Tiananmen Square and Chang'an Street have been being shut down.
Starting at 2 p.m. on September 30, police began conducting security checks of all shopping centers, hotels, and companies on Qianmen Street, a prosperous shopping district. All operations were then shut down.
According to an announcement from the Beijing Public Security Bureau, the shutdown will last through the October 1 celebrations ending at 10 a.m. on October 2.
The National Day ceremony will include 80,000 high school and elementary school students, holding posters in formation and there to witness a troop review parade of fifty-six squads, comprising nearly 60,000 soldiers, according to state media.