As wild swings continue to rock equities markets and hopes fade for a fast fiscal response to the economic fallout from the coronavirus epidemic, calls are mounting for more aggressive monetary stimulus.
The big drops and return of volatility in stock markets are driving expectations to rise that the central bank's rate-setting body, the Federal Open Market Committee (FOMC), will slash interest rates to zero when it meets next Wednesday to determine its target Federal funds rate.
"In light of the continued growth in coronavirus cases in the U.S. and globally, the sharp further tightening in financial conditions, and rising risks to the economic outlook, we now expect the FOMC to cut the funds rate 100 basis points on March 18," Goldman Sachs Group Inc. chief economist Jan Hatzius and his colleagues wrote in a note Thursday, as cited by Bloomberg.
Markets have priced in as much as a 95 percent probability that the FOMC will slash rates by 100 basis points to a target range between 0 percent and 0.25 percent, according to the CME FedWatch Tool.
A 100-point cut would be the Fed's biggest since December 2008 when it brought rates to zero, warning in a statement that "labor market conditions have deteriorated, and the available data indicate that consumer spending, business investment, and industrial production have declined."
President Donald Trump has been vocal in urging the Fed to match the monetary stimulus measures of other central banks.
Our pathetic, slow moving Federal Reserve, headed by Jay Powell, who raised rates too fast and lowered too late, should get our Fed Rate down to the levels of our competitor nations. They now have as much as a two point advantage, with even bigger currency help. Also, stimulate!

— Donald J. Trump (@realDonaldTrump) March 10, 2020
The FOMC's next meeting is scheduled for March 17-18 in Washington.
Markets Gripped by Volatility
The Federal Reserve injected half a trillion dollars into the short-term lending market on Thursday, which had only a fleeting impact as the stock market ticked up briefly before skidding downwards.
All three major Wall Street indexes closed deeply in the red Thursday, with both the Dow and the S&P 500 notching their worst single-day drops since the Black Monday crash of 1987. The benchmark S&P 500 joined the blue-chip Dow in confirming a drop into bear market territory by closing at 2480.64 Thursday, which is around 27 percent down from its most recent all-time high in February.
Still, both bond yields and stock futures were up Friday morning, suggesting a risk-off rebound in equities, which was confirmed when markets opened. At 9:49 am ET on March 13, the S&P 500 (SPX) was up 4.17 percent, the Dow (DJI) rebounded by 3.72 percent, and the Nasdaq (IXIC) was higher by 3.89 percent. The benchmark 10-year Treasury note was up by over 20 percent, suggesting reduced investor drive to allocating their capital in risk-free refuge assets.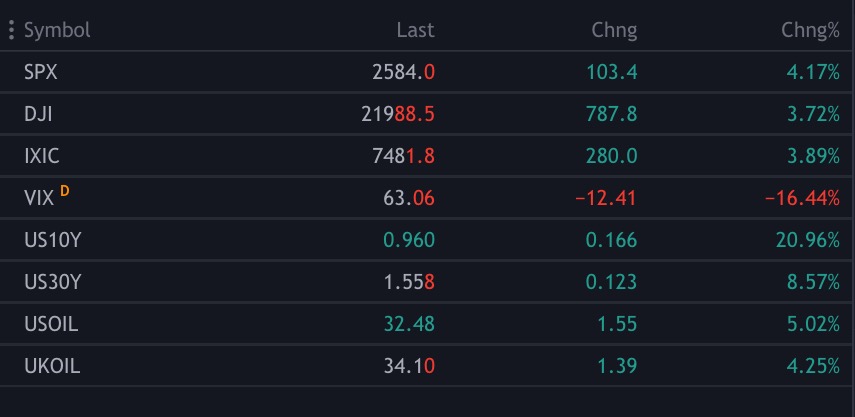 Further, in a shift that signals the Fed could deploy crisis-era tools sooner than planned, the New York Federal Reserve said it will make $1.5 trillion available for overnight lending markets and start purchasing a broader range of U.S. Treasury securities as part of its monthly purchases.
The central bank offered $500 billion in a three-month repo operation on Thursday and will offer an additional $500 billion in one-month repo and $500 billion in three-month repo loans on Friday.
The announcement came a day after Trump said the U.S. Treasury Department will defer tax payments without interest or penalties for certain individuals and businesses negatively impacted, aiming to provide more than $200 billion of additional liquidity to the economy.
Trump also said the Small Business Administration will provide capital and liquidity to firms affected by the coronavirus by providing low-interest loans to small businesses in affected states and territories, effective immediately. And he suspended all travel from Europe, with a few exceptions, to the United States for 30 days starting on Friday.
Earlier, Trump signed an $8.3 billion emergency spending bill to combat the spread of the virus and develop vaccines for the highly contagious disease.
Treasury Secretary Steve Mnuchin said in an interview that both the U.S. Treasury and the Federal Reserve were working to keep markets open and to shore up liquidity amid the epidemic.
"We're going to look at every tool in the toolbox," he told CNBC.
Reuters contributed to this report.