A grand Veterans Day parade was held in Marcus Hook, Pennsylvania, on Nov. 13, to honor veterans who have served and sacrificed their lives for the country.
Several military units, marching bands, musical groups, string bands, drum teams, and antique cars graced the borough's streets to celebrate the day.
The parade started on 10th Street and headed south at Market Street and concluded at Market Square Memorial Park. Uncle Sam and Lady Liberty on stilts, along with many other civic and community groups participated.
People gathered on both sides of the parade route, proudly waving American flags, cheering, and thanking veterans for their service.
Some veterans also expressed their feelings about serving their country.
"I'm happy to be here. And it's an honor to be here with these people. And I don't tell people that because I lost my squad and everything," Ed Dougherty, a Vietnam War veteran who was one of the two Grand Marshals at this year's parade.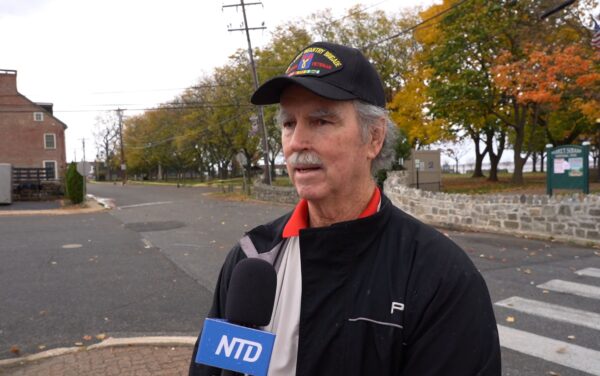 Dougherty worked as a postman in Marcus Hook during the 1960s and delivered his draft notice to himself for the Vietnam War.
Dougherty served with the Army during the conflict and fought in the Tet offensive. During the fighting, his unit was outnumbered, and he was one of only 45 men out of 113 who survived. He was awarded two Bronze Stars and a Purple Heart.
Dougherty pointed to the hat he was wearing and said: "This is the only time I wear this hat. This is the company, the unit that I was in … I honor it."
Dougherty said he was "very proud" of his military career. But at the same time, he came to the parade with a "very humble" heart because "when you do something like this, and I lost all those people, my friends over there. I'm here celebrating, and their family is probably still … "
After retiring from the Army, Dougherty became a professional golfer on the Professional Golfers' Association (PGA) and Senior PGA tours.
Talking about being drafted to fight for his country in Vietnam, Dougherty said he has no regrets. "I had a choice. I had a choice to go to Canada and skip the draft or go to the Army. And I went into the Army," he said. "I like America. That's it. I wanted to live here."
Dougherty hopes that the younger generation will learn the lessons of the past and understand history: "Appreciate where you live. It's a great country!"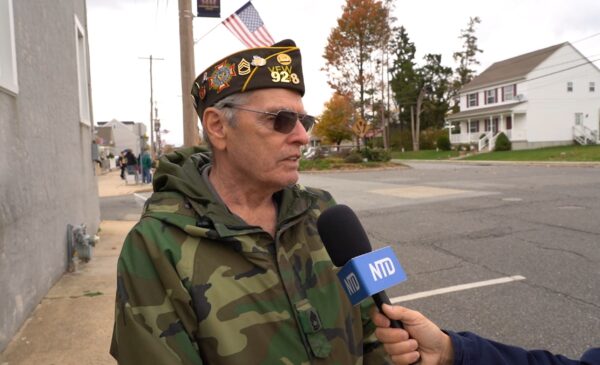 Another veteran, Raymond Weed, said: "I feel great to see all the people come out and see this parade. It's an honor to take care of the ones that didn't come back and the ones that did come back."
Weed served in the U.S. Navy in the 1960s, retired and joined the Army Reserve, and was deployed to Bosnia for eight months in 1996.
Weed said his military career "helped him become a better person." He believes, "Every kid between the ages of 18 and 30 should join the military and be proud of your country and proud to live in this country."
The day's parade ended at the town's waterfront park, Market Square Memorial Park, where a ceremony was then held to honor fallen Vietnam War soldiers and serving veterans.
There they read out the names of Delaware County soldiers who died in the Vietnam War and speeches were made by Vietnam veterans. Wreaths were laid and a gun salute was performed to honor the fallen.
"The Star-Spangled Banner" and "America the Beautiful" were also sung by Diana Naugle.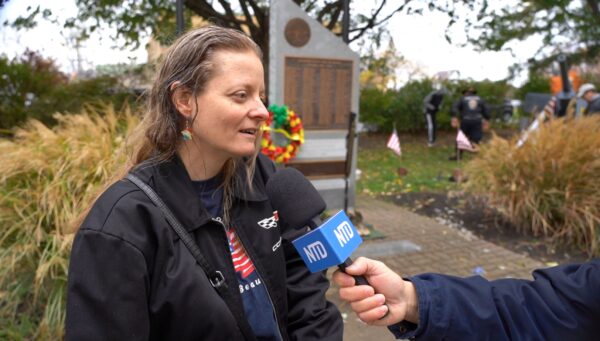 Naugle's father-in-law is a U.S. Navy veteran, and she works in real estate. She said she has been singing patriotic songs at various parades and events for 17 years.
Singing these songs is "my way to give back to them for what they've done for us and to bring everyone together," Naugle said.
She thinks the words of those two songs mean so much, and they are "about the freedom and what it means to be free and living in America and how lucky we are because of what the people that have served for us and died for us to give us that freedom."
Naugle said it's important to celebrate events like Veterans Day each year since "it's a chance to honor and remember those who have given the ultimate sacrifice for us to have our freedom."
She emphasized that it is important to remind the younger generation of the sacrifices that have been made. "Do not take freedom for granted," she added.