Manhattan Voters Opine on City's Future
September 10, 2013 9:11 pm Last Updated: September 10, 2013 9:32 pm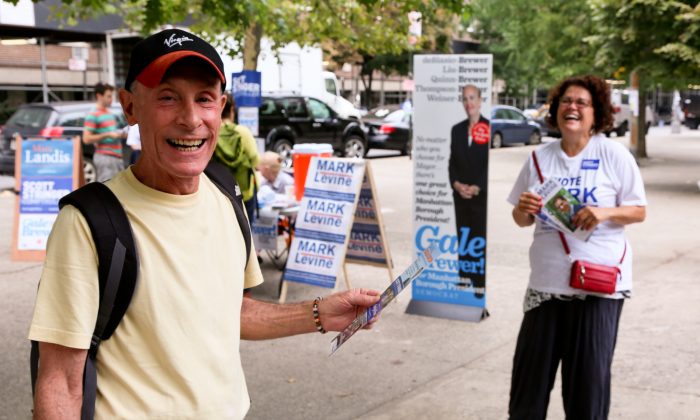 NEW YORK—Manhattan residents share some common views when deciding who gets their vote in the primaries, with major concerns focused on quality-of-life issues.
On the Upper East Side, residents were concerned about the reopening of the East 91st Street marine waste-transfer station, and quality of life for all New Yorkers. On the Upper West Side, voters were talking about issues like affordable housing.
Eliette Markhbein, a 60-year-old abstract painter from the Upper East Side, voted Micah Kellner for City Council because her biggest concern is with the proposed waste-transfer station on East 91st Street.
She said Kellner had been a lead plaintiff in lawsuits to stop the reopening of the station for the past 10 years. "There's a big group here that does not want it," Markhbein said.
Republican voter George (declined to give his last name), 66, a former broker at JP Morgan Chase, said mayoral candidate George McDonald had won his vote for his management of the Department of Education fund, and being against the marine waste-transfer station. "They expect about 500 dump trucks there a day."
George hoped the next mayor would continue in the steps of the Mayor Michael Bloomberg in terms of policies that improve the quality of life of New Yorkers.
"Everything from banning smoking to adding 300 miles of bicycle lanes. It just makes life that much more comfortable in the city," he said.
Kate, a 24-year-old social worker who lives on the Upper East Side and declined to give her last name, voted for mayoral candidate Bill de Blasio because she said the city needs to focus on growing the middle class.
Judy West, a 90-year-old from the Upper West Side, said affordable housing, public education, and transportation are major issues for New York City. She said the Bloomberg administration has failed in these areas. She voted for de Blasio.
"The new politicians coming in will be far more accessible to the regular people of the city," West said.
Daniel Maysonet, 62, a Hostos Community College professor, said housing for the middle classes is too expensive.
"I'm just trying to vote for someone who I think can do something," he said.
Additional reporting by Kristina Skorbach