Manhattan Republicans Announce Candidacies
September 17, 2014 5:32 pm Last Updated: September 17, 2014 5:38 pm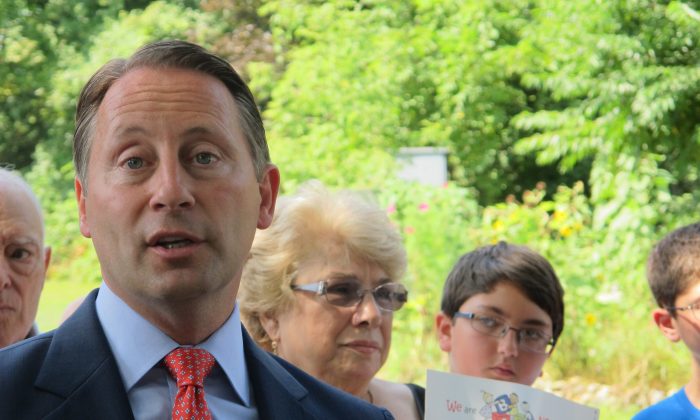 NEW YORK—The New York Republican County Committee announced a host of Republican candidates for city and state level office on the steps of City Hall on Wednesday, charging the virtual one-party rule of New York City politics with breeding a culture of corruption. 
The roster featured candidates running for office in all five boroughs of New York City, many of them running against entrenched Democrats who have held the same office for decades. 
Kevin Barrett, who's running against five-term state senator Jose M. Serrano, criticized his opponent for neglecting his constituents. 
"My opponent has an interesting nickname. He's called Casper the friendly ghost, he's friendly but very rarely seen, people are very aggravated," Barrett said. "He's moved his office out of the district, which is a violation of senate rules." 
Maureen Koetz, who is running against longtime assembly member Sheldon Silver, revealed that she was filing a complaint with the Joint Commission on Public Ethics against the powerful assembly speaker. 
"Those include direct conflict of interest due to his employment, direct conflict of interest due to his investment in a lawyer lender firm, absolute collusion in covering the Vito Lopez sexual harassment cases," Koetz said. 
Silver's approval ratings plummeted last year after it was revealed that he approved settlement payments to Lopez's accusers, with 51 percent of New York voters thinking he should resign, according to a June 2013 Quinnipiac poll. 
Dan Isaacs, chairman of the committee, outlined a platform that mixed local issues like improving the MTA and alleviating congestion with traditional national security rhetoric, angling towards a resurgence of the fledgling Republican establishment in New York City. 
Nick Di Iorio blasted New York state's Republican leadership for their informal alliance with New York City Democrats, including his opponent congresswoman Carolyn Maloney. 
"Ed Cox [chair of the New York Republican State Committee] has a personal relationship with Carolyn Maloney, and John Catsimatidis [Cox's son's father-in-law] is hosting fundraisers for Maloney in the Hamptons; they're not helping their own candidate, and that's a big problem," said Di Iorio. 
"We have to get Republicans to start helping their own candidates, and that's why I'm here today," he added.