Manhattan Market Gains Strength, Despite A Drop in Sales Prices
April 4, 2013 4:24 pm Last Updated: April 7, 2013 12:23 am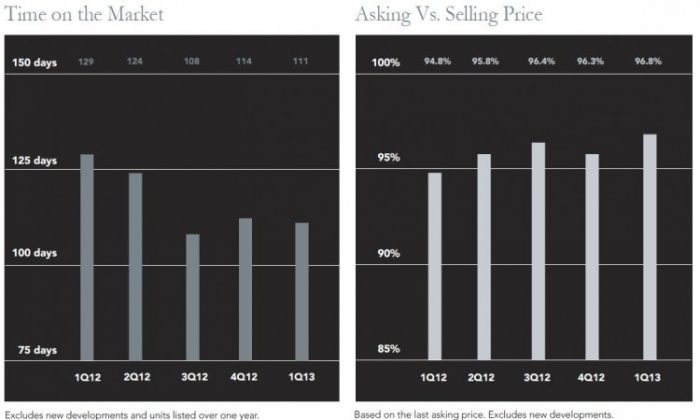 NEW YORK—Although average and median sales prices for Manhattan apartments dropped in the first quarter of 2013, three key indicators point to a rising market.
First, it took an average of 111 days for an apartment to be sold, which is 14 percent lower than last year, according to a quarterly market report by real estate brokerage Brown Harris Stevens. Second, sellers received 96.8 percent of their asking price on average, up 2 percent from last year, and more so than in any quarter in 2012. Finally, 3 percent more sales were recorded in the first quarter of 2013 compared to last year, despite a selling rush at the end of 2012.
The three indicators above are the most telling of a strong market, according to Gregory Heym, chief economist at Brown Harris Stevens.
Average and median sale prices for Manhattan apartments fell by 16 and 5 percent respectively in the first quarter of 2013, according to the report based on 1,846 sales. Another report based on approximately 2,900 sales by StreetEasy saw the median prices drop 2.5 percent.
The supply of apartments remains low. Meanwhile, fueled by the rising employment rate, higher Wall Street bonuses, and low interest rates, demand continues to grow.
Why are prices declining?
They're not. The report tracks sales made during the first quarter. But these numbers have been affected by the rush to sell high-end properties at the end of 2012. Sellers pushed to close transactions before an 8.8 percent increase in the capital gains taxes became effective on Jan. 1, 2013.
As a result, high-end properties that could have been sold in the first quarter of 2013 ended up being sold at the end of 2012. Brown Harris Stevens recorded nine sales over $10 million in the first quarter of 2013, compared to 46 sales in the fourth quarter of 2012.
"The complete opposite is what's going on. Prices are rising." Heym said. "I think we're going to see these average and median sales price figures get back up to where you would expect them to be over the next couple of months. But it will be challenging in light of how little there is on the market right now."
The low supply of apartments on the market has also contributed to the drop in average sale prices since high-end buyers had less to choose from, according to Heym. A record-setting $88 million sale made in the first quarter of 2012 may also be distorting the figures. The 15 Central Park West apartment was sold to a daughter of a Russian billionaire.