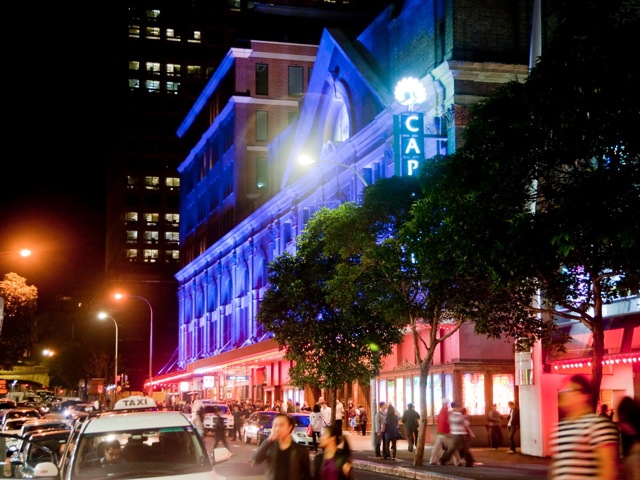 SYDNEY—A packed Capitol Theatre saw Shen Yun Performing Arts New York Company continue its dazzling display of classical Chinese dance and music on Friday evening, May 4.
The fresh autumn evening brought out Mr. Anthony Steel, company owner and managing director of a leading marketing display company.
"It's been fantastic," Mr. Steele said of the performance at intermission. "It's unusual dance, and really mind blowing actually."
Classical Chinese dance is at the heart of the performance, along with brilliant costumes, breathtaking projection, and an orchestra that combines classical Western and Chinese instruments.
Classical Chinese dance has been passed down within the imperial palace and ancient Chinese theatre and opera, explains Shen Yun's website. "Soaking up profound wisdom from every era and dynasty, it has become a complete system of dance embodying traditional aesthetic principles with its unique dance movements, rhythms, and inner meaning."

Mr. Steele said it was the first time he had seen classical Chinese dance. "For me, it opens up my eyes to a different way of expressing the form of dance. It's great," he said.
He particularly enjoyed the piece Joyful Little Monks. The dance brought warm applause and laughter from the entire audience as the young apprentice monks humorously went about cleaning their monastery. "Eager to do well, they put their hearts into their work—with fun and humorous results," says the program book.
"I liked the young monks scene. I think that was pretty funny and they did that really well," he said.
Mr. Steele said that the performance has given him an "appreciation of another form of dance," and he was looking forward to the second half of the performance.
'Backdrop is fascinating'
Also in the audience was Geoffrey Hogbin, a retired economist.

Mr. Hogbin was impressed by the coordination of the dancers.
"I think they were all remarkable—coordination and physical movement and so on. Very good," he said.
Shen Yun also features a larger than life interactive backdrop to create the scenery which reflects China's numerous landscapes from ancient times to the present day.
"Oh, the backdrop is fascinating and the way they emerge from onto the stage from the backdrop. I don't know how they do that … It's really very innovative," he said.
In the piece How The Monkey King Came To Be, as the Monkey wreaks havoc in Heaven, he finds himself in the palm of the Buddha. Gasps of surprise could be heard from the audience as the Monkey King is released from the Buddha's palm after pleading for forgiveness, and the Monkey lands back on the stage.
In conclusion, Mr. Hogbin said he found the performance "most interesting," and was well worth seeing.
Reporting by Luke Hughes and Anna Stute.
Shen Yun Performing Arts, based in New York, has three touring companies that perform simultaneously around the world, with a mission to revive traditional Chinese culture. Shen Yun Performing Arts New York Company will perform at Sydney's Capitol Theatre through May 6.
For more information visit ShenYunPerformingArts.org