A 25-year-old man wielding a knife was shot by Anaheim police on Aug. 29 when they tried to arrest him on sexual assault charges.
The incident occurred in the 2500 block of East Ward Terrace in Anaheim, California. The victim was treated at the scene before being taken to a local hospital, where he later died of his injuries.
Police identified the victim as Anaheim resident Jesse David Nava.
Nava was wanted in connection with a sexual assault case from August 2019, according to Sgt. Shane Carringer, public information officer for the Anaheim Police Department.
Police officers had a warrant for his arrest from Anaheim detectives for felony sexual assault, and they went in search of Nava at around 9:30 p.m. on Aug. 29.
Carringer told The Epoch Times that police were able to locate the suspect—but he approached the officers armed with a large kitchen knife, and they fired on Nava.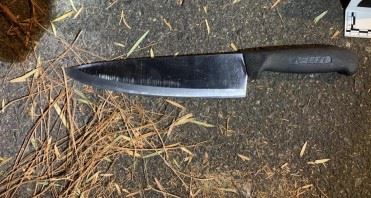 It's unclear how many times Nava was shot or how many officers were involved in the shooting.
"We're not releasing any of these details right now on the officers," Carringer said.
Nava's injuries were treated at the scene by the police officers and paramedics. He was then sent to the University of California–Irvine Medical Center, where he underwent emergency surgery.
Nava died the following morning, Aug. 30, at around 9:30 a.m.
Carringer said the police department is unable to provide any additional information regarding the sexual assault incident from 2019 due to the nature of the crime.
Police officers were wearing body cameras at the time of the Aug. 29 shooting. The footage was sent to the Orange County district attorney's office following the incident, according to an Anaheim Police Department press release.
The DA's office will conduct a criminal investigation of the incident, while the Anaheim Police Department's Major Incident Review Team will conduct an internal investigation supervised by the Office of Independent Review.
"The City of Anaheim's Police Review Board has been briefed on the circumstances of the shooting and they will continue to monitor developments," the release stated.
The Police Review Board is a civilian oversight board of local volunteers established in 2018 that works closely with the Office of Independent Review after all major incidents.
The board also makes suggestions to leaders within the police department and holds public meetings every month to engage with the community. Due to the recent pandemic, the meetings are now held via video conference.