Man Threatens to Ignite Himself to Protest Illegal Demolition
February 9, 2007 12:00 am Last Updated: February 9, 2007 12:00 am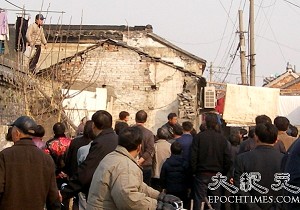 On Feb 5, the Pingan Demolition and Eviction Company in Jiangsu Province's Yangzhou City attempted to forcefully demolish Xue Xiangbiao's house. In order to protect his house from demolition, Xue Xiangbiao climbed on his roof with a container of gasoline and threatened to set himself on fire. The demolition company then halted its actions. Another forced demolition last December led to the death of Yangzhou resident Xue Xianggu.
Xue Xiangbiao's house is located on Pishi Street of Yangzhou. His family has been living there for more than 50 years. Their house has been passed down through the generations.
Xue said that on Feb 5, the Pingan Demolition and Eviction Company brought about thirty workers to his address, who began to demolish the house without a demolition and eviction permit. Since this house was outside the area marked for demolition, his family strongly protested against the company's illegal action.

Xue was forced to climb on top of the roof of his house with a container of gasoline and threaten to set fire to himself in protest. Only then did these people stop their demolition.
The Pingan Demolition and Eviction Company had already demolished about ten square meters of Xue's house last October, stopping only because of repeated protests from Xue and his family.
Xue said, "When they forcefully demolished my house, they beat my parents, both over 80 years old, and tied their hands and feet with rope. My wife was held against the bed and could not move. At that time, a part of my house was illegally demolished."
The Pingan Company buys property for low prices and sells the lots for high prices to companies planning to build high-rise buildings.
In this case, however, the Pingan Company offered such low prices that most residents refused to move. The Pingan Company then began demolishing the homes of the residents who refused to sell, forcing them to relocate.

The Xue family appealed to the provincial authorities in Nanjing City and was told to find a resolution in Yangzhou. The Yangzhou municipal authorities asked them to seek help from the district committee. Xue said that up to now his case was not dealt with.
Last December, an affiliate of the Yangzhou Construction Bureau forcibly demolished the home of Xue Xianggu. Xue Xianggu was killed by falling bricks and tiles. The public security services didn't even try to save him but dragged his body from the scene. Xue Xianggu who was crushed to death was Xue Xiangbiao's elder cousin.
It is claimed the Yangzhou municipal authorities' forcible demolitions and evictions have already resulted in many family tragedies. Outside Yangzhou Westgate Street, some people jumped out of a building to commit suicide; some others were beaten to death at a site in Sangyuan village; and a business owner of Dongguan Street was thrown down from the roof of a house.