Magnitude 5.1 Earthquake Hits Hebei Province, China
July 5, 2006 12:00 am Last Updated: July 5, 2006 12:00 am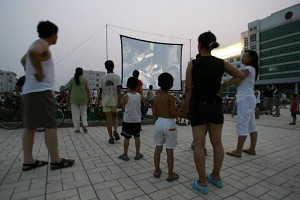 BEIJING, CHINA—An earthquake of magnitude 5.1 on the Richter scale hit Hebei province at 11:56 a.m. on July 4, but no advisory was issued to the public. Tremors related to the quake were felt as far away as Beijing.
According to China's State Seismological Bureau (SSB), the epicenter of the earthquake was in Anwen County, 110 kilometers away from the Chinese capital, with a slightly weaker earthquake, magnitude 4.8, occurring in Bazhou county.
One Beijing resident, who lives on the 15th floor of an apartment building in Chaoyang district, said that she felt sea-sick as a result of the tremors. Residents on the 4th and 6th floor apartments in the Tongzhou district also said they felt a tremor. People living in Haiding district, Beijing said the vibrations were so strong that books fell from the shelves in their home.
Apparently, there was no advisory issued prior to the earthquake. All phone lines at Beijing Seismological Bureau (BSB) were busy when The Epoch Times reporters tried to call.
Baizhou county local government officials said that the local government did not receive any notifications before or after the earthquake.
This year is the 30th anniversary of China's deadly Tangshan earthquake, which killed 250 thousand people in a single night.
Very few media reported on the quake, with the official state news outlets Xinhua News Agency and China News Service being the exceptions.
Beijing is in the process of passing a controversial law that will allow local officials to penalize local and foreign media up to US$12,400, for reporting on public emergencies without permission from the authorities.