Lyrid Meteor Shower 2014: Live Stream from NASA; What Time, What Day?
April 19, 2014 3:04 pm Last Updated: July 18, 2015 5:15 pm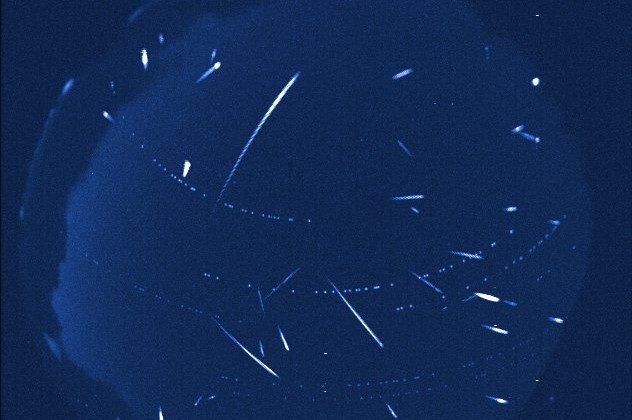 The Lyrid meteor shower takes place every April, going between April 16 and April 25.
Some skywatchers might be able to view the Lyrids starting this weekend. The peak of its shower will take place on Earth Day, which falls on April 22, 2014.
According to NASA, "The 2014 Lyrid meteor shower is visible anytime between April 16-25, peaking on the night of April 21-22. Projected peak rate is about 20 meteors/hour, but the waning gibbous moon will block less-bright meteors from view. On the night of April 21-22, a camera provided by NASA's Marshall Space Flight Center will offer a live Ustream view of the Lyrids (weather permitting). The Ustream view over Huntsville, Ala. will begin at approximately 8:30 p.m. EDT/7:30 p.m. CDT. You can watch from this page or directly from the Marshall Ustream page."
The most meteors will fall during the few hours before dawn arrives. The meteors tend to be fairly bright and easy to spot–despite there being a quarter moon, says EarthSky.org.
"On the other hand, meteor showers are notorious for defying the most careful predictions. The Lyrids stand as no exception. An outburst of Lyrid meteors is always a possibility (though no Lyrid outburst is predicted for 2014)," the website says.
The Lyrid meteor shower tends to have about 10 to 20 meteors per hour–with as many as 100 per hour during the peak times.
Universe Today writes that the Moon will be at a bad spot this year for viewing
"Now for the bad news. This year finds the light-polluting Moon in nearly its worst location possible for a meteor shower. Remember this week's total lunar eclipse? Well, the Moon is now waning gibbous and will reach last quarter phase at 7:52 UT/3:52 AM EDT on April 22nd, and will thus be rising at local midnight and be high in the sky towards dawn. The Lyrid radiant rises at 9:00 PM this week for observers around 40 degrees north and rides highest at 6:00 AM local, about 45 minutes before sunrise," it says.