Luminaries Want Action on Climate Change
September 24, 2013 5:16 am Last Updated: September 24, 2013 9:09 am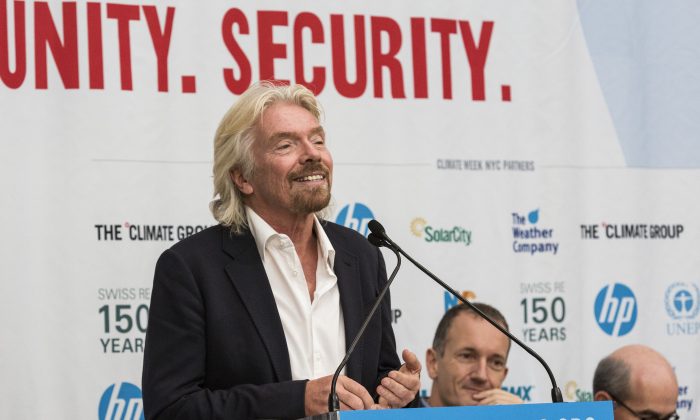 NEW YORK—Former U.K. Prime Minister Tony Blair, head of the World Bank Jim Yong Kim, and Virgin Group founder Sir Richard Branson called for more action and political leadership to address climate change on Sept. 23.
The three spoke at the opening of Climate Week NYC, a week of events happening alongside the U.N. General Assembly meetings.
Climate week also coincides with the upcoming release of the Intergovernmental Panel on Climate Change's fifth assessment of climate change science, which is due out Friday. A number of speakers quoted the report's conclusion of a 95 percent certainty that climate change is caused by human activity.
"I think after this panel assessment at the end of this week there will no longer be any serious doubt in the minds of serious people that this is an urgent and serious problem. The question is, can we find the means of galvanizing the leadership to act the way that they should?" said Blair.
Article Continues after the discussion. Vote and comment
[tok id=90aef062c08347e52af0d02fa0ef4062 partner=1966]
Business leaders at the opening ceremony also discussed products they are producing that use less energy, and are using more renewable energy sources in their operations.
"Business has to show policy makers that we are with them in this journey toward the green revolution," said Dr. Steve Howard, IKEA chief sustainability officer.
World Bank President Kim said the World Bank is working to see how it can adjust all of its projects to be in line with the challenge of climate change. He spoke of the need for a larger strategy to address the challenge, and the need to scale up working solutions.
People have their pet projects, said Kim, but "what the world is looking for is a plan that is equal to the challenge."
Sir Richard Branson of the Virgin Group
"We need leaders ready to accept that the fruits of their work may not necessarily be seen during their tenure."
Tony Blair, Former U.K. Prime Minister
"I think the direction of policy is very clear, it's in favor of action. What I worry about is the speed, the scale of this problem is not diminishing, it is probably growing."
David Miliband, Former U.K. Foreign Secretary
"Climate change isn't just an environment issue, its a security issue … its a massive economic issue, its an issue of justice, but it also is a humanitarian issue."
Tom Steyer, founder Farallon Capital Management
"When we get the framework right, business solves it faster, cheaper, better than anyone predicted, and especially better than they predicted."