NEW YORK—Nicole Malliotakis's path toward becoming a state assemblywoman and then candidate for mayor of New York City began one summer day when her mother took the then-high schooler with her to volunteer in the campaign office of a candidate for congress.
Her mother had never volunteered before, but she had her reasons for taking her daughter along that day. A refugee from Castro's Cuba, she valued very highly the opportunity in America to elect one's leaders, and she wanted Malliotakis to become involved in politics and to learn to cherish democracy.
Malliotakis was an eager student. "I just liked it and wanted to be a part of it," Malliotakis said, in an interview at the Epoch Times offices in Manhattan. "And I thought I was making a difference in my community, and so I stayed with it."
Malliotakis continued volunteering for campaigns, and, after she graduated with a B.A. from Seton Hall University and an MBA from Wagner College, she went to work as a community liaison for the late state Sen. John Marchi in 2003 and for then-Gov. George Pataki from 2004 to 2006.
All the while, she brought with her lessons learned from her immigrant parents (her father came from Greece).

Working summers in her parents' small business in the Sunset Park neighborhood of Brooklyn, Malliotakis learned to appreciate their dynamic ethic of hard work, something Malliotakis says is common to immigrants in this country.
She also grew up with a profound sense of the American dream and the opportunities available in the United States, opportunities many native-born Americans may take for granted.
America is the "one place where, in one generation, you can have the daughter of two immigrants who came here with no friends, no family, [without] speaking the language, and no money, and their daughter is now running for mayor of New York," Malliotakis said. "So this shows how dynamic America is and how amazing the city of New York is."
Assemblywoman
Up to this point in her political career, Malliotakis has only known success.
After a stint of a few years working on environmental issues at Illinois electric company Commonwealth Edison, Malliotakis, frustrated by the sense that people in her district were paying more and more for public transportation and getting less and less service, ran for the state Assembly in 2010 at age 30.
Running against a two-term incumbent backed by the then-speaker of the Assembly, Sheldon Silver, Malliotakis won with 55 percent of the vote. In 2012, she was reelected with 61 percent of the vote, then reelected again in 2014 with 73 percent. In 2016, she ran unopposed.
Her time in office has been marked most strongly by Hurricane Sandy. Her district, on the eastern shore of Staten Island and Brooklyn, bore the heaviest brunt of the storm's violence.

The 2012 Assembly vote took place a week after Sandy struck. Malliotakis says she immediately went to work for her constituents, helping her community recover. While Malliotakis was personally helping hundreds of families, many who had simply been her constituents became her friends and supporters. They rewarded her with the 73 percent landslide in 2014.
As a Republican, Malliotakis has served in the minority in the Assembly. She has played defense. With few opportunities to pass legislation, she has tried to stop bad things from happening, and be a voice that predicts the consequences of bad policy.
Malliotakis is proud of raising an alarm about Silver's ethical lapses and of proposing reforms to try to change the political culture in Albany. She successfully sued the Port Authority of New York & New Jersey over its lack of transparency, and has sought to prevent excessive borrowing by the Metropolitan Transportation Authority.
Her energetic work in the Assembly quickly won Malliotakis recognition, including being named one of City & State's "Top 40 Under 40 Rising Stars From Albany," one of the Hispanic Coalition of New York's "40 Under 40 Latino Rising Stars," and one of the American Conservative Union's "Top 10 Under 40." In 2013, she was mentioned by MSNBC as a young conservative to watch.
In 2016, she served as the state chair for Sen. Marco Rubio's (R-Fla.) campaign for president.
Malliotakis describes herself as a moderate who is fiscally conservative. She says her goal is always to keep as much money as possible in the pockets of the taxpayers.
"People work very hard for their money, and they should be able to keep it," Malliotakis said. "And what is worse is people are asked to pay more, and they are not getting the results. And so that adds insult to injury."
Run for Mayor
Fiscal issues are at the heart of Malliotakis's decision to run for mayor. She cited the growth in the city's budget, which has gone from $72.7 billion in 2014 to a projected $84.7 billion for 2018, and the increase in tax levies, which have gone up 29.3 percent for commercial property, since de Blasio took office.
"And so we are being asked to spend more," Malliotakis said, "but we are getting so much worse service than four years ago."
The poorer service is due to a mayor, Malliotakis says, who often doesn't care and doesn't work to resolve issues for the people of New York City and who puts forward policies that make things worse.
Transportation is Exhibit A in Malliotakis's indictment. "Mayor de Blasio … has done nothing except gripe to the media and hold photo ops on the subway as he plays the blame game while New York straphangers suffer," she wrote in a post on her website, NicoleMalliotakis.com
She sees de Blasio as trying to shift blame for the subway crisis to Gov. Andrew Cuomo, whom he is unable to work with. Instead, Malliotakis believes de Blasio should be partnering with Cuomo, something she says she would be able to do. The most pressing need, she says, is replacing obsolete subway signals, the cause of many of the delays.

Malliotakis objects to de Blasio's expansion of New York's role as a sanctuary city so that it now protects criminals.
"People that have committed grand larceny, sex abuse, patronizing a child for prostitution, drunk driving, welfare fraud, and identity theft" are protected by the city from deportation by federal officials, said Malliotakis. She prefers making a clear distinction between those who are here illegally but working hard and obeying the laws—those whom she would like to see given a path to citizenship—and those who commit crimes.
Malliotakis also criticizes de Blasio's failure to enforce laws on quality of life crimes, such as public urination and littering. These issues are tied in with the failure of the current administration to address homelessness, which is becoming a crisis, Malliotakis says. de Blasio has shown a lack of energy, she says, as he has failed to help with the underlying problems of the homeless.
High up on Malliotakis's indictment of de Blasio's work as mayor is the failure of the schools. Children are graduating, she says, but they are not ready for college. Meanwhile, money seems to be stuck in the upper echelons of the school bureaucracy, not making it down to the teachers and students who need it.
New Yorkers' Disenchantment
Because of the problems with transportation, crime, quality of life, homelessness, education, and other issues, "people are not happy with what is happening," Malliotakis said.
"There is a disenchantment across the city of New York, regardless of the community I go, regardless of the borough I am in, or the ethnic group I am speaking with," Malliotakis said.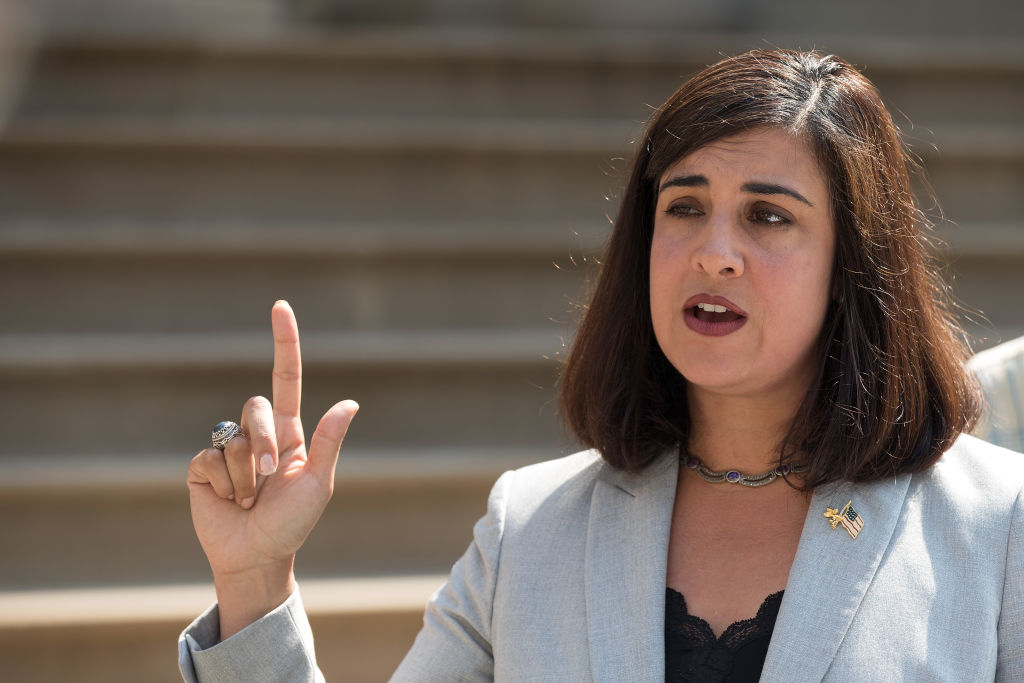 "[De Blasio] is trying to play New Yorkers for fools," she said. "They are going to vote for him, and he can do whatever he wants, because he has a Democratic label beside his name."
Malliotakis pointed out that although New Yorkers are famously liberal and Democratic, they have elected Republicans "if they believe that person is offering something good."
She says that as a Hispanic woman and a child of immigrants, she has the opportunity to connect with large parts of the New York City electorate. If New Yorkers see a strong contrast between her and de Blasio, she believes the votes will go her way.
Asked about polls showing de Blasio with a comfortable lead, Malliotakis said, "if the polls were right, Hillary Clinton would be president."
Yoga and Service
Although she has inherited her parents' ambition, Malliotakis has also recognized the need to let go of constant striving, which she does with yoga and meditation.
When Hurricane Sandy struck, Malliotakis had been doing yoga for several years. She saw "so much stress and anxiety" in her constituents, she wanted to "give them something to take their minds off everything happening in the community."
And so she started Yoga on the Beach, a program that has continued and expanded from Staten Island to Brooklyn.
With yoga, she wanted to help her community heal and come "to enjoy the waterfront that had caused them so much pain."