Photos Reveal Police Brutality in Longnan Riots
November 24, 2008 1:41 am Last Updated: November 28, 2008 3:30 am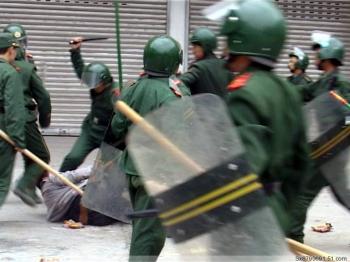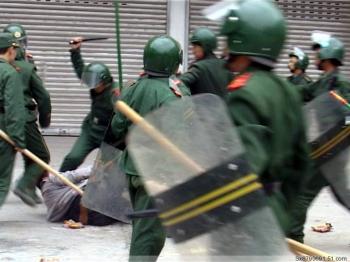 On November 18, 2008, an enormous display of civil unrest unfolded in Longnan City in northwestern Gansu Province. Tens of thousands of residents attempted to attack the communist party headquarters in the city and rioted in the streets, setting official vehicles on fire.
The riots were violently quashed by armed police who severely beat and even shot at many of the protesters. Several hundred farmers were wounded, dozens were in critical conditions and several were killed.
Currently, the city is under martial law and public gatherings are banned until November 23.
Apparently the incident was mainly fueled by resident's anger over information that had emerged of authorities' plan to move the entire city to another province.

Longnan City is one of the disaster areas from the May 12 earthquake in Sichuan Province, and post-disaster reconstruction hasn't yet begun. This has led to the municipal government's desire to move the city. In a city of 550,000, such a move would likely have a disastrous effect on the financial situation of the local population.

Following the riots, mainland media has claimed the disturbances were the work of merely a few "lawbreakers" and none of their reports have mentioned the beatings and deaths suffered by the residents at the hands of the police.

However, more and more pictures have been posted on the Internet by bloggers, showing armed police beating unarmed residents with clubs.

A resident of Wudu city, Mr. Dong said, "Yesterday (November 20) the mayor made a public speech and said that this matter (moving the city) hasn't been approved by the State Department yet, so they might not have to move. The public has calmed down since the mayor's speech but the authorities have to give an explanation for this incident. Many people are still missing. People might protest again after the martial law is released without having an explanation from the officials."