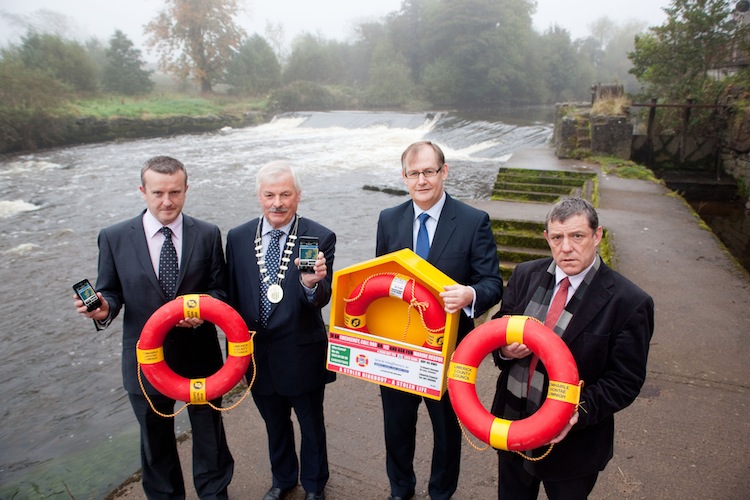 A new initiative aimed at further improving the emergency service response to water-related incidents has been launched in Limerick.
Limerick County Council, in conjunction with Irish Water Safety and Loc8 Code Ltd, is operating a pilot programme that will enable persons requiring emergency assistance at any one of 86 lifebuoy locations around Limerick to point the emergency services to their position, with an accuracy of approximately 6 metres.
Ringbuoys and their housings along the Shannon River and Estuary, the River Mulcair, River Maigue and dozens of other locations popular with members of the public have been fitted with Loc8 codes containing GPS coordinates. In addition, the information is accompanied by contact details for The Samaritans' support services to assist in the reduction of suicide through drowning.
Statistics from Irish Water Safety show that, on average, over 150 people die by drowning in Ireland each year, with most of these fatalities occurring inland. 
According to Brian Kennedy, Water Safety Development Officer with Limerick County Council: "Each location has been surveyed and converted into unique Loc8 codes, which feature on large stickers placed on each ringbuoy box and ringbuoy. If someone requires emergency assistance at one of the over 80 ringbuoy locations, they call 999 and give the code, which enables emergency services to determine their exact location. A smartphone app has been developed allowing the Emergency Services to ascertain the shortest route to these locations. The code is also compatible with SatNav systems and on the Web to help emergency services navigate to the relevant location."
Mr Kennedy noted that the Loc8 codes can also be used by members of the public to report missing or damaged ringbuoys. "Very importantly, the public do not need any special technology to use the Loc8 Codes and, as a result, are able to communicate their exact location unambiguously," he said.
The initiative has been welcomed by the Chief Executive of Irish Water Safety, John Leech. "Any initiative that seeks to further enhance water safety and save lives is very welcome," said Mr Leech. "The Loc8 codes will be particularly useful for persons requiring assistance that may not necessarily be familiar with the location they are contacting the emergency services from."
Mr Leech warned that lives will be lost unless the public assists local authorities in ensuring that ringbuoys are protected, intact and in places where they are readily available. "I am delighted to see that the local authorities are working closely with the emergency services in utilising modern technology for the purpose of ensuring Limerick's network of ringbuoys is maintained. I would urge the public to use the Loc8 codes when contacting local authorities about any missing or damaged ringbuoys, which will help save lives and are an absolute necessity in areas where people have regular access to water," he said.
Buoy loc8ions
Loc8 Codes were originally developed by GPS Ireland and are now delivered across the island of Ireland by Cork-based Loc8 Code Ltd.
"Loc8 Codes are a modern alternative to postcodes leveraging off publicly accessible web, smartphone and GPS technologies," said company CEO, Gary Delaney.
"The placing of these codes on ringbuoys and their holders in Limerick will help to further improve the emergency services' response times when dealing with an emergency incident. We are delighted to be able to work with Limerick County Council and Irish Water Safety in rolling out this project, which hopefully will help save lives in the future," Mr Delaney said.
The Epoch Times publishes in 35 countries and in 19 languages. Subscribe to our e-newsletter.