Latino Leaders Reject Spitzer, Saying His Actions Are Hypocritical
July 19, 2013 4:13 pm Last Updated: July 19, 2013 4:13 pm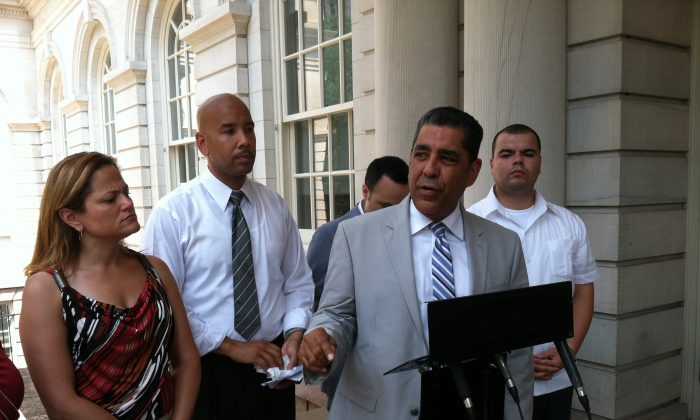 NEW YORK— Elected officials from Hispanic communities around the city have differing—and often strong views on who should be mayor of New York, but when it comes to the city comptroller's race, they all agree on backing Scott Stringer over Eliot Spitzer.
"As Latinos and representatives of the Latino community, we are sick and tired of the reality show and the double standards," Bronx Borough President Ruben Diaz Jr. said from the steps of City Hall on Friday. "We are sick and tired of fact that so much attention is being put on the notoriety of the former governor, Eliot Spitzer." 
Spitzer entered the comptrollers' race on July 7, drawing national media attention, largely because Spitzer resigned from office in 2008 after it was discovered he solicited a prostitute. Spitzer was never charged with a crime, despite prostitution being illegal in New York State. 
Spitzer has spent the two weeks since announcing his campaign on the media circuit, including the national television talk shows "The Tonight Show" with Jay Leno and "The Colbert Report." He has only appeared on New York City streets campaigning once: on July 8 in Union Square to gather petitions to get on the ballot, which turned into a media circus. 
Hispanic officials called the press conference to draw attention to what they say are hypocritical actions by Spitzer. Diaz said the double standards are not something voters should tolerate.
Spitzer has drawn intense scrutiny this week for declining to release his tax returns from past years, like most candidates do. Releasing tax returns is also something Spitzer supported in 2006, according to Diaz.
On July 17, Spitzer released two pages of his 2011 and 2012 tax returns, but would not release the full returns, saying they include private income information about business partnerships. 
Diaz questioned if there was something Spitzer was hiding. 
State Senator Adrianno Espaillat demanded Spitzer released his tax returns
"We are asking this candidate who is going to handle our books, to open up his," Espaillat said. 
The office of comptroller is in charge of managing the city's pension fund, as well as auditing city contracts.
"Anyone running, particularly for this position, should do that [release tax returns]," Diaz said. "We know he has done well for himself and we want to know where his money is coming from and what those relationships are." 
City Councilwoman Melissa Mark-Viverito believes Spitzer's flip-flop on the issue of prostitution was his gravest mistake. While attorney general, Spitzer called prostitution "modern slavery" and increased the penalty for patronizing a prostitute from three months to one year. 
"As a woman, one of the issues I am extremely concerned about is Eliot Spitzer was patronizing an industry that denigrates women, that traffics woman and an industry that promotes misogamy," Mark-Viverito said. "This is not the type of leadership we should be having in the city of New York."
While Spitzer led Stringer in a July 15 Quinnipiac poll, Espaillat dismissed the polls, saying most of it was name recognition. He said voters are just starting to tune into the races and have yet to make informed decisions. 
"We should not be guided by public opinion polls," Espaillat said. "Being right, sometimes, is a very lonely place."