Land Confiscation Victim Denounces Chinese Regime in Graffiti
March 6, 2010 1:21 am Last Updated: October 2, 2015 5:29 pm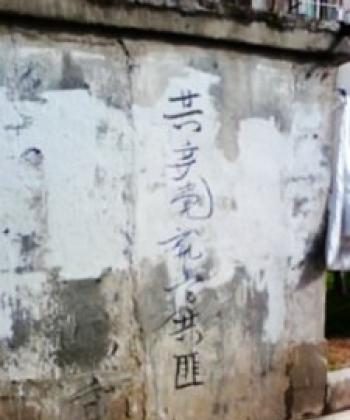 Recently, graffiti calling the communist authorities gangsters and animals has turned up in Shanghai.
The slogans are the work of Zhang Junwei, who has been a petitioner for the past five years without any results. According to Zhang, the Chinese Communist Party (CCP) has robbed him of his house, employment, and benefits.
Land Confiscation
Because of booming real estate development in China, there have been many cases of local authorities forcibly taking away land from people in recent years.
After his house was demolished and he was removed from work without reason, Zhang began to fight for his rights. After the authorities rejected his appeals numerous times, he changed his strategy and began painting slogans on walls in the community to expose the regime's wrongdoings.
Zhang's wife has been ill for the past several years. The doctors refused to see her because the couple couldn't afford the medical expenses. She is now blind as a result of the lack of treatment.
Regime a 'Public Enemy'

Zhang learned from Baokan Wenzhai, an official news outlet, that 400,000 high-ranking officials have taken over 80 percent of medical resources and spent up to US$100 billion of special funds per year for their own transportation, traveling, and meals.
In Zhang's eyes, the regime has become a "public enemy composed of robbers." He has written many letters to China's Premier Wen Jiabao but has not received any reply.
"The CCP calls it the people's government that serves the people. It's all a bluff!" Zhang said.
According to Zhang, the people are sick of the regime, which keeps doing superficial things that waste money and do the people no good.
Currently, the National People's Congress and the Chinese People's Political Consultative Conference are taking place in Beijing. Shanghai will be hosting the 2010 World Expo soon. The two cities have deployed a large number of police, troops, and security agents. Riot vehicles have also been deployed.
As reported in both The Epoch Times and Spero News, activists, petitioners, and dissidents are being threatened with arrests in the name of ensuring "the safety of the assembly" during the annual National People's Congress.
Police have been utilizing an "Operation Moat" that will clear the capital and prevent demonstrations, appeals, and other actions deemed to "disturb public order."
Last week, China's Academy of Social Sciences published a report noting that the number of cases related to public safety, which includes appeals, protests, and riots, increased by 20 percent last year, reaching a total of 9.9 million.
Read the original Chinese article