Garden Grove has a cat problem, and it could cost taxpayers $70,000 this year.
The city reported a nearly threefold increase in the number of feral cats captured last year, prompting a call for more resources to contain the free-roaming felines.
"Each year, the number of kittens that are born in feral colonies has been increasing," Alexandra Caswell, executive director at the Golden State Humane Society, told The Epoch Times.
"And that has to do with weather. [It] has been warmer every year, so the number of kittens being born has gone up."
During a Feb. 23 meeting, Garden Grove councilors will be asked to reinstate the city's contract with the Stray Cat Alliance, a nonprofit that oversees its return-to field (RTF) program.
The COVID-19 pandemic prompted Garden Grove last year to slash its cat-management budget by $21,000, bringing the expense down to $49,000 annually.
But the budget cut appears to have come at a cost. From last July to December, 226 cats went through the RTF program, compared to 79 the year prior.
The goal of the program is to limit cat's reproductive cycle, and reduce the number of kittens being born feral. It allows residents to trap cats, which are then taken to a vet to be sterilized, vaccinated, examined, and returned to the location they came from.
"Due to this increase in activity over the prior year, the initial amount of the contract has been exhausted and the remaining budget allocation is needed to provide continued services," the city says in a report.
The city is asking the council to boost program funding to its previous $70,000 amount through a one-year agreement with the Stray Cat Alliance beginning July 1.
Cat Concerns
While a high volume of stray cats running around northern Orange County may not seem problematic, there are consequences that arise from it: homeless cats are often starving from a lack of food, a high number of deceased cats are found on roads and other areas, and animal care services are not able to keep up with the expanding colonies due to many of the cats not being spayed or neutered.
The problem has led to residents becoming independent cat trappers that work to capture the cats in cages and take them to spay and neutering organizations, after which they can be released back into the population.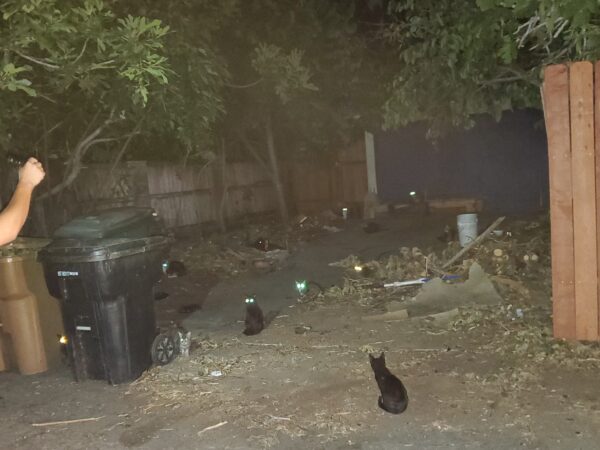 Caswell said that the feral cat population in Los Angeles County is estimated to be 3 million. Estimates for Orange County are believed to be similar, she said.
The county has recently stated receiving more attention on the problem from independent cat trappers, she said.
"It's a big problem," Caswell said. "And this is the first time that actual organizations have dropped into Orange County and Garden Grove and started to really do something about the issue."
The Golden State Humane Society fixes cats brought in by trappers from the community. It hosts "Feral Friday" a few times each year to offer a day's worth of free spaying and neutering services.
Caswell said the organization fixes between 25 to 50 feral cats per month, not counting those participating in the feral Friday program.
"The effort to trap them didn't really start ramping up until 2019," she said. "There were community members who would trap when they could and get together and work on trapping colonies. We've always had feral cats coming into both of our clinics for decades. But the real focus on it, the big rescuers coming in and actually starting to get volunteers together and get groups together and start going after these colonies, did not really kick in until 2019."
A Call for Change
Han Tran, an independent cat trapper in Garden Grove, known as a humane worker, said it would be helpful for the county to enact a law that would require every resident to have their cat be spayed and neutered.
She helps cats throughout Northern Orange County, including Anaheim, Santa Ana, and Garden Grove. During the last six months of 2020, she trapped about 100 cats, she said.
"There are thousands of homeless cats and lots of cats being euthanized," Tran told The Epoch Times. "There's no point in producing more kittens."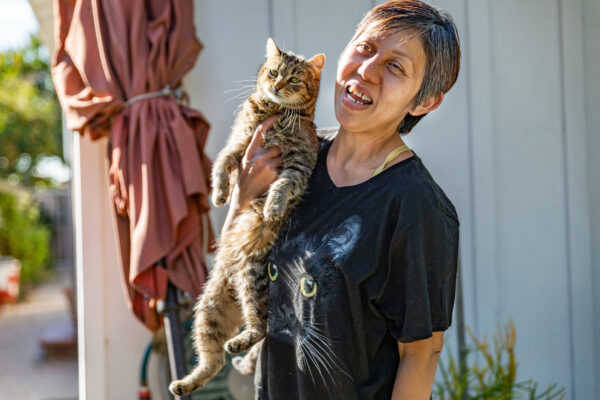 Tran started a nonprofit organization called the Cat Education Foundation, which informs others on the importance of fixing cats, and having compassion for them.
Tran said one of the biggest problems is the lack of education among most Orange County residents.
"I think it stems from people, and a certain sector that likes cats and has them, but do not spay or neuter them," she said. "And so, we worked so hard. [There are times when] we sit and wait two hours to trap a cat. Then, we spend a lot of time trying to fix the cat and you turn around and the yard has like more 15 cats that are unfixed."
In a letter to the city council last September, Tran warned of a "kitten tsunami," a term coined by veterinarians to describe an influx of homeless kittens.
"Currently our resources are shrinking," Tran said in the letter. "I'm trying to eliminate the widespread suffering of the voiceless animals. The sheer number of homeless animals is an indication that society has not been successful in educating the public about spay/neuter. Animal organizations such as Alley Cat Allies, Stray Cat Alliance have been in existence for decades and are not able to stop the kitten tsunami."