Kittel Wins Sprint in Tour de France Stage Ten
July 9, 2013 12:11 pm Last Updated: July 10, 2013 9:14 am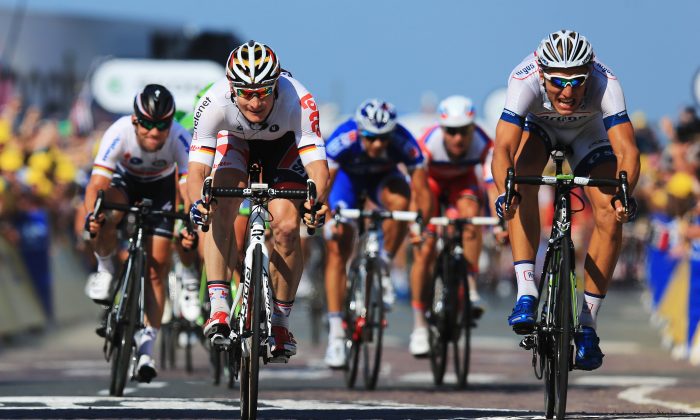 Marcel Kittel of Argos-Shimano became the first sprinter to win two stages in the 100th Tour de France as the German sprinter beat out countryman André Greipel by millimeters to win Stage Ten.
Greipel's Lotto-Belisol leadout proved superior to the Argos train, Greipel was far ahead approaching the line, so Kittel charged hard and caught Greipel's wheel. In the final few meters kettle pulled out and passes and won in a photo finish.
Mark Cavendish of Omega Pharma-Lotto after a collision with Argos-Shimano's Tom Veeler.
Veeler was on Greipel's wheel, with Cavendish on Veeler's and Kittel following Cavendish; Lotto's Greg Henderson was pulling the whole pack. Veeler peeled off to the right, and as he did Cavendish dived left to catch Greipel's wheel. The Omega rider slammed into Veeler, flattening him.
Cavendish paused to look back, then rejoined the sprint, but he had lost too much time and momentum. Kittel caught Greipel, let the Lotto rider lead, and shot by at the line. The race referee analyzed the tapes and decided Veelers was at fault for pulling in front of Cavendish.
Peter Sagan finished fourth, extending his lead in the green jersey points competition.
"First I'm really happy we won the stage today, but on the other hand, I heard that Tom [Veeler] crashed and it must be a high-speed crash; I really hope that he's okay," Kittle told Eurosport.com. "It's a bit up and down within one minute."
"I'm so, so happy we've had such as successful Tour," he continued. "I'm proud of my boys, they worked really great; we did a great performance today. I am really looking forward to the next flat stages and I hope we can repeat there.
"From now on it's just about enjoying the Tour and enjoying being together in the Tour."
Sky's Chris Froome retained the yellow jersey. When asked about the pressures opf being race leader he replied, "I am enjoying it. This is the goal, to be here wearing this jersey so I am trying to soak it up as much as I can.
"There is a lot going on with the media, it's definitely taken a lot more time and a lot more energy from me than I expected."
Froome was looking forward to Stage Eleven a 33-km individual time trial.
"Personally I'm looking at trying to lengthen or at least hold onto the lead I've got in the yellow jersey at the moment," he explained. "I think on a flat time trial tomorrow it might be somewhere where I could extend my lead."
Sprinters' Stage all the Way
Stage Ten, Saint-Gildas-des-Bois to Saint-Malo, was a rippling 197-km (122-mile) route through the plains of France with only a single Cat Four climb two-thirds through and a flat final kilometer, a route tailor-made for a sprint finish. A route tailor-made for Chris Froome and Sky as well: Stage Ten was almost a second rest day for the race-leading team, because Sky could count on the sprinters' teams to do all  the work in the peloton to set the pace and chase down the breaks.
The end promised to be exciting for more than just the speed. The final kilometers covered narrow, twisting roads with more ripples, and the course followed the coast, which meant strong crosswinds would buffet the peloton, possibly splitting it into echelons.
As it happened, the wind didn't have much effect, except to accelerate the final sprint as it blew cross/tail, giving riders an extra boost into the final few hundred meters.
Five riders attacked near the start: Julien Simon, (Sojasun,) Juan Jose Oroz, (Euskaltel Euskadi,) Luis Angel Mate, (Cofidis,) Jerome Cousin, (Europcar,) and Lieuwe Westra (Vacansoleil-DCM.) Thios group persisted until the final ten kilometers, when Westra dropped back. The remaining four fought on until the final five km, when Julien Simon, fiorst to attack, was last to be caught.
The rest of the stage was a battle to be the best leadout. Saxo-Tinkoff led early, intent of keeping Alberto Contador out of trouble. Once inside the three-km mark, when riders caught in crashes are given the same time as the rest of the field, Saxo eased off and Omega, Orica-GreenEdge, Argos and Lotto fought it out.
Omega had control until a traffic circle at two kilometers interrupted their train. Lotto and Argos were the first teams to reorganize; Cavendish and Sagan had to follow these teams.
Lotto had four riders ahead of Greipel with two K left; the leadout should have been perfect. However, the route and the terrain made things hard to gauge. The final 3500 meters were downhill. Coupled with the tailwind, this might have led the Lotto train to ride too fast.
Lotto still had Adam Hansen and Greg Henderson in front entering the final kilometer, a textbook leadout; Greipel should have won the stage—according to the textbook. In reality, a slight bend in the road obscured the finish line banner until the riders were almost on top of it.
Greipel might not have known exactly where the line was; Kittel seemed to have studied the route-book more closely, and held off until the last possible moment to make his hardest effort.
Time Trial Tomorrow
Stage Eleven will be a 33-km time trial. The first half is hilly, the end pan-flat. This is a perfect stage for Omega's Tony Martin, World Time Trial Champion; it is also an excellent stage for race leader Chris Froome.
Froome's rivals are respectable time trailers, as a rule. Alberto Contador completely tanked his last TT, where he finished 61st and Froome, third behind Tony Martin, in June's Critérium du Dauphiné.
Froome's team mate Ritchie Porte turned in a good ride that day, as did Omega's Michal Kwiatkowski. None of the others in the top 20 in that stage are in the top 20 in GC at the Tour.
With Froome 1:25 ahead of Alejandro Valverde and nearly two minutes ahead of Contador, the yellow jersey is not in peril. If any of the top twenty have an off day, their Tour hopes could end with Stage Eleven.