HONG KONG—HKHA Premier Division-A matches played last Sunday (Feb 5, 2017) were SSSC-A against Khalsa-A at King's Park and KNS-A against HKCC-A at the HKFC ground.
In the Premier Division-B Shaheen-A played KCC-A at King'Park and Valley-A met HKFC_B at Sport Road.
Prior to these matches, HKFC-A were heading the standings of the Premier-A by 2 points over Khalsa. HKFC-A had no fixture and were sitting out with a bye that would level the games of the top 3 teams to 12 each.
The SSSC to Khalsa match was the main challenge that attracted all eyes, including those of HKFC-A coach Koen Pijpers and some HKFC players.
The match was all that it was expected to be, both teams displaying their top sides, the match promised to be a hockey spectacular – no one was disappointed!
After a tentative start by both sides, Khalsa had the first opportunity to score from a penalty corner 4 minutes into the game, but the shot was pushed round the post by the SSSC goalie.
Both sides attacked in turn but the approaches were stopped and reversed one by one until in the 13th minute SSSC's Deepanshu Bhargav wriggled his way into the shooting zone and shot through a maze of players to score, 1-0 to SSSC.
But Khalsa were almost immediately back on level terms when the SSSC defense was caught off-guard by the Khalsa left winger Gagandeep Singh who moved into the circle and shot from a narrow angle for the equalizer.
SSSC were in attack mode and almost scored a second when Bhargav drove a ball across goal and the lively SSSC attacker Muhammad Bashir just missed with a deflection at the far post.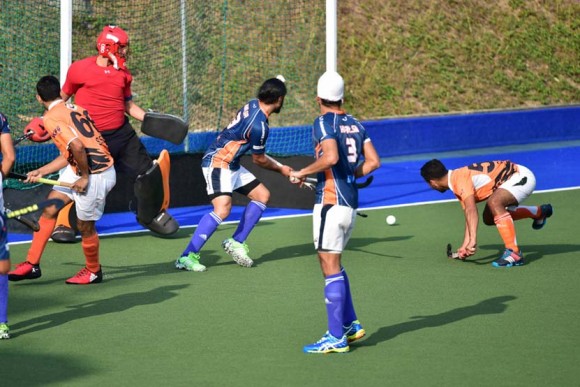 SSSC continued to play well with penetrating dribbling runs by Bhargav and Bashir upsetting the Khalsa defense. After 20 minutes of play, a shot by Amritpal Gill was blocked but another run by Amritpal into the Khalsa circle brought a penalty which Samrandeep Singh forced home for 2-1 to SSSC. In a follow-up sequence a shot by Bhargav was expertly pushed away by the Khalsa goalie.
SSC secured another penalty corner, duly converted by Samrandeep's drag-flick 7 minutes from half time, and the score remained at 3-1 to the break.
In the 2nd half Khalsa pushed forward and were rewarded with 2 penalty corners early in the 2nd half but did not score.
But fortunes changed for Khalsa with 20 minutes remaining. Arshad Muhammad moved up the center of the field and hammered a ball at the goal which got a neat deflection to reduce the deficit to 3-2.
Khalsa followed this up 3 minutes later with the 3-3.equalizer from a penalty corner with a superb strike by drag flicker, Gaganpreet – Khalsa were back in the game and playing with added purpose.
Khalsa's Gagandeep Singh, Sukhjeet Singh, Barkat Singh and Arshad Muhammad were combining well and playing some amazing hockey – Khalsa were on the ascendancy.
But it was not until 2 minutes before time that Khalsa got the break from another penalty corner which Gaganpreet converted to produce the 3-4 winner, to take Khalsa back to the top of the standings on 32 points – 1 point ahead of HKFC-A. HKFC-A travel to King's Park to play Khalsa this coming Sunday Feb 12.
Other matches
In the weekend's other top-half fixture, KNS A ran out comfortable 5-1 victors against HKCC A. HKCC, missing a couple of their key midfield players, struggled to contain their closest league rivals in the first half, with a few instances of slack defending and a well-executed short corner flick seeing them 3-0 down at half time.
HKCC came out much stronger in the second half, creating opportunities of their own but were unable to make these count.  KNS then added a 4th and were held at this for much of the remainder of the game, before a 5th goal found its way into the net with the game already safely secured. With the last play of the game, HKCC were able to force the ball through the keeper's legs during a scramble in the KNS circle, but by that stage it was nothing more than a consolation.
In Premier Division-B, HKFC-B were able to bounce back from a poor performance and defeat against Shaheen A in their previous game, to beat local rivals Valley A, whom they narrowly lost to in Round 1 despite having the better of possession and chances.
On Sunday it was a similar story, but this time the Sports Road outfit were more clinical in front of goal, going into the half-time break 1-0 up thanks to a well-struck short corner hit from Dave Pratty.
Valley came close to equalizing in the second half despite struggling to create opportunities, but it was national team player James Shepherdson next on the score sheet when he found the bottom corner with a fantastically taken behind-the-back deflection to put HKFC 2-0 up. Some defensive complacency allowed Valley back into the game with a scrappy goal to make it 2-1 and set up a nervy last 15 minutes, but a fast attack saw Pratty through on goal again where he finished with a powerful reverse stick shot to secure things at 3-1.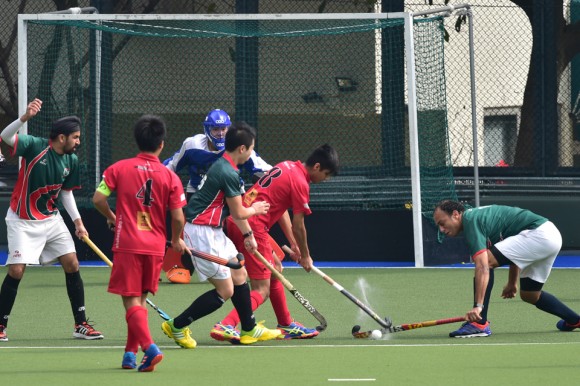 In the Premier Division B match at King's Park between Shaheen-A and KCC-A, Shaheen were playing without their stalwart Asghar Ali who was sitting on the sideline with a finger injury. But Shaheen were still the more attacking and had the edge in a fairly even first half. But mid-way through the half a well-directed hit across goal was converted by Swalikh Mohammed for Shaheen to go 1 goal up. Right at the halftime whistle, KCC forced a penalty corner which Ahmed Ewis slotted home to go into half time all square, at 1-1.
Shaheen moved ahead again 7 minutes after the break with a well taken penalty corner low down to the right and although KCC pressed and created a few chances they failed to score leaving the match at 2-1 to Shaheen.
Standings table

Next Matches
There will be 3 Premier Division matches at King's Park on Feb 12 including the star match between Khalsa-A against HKFC-A. The earlier matches will be Valley-A to KCC-A in Premier-B, then in Premier-A, HKCC-A play SSSC-A. The other Premier B match is Pak-A against HKFC-B at HKFC.
Yan Lee Adams contributed to this article.