Keeping the Records of a Peaceful Revolution: Tuidang by the Numbers
July 11, 2011 11:27 am Last Updated: July 15, 2011 10:16 am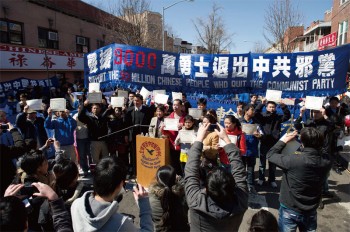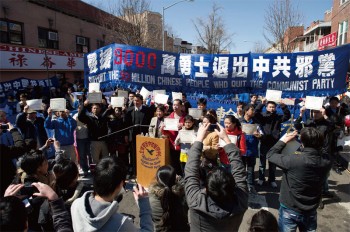 In November 2004 The Epoch Times published an editorial series called Nine Commentaries on the Communist Party, which takes an unsparing look at the nature, history and crimes of the Chinese Communist Party (CCP). The series ends with a call for the rebirth of China: "Only without the Chinese Communist Party, will there be a new China. Only without the Chinese Communist Party, does China have hope. Without the Chinese Communist Party, the upright and kindhearted Chinese people will rebuild China's historical magnificence."
The first response to that call came on Dec. 3, 2004 in the form of a statement from someone quitting the CCP. In Chinese, to quit the Party is to "tuidang." As of July 10, 98.3 million Chinese have submitted tuidang statements that renounce membership either of the CCP or its affiliated organizations, the Communist Youth League and the Young Pioneers.
The Global Service Center for Quitting the Chinese Communist Party has kept the records of this peaceful effort to dissolve the Party. The Epoch Times discussed with the Service Center's executive director, Dr. Li Dayong, how these statements are collected.
Multiple Channels
Dr. Li says that a website affiliated with The Epoch Times is the main channel for someone to submit a tuidang statement.
For those who do not make use of the website, there are other means: submitting a statement in person at a service center (for those who are outside mainland China); sending a statement by fax; sending an email; calling the Service Center hotlines; posting the statements on telephone poles or bulletin boards; and writing the statements on yuan banknotes.
"There are about 100 Service Centers for Quitting the Chinese Communist Party in the world. They distribute a large number of 'Nine Commentaries' and help Chinese to quit the CCP on a daily basis," Dr. Li said.
The Service Centers are staffed by volunteers. Mostly Falun Gong practitioners, but also others who support the tuidang movement, the volunteers tell people what the CCP is really like and help them renounce the Party.
This may happen almost anywhere or anytime. Inside China tuidang may happen through a conversation held on a city bus, or while standing in line, or at a work place or in someone's home. Such conversations are not without risk—individuals found spreading the "Nine Commentaries" or encouraging people to tuidang risk severe reprisals.
Volunteers may assist people inside China to renounce the party by making phone calls or having chats in Internet chat rooms. Outside China, Chinese visiting popular tourist spots or Chinatowns are likely to find a Service Center table or kiosk set up to assist in tuidang.
"The number of volunteers in the world, including people in mainland China who help others quit the Party is hard to count," Dr. Li said. "With the joint efforts of so many people, it is not surprising to have about 100 million people quitting the party and its affiliated organs in seven years."
Service Center data analysts have used data sets of 10,000 statements at a time, to determine how many of those who tuidang were CCP members at one time. A conservative estimate is that 30 percent of the statements are from present or former CCP members.
Next…Responding to Objections