Kashmir's Youth Hardened by Unrest
March 24, 2013 12:30 am Last Updated: April 3, 2013 7:54 am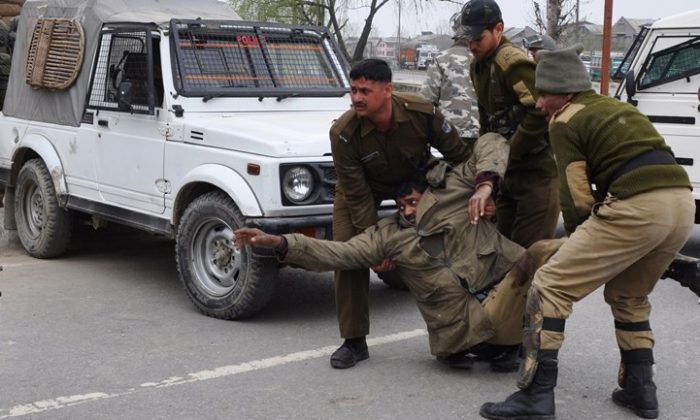 Unrest is not new to Kashmir, a land to which both India and Pakistan lay claim, colloquially known as "the valley." Militant attacks, patrolling armed forces, and protest have long permeated the disputed land.
The blame game never ends, and the marks of violence are as visible as the mountain ranges that enclose the region. Bitter youth grow up caught between India and Pakistan, and accustomed to seeing guns. 
The city of Srinagar in the Kashmir region has enjoyed some peace for the past three years. That peace was shattered by an unexpected suicide attack on the Indian Central Reserve Police Force (CRPF) on March 13.
Militants carrying cricket bags entered a CRPF camp and walked onto a large, open field where off-duty officers and children were playing cricket. They fired without cover and lobbed grenades at the officers, killing five CRPF soldiers and injuring eight soldiers and four civilians.
Indian police have said the Muslim terrorist organization Lashkar-e-Taiba (LeT) is responsible. LeT is based in Pakistan, though it formed in Afghanistan in 1990. After al-Qaeda, it is considered to be the most dangerous terrorist group operating in South Asia. India and Kashmir have been the group's primary areas of operation.
On the day of the attack, CRPF soldiers were returning from a hospital where they had donated blood for injured soldiers when protesters allegedly started throwing stones at their vehicles. The soldiers fired at the protesters, killing Altaf Ahmed Wani.
Locals are disputing the claim that CRPF vehicles were targeted. They say there were no protests in the area where Wani was killed.
Srinagar remained under curfew until Sunday to prevent further street clashes.
"I have only one fear," a social worker from Srinagar-based nongovernmental organization Symbiosis Educational Society, who wished to remain anonymous, told The Epoch Times. "Unlike earlier generations who had not seen anything, today's generation in Kashmir has seen much unrest and has become immune to the situation. They are ready for it, and this is dangerous."
"They are brave unlike earlier generations. Whether it's brave in a positive or negative sense, we don't know," the social worker said.
The valley of Kashmir as a whole enjoyed relative peace throughout 2012. But tensions were stoked by the execution of Afzal Guru in February this year.
Guru, from the city of Sopore near Srinagar, was hanged for his role in the 2001 attack on Indian Parliament, which killed 13 people. When the Indian government refused to return his body to his family, instead burying him at Tihar Jail in New Delhi, protests erupted in the valley.
Kodur Venkatesh, a strategic affairs analyst and a former superintendent of police with CRPF, said: "Personally, I felt Afzal Guru shouldn't have been hanged. There was no circumstantial evidence against him. After 13 years in the prison, he was executed. It was political pressure from various groups and an election around the corner that led the government to do this."
Venkatesh said if Guru had instead been incarcerated for life, stability would have remained.
After Guru's hanging, additional armed forces and police units were deployed to maintain law and order in Kashmir. Many policemen and protesters were injured, and some were killed, during the clashes. The valley was under curfew for days at a time.
While Srinagar remained under curfew last week, the diplomatic battle between India and Pakistan continued. On March 14, Pakistan's Parliament officially condemned the hanging of Guru. On March 15, the Lower House of the Indian Parliament unanimously adopted a resolution against Pakistan's condemnation.
"Between India and Pakistan, Kashmir is getting ground," the social worker said. "Nobody wants unrest and nobody wants to sit at home under curfew."
Violence and curfews are affecting daily life in Kashmir, including academic schedules and tourism.
The region has lost 60 percent of its tourist bookings, according to the local daily Kashmir Times. Travel agents based in Kashmir report that fresh queries have ceased.
Venkatesh said it is difficult for Kashmir to pull out of the cycle of violence: "Every incidence of violence gets linked to similar historical incidences. Things become complicated because responses are not concrete and sincere."