Kansas Victims Helped, Healed
April 18, 2014 6:01 am Last Updated: April 24, 2016 6:37 am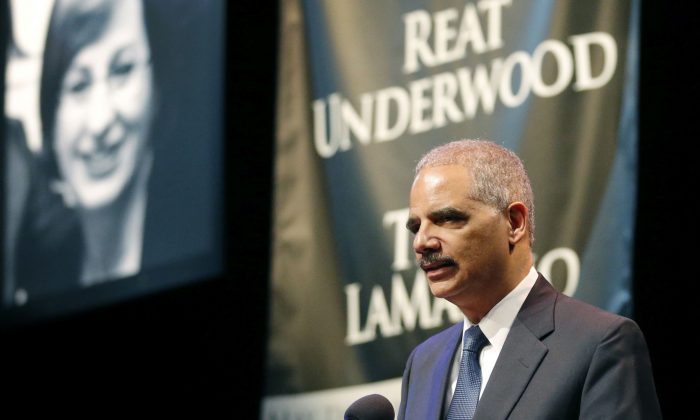 Attorney General Eric Holder traveled to Overland Park, Kan., Thursday to honor the three victims of last week's shootings. They were Terri LaManno, an occupational therapist who helped blind people; William Lewis Corporon, a doctor; and Corporon's 14-year-old grandson, Reat Griffin Underwood.
Every human life is an irreplaceable treasure. The life of a friendless orphan who lives alone in a wilderness is just as important as the life of a family person who is the pillar of his community. Some lives, however, benefit other lives to an exceptional degree. It is a tragic irony that the three dead were altruistic people—the opposite of their accused killer.
Holder said at their memorial: "Terri LaManno was a dedicated occupational therapist; a loving wife to her husband, Jim—with whom she should have celebrated her 25th anniversary on Tuesday; and a wonderful mother to their three children." She was visiting her elderly mother at Village Shalom when she was killed.
Helpers and Healers
"William Lewis Corporon was a highly respected physician who moved to Johnson County from Oklahoma to be closer to his grandchildren," said Holder. He was bringing his grandson to a singing competition. Reat Underwood was an Eagle Scout, which means he had done years of volunteer service work and showed leadership qualities.
All three of them were helpers or healers. A life has intrinsic value, yet each interaction of a life with other lives can magnify its value. From big things like saving someone as a doctor or firefighter to smaller things like mentoring people at work, we all have parts to play for each other. 
Now all the parts that LaManno, Corporon, and Underwood were going to play will go empty.
The alleged shooter stewed in hatred for decades. Avowed white supremacist Frazier Glenn Cross, 73, called for a racial war, for genocide against Jews, and for overthrowing the federal government. He recruited people to join racist and anti-government groups, and he trained them in military tactics. He was a former Green Beret and a Vietnam veteran. Cross shouted, "Hail Hitler" at television cameras as he was arrested after the shootings.
It seems that he went specifically to Jewish institutions to harm Jews. The three victims were Christians.
Affront
"Every alleged hate crime, no matter the intended target, is an affront to who we are—and who we have always been—both as a country and as a people. These acts cannot be ignored," said Holder. As attorney general, he is responsible for prosecuting hate crimes.
Federal prosecutors said there's enough evidence to warrant putting the case before a grand jury as a hate crime, but U.S. Attorney Barry Grissom said Tuesday that federal charges were likely a week or more away. Cross's state case would have to be resolved before he could be moved to a federal trial.
"At times—particularly on days like this one, when we stand in the shadow of such mindless destruction—I know it can seem as though the world is irreparably broken; that it is fractured beyond repair," said Holder. But the people at the service "are a testament to the limitless desire in this country for healing, for compassion, and for peace. And we reaffirm the spirit of fellowship that has always held this nation of immigrants together—and defined diversity as our single greatest strength."