A Melbourne dentist has won a defamation case over several one-star Google Reviews by a former patient, with a Victorian court ordering she pay $170,000 and legal costs after finding her reviews were damaging to the dentist's reputation.
The Victorian County Court awarded the aggravated damages to Dr. Allison Dean from Melbourne-based Kew Periodontics and Dental Implants, who brought the action against Catherine Puleio.
According to the judgement, Puleio was a former patient who visited the clinic on several occasions. However, the relationship ended after Puleio's conduct proved difficult. The court found Puleio had cancelled appointments with the clinic on six occasions within a short timeframe.
In response, Puleio wrote and posted four negative Google Reviews on Dean's business under the pseudonyms Cat and Daniela.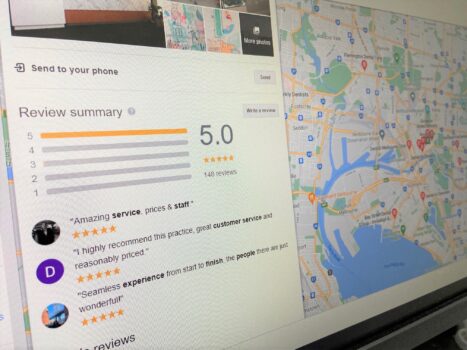 In her first review on Mar. 6, 2020, she claimed Dean had caused her to suffer anxiety, constant illness, was negligent, bullied her, and tried to charge her $20,000 despite knowing she could not afford it.
On Mar. 10, 2020, a second review was uploaded, which read: "I'll give a 1 star for the beautiful / worldly consulting room only. Unprofessional and undermining service."
Dean attempted to resolve the matter by refunding $725 to Puleio. However, Puleio asked for another $1,000 and claimed it was fair "considering what damages would cost if I were to proceed ahead."
Dean refused to pay, fearing further extortion attempts. Puleio subsequently uploaded two more reviews, which the court found conveyed that Dean was negligent, unethical, lied, and had ill intent towards her.
Judge Julie Clayton found that these accusations were damaging to Dean's reputation, noting she was hard-working and had developed an extensive patient and referral network (450 dentists).
Clayton also considered how much exposure the fourth Google Review received, noting that it was seen at least 1,300 times, and the words "unprofessional and undermining service" was displayed prominently when patients searched online for Dean's services.
"I accept that the defamatory statements and, in particular, the fourth Google Review have been viewed by a large number of people, and it is likely that somewhere in the vicinity of 100,000 people have viewed the extract of that review which states 'unprofessional and undermining service,'" she wrote.
"I further accept that the 'grapevine effect' means that it is likely the impact of the publications would have spread beyond those people who saw the actual page," she added.
The grapevine effect is akin to word of mouth and acknowledges that exposure to defamatory content is not limited to people immediately exposed to it. Clayton also noted that Puleio was uncooperative with Dean's lawyers and did not make any court appearances.
"The defamation was widespread, the publications were seen by around 100,000 people, and it occurred over an extended period. It has the flavour of a 'vendetta' or a campaign against Dr. Dean," the judge ruled. "Having regard to all the circumstances of this case, I consider that the appropriate award of damages is the amount of $170,000."
The finding follows a slate of recent successful defamation actions targeting social media posts online.
In June, a former employee of a Brisbane-based was ordered to pay $82,500 after she was found to have defamed her previous boss with an Instagram story post.