Authorities in Philadelphia seized a cargo ship that had 20 tons of cocaine on board, and it was reported that it was owned by a subsidiary of JPMorgan Chase.
JPMorgan Chase doesn't operate the Liberian-flagged ship run by the Swiss-based Mediterranean Shipping Company, CNN reported on July 10.
Officials boarded the MSC Gayane on June 17, finding the cocaine. It's estimated that the drugs on board the vessel have a street value of $1.3 billion.
Law enforcement agents boarded the vessel and found the cocaine, which is said to have a street value of about $1.3 billion https://t.co/MaKMBhmkz0

— CNN International (@cnni) July 10, 2019
The U.S. Attorney's Office for the Eastern District of Pennsylvania said the cocaine was seized by the United States Customs and Border Protection (CBP) agency. It wasn't until July 4 that a warrant was issued that allowed agents on the ship.
"A seizure of a vessel this massive is complicated and unprecedented—but it is appropriate because the circumstances here are also unprecedented," said U.S. Attorney William McSwain.
"When a vessel brings such an outrageous amount of deadly drugs into Philadelphia waters, my Office and our agency partners will pursue the most severe consequences possible against all involved parties in order to protect our district—and our country," McSwain added.
Federal prosecutors in Philadelphia seized a large cargo ship from a global shipping company — after authorities found about $1 billion worth of cocaine on it last month. https://t.co/HMpRlv35Rd

— NPR (@NPR) July 9, 2019
The office didn't mention that it was owned by the banking giant.
Crew members have been charged with knowingly and intentionally conspiring with each other and others to possess more than five kilograms of cocaine on board a vessel.
The Mediterranean Shipping Company (MSC) said in a statement on June 18 that "unfortunately, shipping and logistics companies are from time to time affected by trafficking problems. MSC has a longstanding history of cooperating with U.S. federal law enforcement agencies to help disrupt illegal narcotics trafficking."
U.S. authorities have seized the Swiss cargo ship MSC Gayane. It comes three weeks after the feds found 20 tons of cocaine on the ship — the largest cocaine haul in U.S. history. https://t.co/BNYowuPckW

— New York Daily News (@NYDailyNews) July 10, 2019
On July 9, the firm said it is cooperating with U.S. law enforcement. "As a result of that operation, MSC Gayane has been under U.S. government control since 17 June while the authorities conduct investigations. MSC is assisting and cooperating in any possible way with the authorities and is not the target of the investigation," a statement added.
The MSC Gayane sails under the Liberian flag, making calls in the Bahamas, Panama, Peru, and Colombia before it headed to Philadelphia, NPR reported.
According to The Associated Press, ship's second mate, Ivan Durasevic, and another crew member, Fonofaavae Tiasage, were charged with conspiracy to possess cocaine aboard a ship. An online court docket did not list attorneys for the defendants. It wasn't clear whether other crew members would face charges.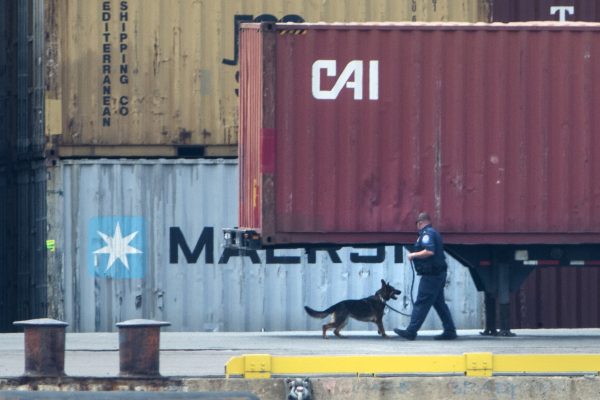 The drug seizure is the latest in a series of large cocaine busts along the East Coast. In a March bust in Philadelphia, drug dogs sniffed out 1,185 pounds (538 kilograms) of cocaine worth about $38 million—at that time the city's largest seizure of the drug in more than two decades.
In February, customs agents seized 3,200 pounds (1,451 kilograms) at the Port of New York and New Jersey with a street value estimated at $77 million. That was the largest cocaine bust at the ports since 1994.
The Associated Press contributed to this report.