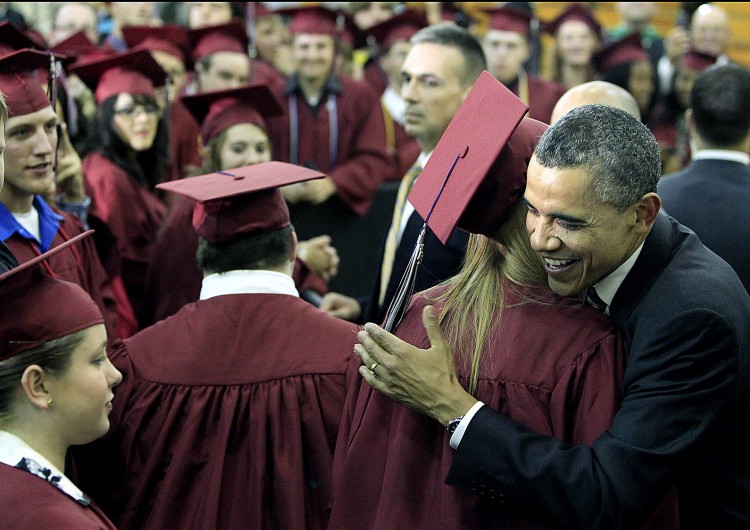 For students in the southwest Missouri city of Joplin, the end of the school year rings triumph and a true soldiering spirit. "We made it," said Dr. C.J. Huff, superintendent of Joplin Schools, in a phone interview hours before President Obama gave a commencement address at Joplin High graduation ceremony.
The people of Joplin made it through one of the greatest disasters to hit the nation in the summer of 2011, on May 22 when an EF-5 tornado destroyed the town. The tornado, as wide as a small lake, turned at over 200 mph for 13 miles. The destruction was unimaginable—161 lives were lost and entire towns were flattened.
"It's been a challenging year. Our students and our families have just been remarkable this year and our kids have shown so much these last 12 months. I'm just very proud of the work that they've done to overcome some very challenging obstacles this school year," said Huff.
Joplin's only high school, Joplin High, was completely destroyed. The community spent the summer of 2011 rushing to get temporary school buildings ready by the first day of the new school year. More than 3,200 students now go to school in temporary buildings.
"As a community, I think we are doing pretty well. We are all tired. We've been working for a year to rebuild all that was lost and we still have a long way to go, but very thankful and appreciative of all the support that has come from across the country to help us get to where we are today," said Huff.
Half of Joplin's school district buildings were touched by the tornado. More than 3,000 students lived in the path of the storm and more than 4,200 students were without a school to attend. Seven students and one school staff member lost their lives.
High school students spent the 2011–2012 school year in a once empty shopping mall now setup for the 11th- and 12th-grade students and an older district building setup for the 9th- and 10th-graders. Middle school students spent the year learning in an industrial complex.
Joplin school's major accomplishment is that, despite the devastating storm and after the community's hard work, the 2011 school year started on time and the class of 2012 was able to graduate according to schedule. Not only were these milestones meet, Huff said the education provided was high quality.
"We got through the year and I think we did it in a very classy and very effective way,' said Huff.
After the storm, Huff said it has been an ongoing effort to take care of everyone—families, kids, and school staff as everyone was impacted by the storm. "We have to continue to put a lot of effort and time into it to make sure that everybody is okay," said Huff.
Going forward, Huff is concerned as major organizations that came to help Joplin recover begin to move out of town. The town and schools are still in the process of rebuilding. "A lot of people not only lost their homes, but lost their jobs and places of employment. For a lot of families, that is a real challenge for them and we continue to pray for support, but I'm afraid that at some point those resources are going to dwindle," said Huff.
The Joplin tornado anniversary is May 22. There will be a walk and a day of unity with various events during the week that support the rebuilding of Joplin.
The Epoch Times publishes in 35 countries and in 19 languages. Subscribe to our e-newsletter.