Japan has agreed to purchase 150 million doses of the Takeda-produced Novavax COVID-19 vaccine, the drugmaker announced on Tuesday.
The pharmaceutical company and Japan's biggest drugmaker said in a statement that it is preparing to manufacture the Novavax COVID-19 vaccine domestically for distribution beginning early next year, pending approval from regulators.
Takeda noted that the vaccine is still undergoing clinical trials in Japan. Novavax is licensing and transferring manufacturing technologies to enable Takeda to manufacture the vaccine, the company said.
The latest agreement follows an earlier deal between the pharmaceutical company and the Japanese government to manufacture approximately 250 million doses of the Novavax vaccine for COVID-19, the disease caused by the CCP (Chinese Communist Party) virus.
Made using protein-based technology, the Novavax COVID-19 vaccine works by introducing spike protein of the virus made in moth cells and an adjuvant made from natural soapbark tree extract to the immune system. It does not contain any live or inactivated virus, and is unable to replicate or cause COVID-19.
A two-dose regime of the Novavax COVID-19 vaccine demonstrates almost 90 percent efficacy against the original strain of COVID-19, according to a June study published in the New England Journal of Medicine.
Speaking to Epoch TV's "American Thought Leaders" in July, mRNA vaccine pioneer Dr. Robert Malone said that he believes Novavax's COVID-19 vaccine is a more traditional vaccine, and could be a "suitable alternative" for individuals who are "uncomfortable with the genetic vaccine strategy" offered by mRNA vaccines.
Speaking to Nebraska Medicine, Dr. Diana Florescu, MD, said that Novavax is also suitable for those who are allergic to polyethylene glycol (PEG), the adjuvant used in the Pfizer and Moderna vaccines, which boosts a recipient's immune response.
The Pfizer and Moderna vaccines are mRNA vaccines, while the AstraZeneca and Johnson & Johnson vaccines are viral vector vaccines.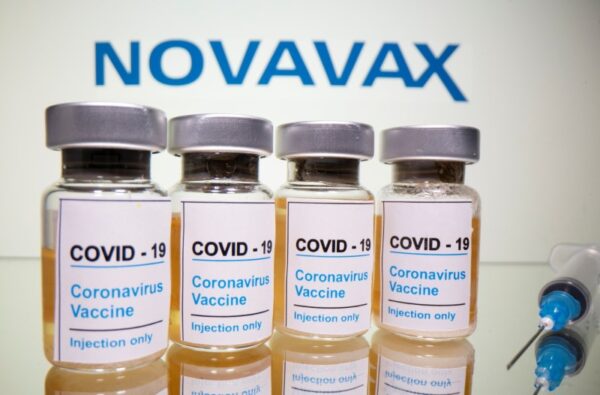 Takeda is also handling the import and distribution of some 50 million doses of Moderna's vaccine this year and 50 million more next year.
Last month, more than 2.6 million Moderna COVID-19 doses were suspended by Japanese health regulators following the discovery of contamination issues.
The health ministry said on Monday that a third person had died after getting a shot from the recalled Moderna supplies. The first two deaths reported in the country linked to contaminated Moderna doses were two men, aged 30 and 38. They both died two days after receiving a second dose from a tainted batch of vaccines.
Following an investigation, stainless steel contaminants were discovered in some vials. In a joint statement, Moderna and Takeda said the contamination was traced back to the production run by Spanish contractor ROVI Pharma Industrial Services. The probe was carried out by the two companies.
"Stainless steel is routinely used in heart valves, joint replacements, and metal sutures and staples. As such, it is not expected that injection of the particles identified in these lots in Japan would result in increased medical risk," Takeda and Moderna said in a statement last week.
Takeda said on Tuesday that the causes of death are under investigation, and that there is no evidence they are linked to the vaccine.
As of Sept. 7, roughly 58 percent of the population has received at least one dose of a COVID-19 vaccine. There have been approximately 16,400 COVID-19 related deaths in the country since the pandemic began.
Reuters contributed to this report.