CALISTOGA, Calif.—Clusters of deep purple, red, and green grapes hang on acres of vineyards. At Napa Valley's Castello di Amorosa, a castle winery, veraison is in season again.
"Veraison" is the viticulture word to describe the transition from berry growth to berry ripening.
"The acid will start lowering, and the sugar content will be greater. And so then we look for an equilibrium between sugar, acid, and pH, and then we'll pick the grapes," said Dario Sattui, owner of Castello di Amorosa.
Sattui told NTD, sister media outlet of The Epoch Times, that the winery grows its grapes across Napa, Mendocino, and Sonoma counties. It primarily makes Italian-style wines.
"The cooler areas of Mendocino will grow Pinot Noir and many of our white wines, and Napa County, of course, Cabernet Sauvignon. We also grow some Chardonnay and Pinot Noir in Sonoma County," he said.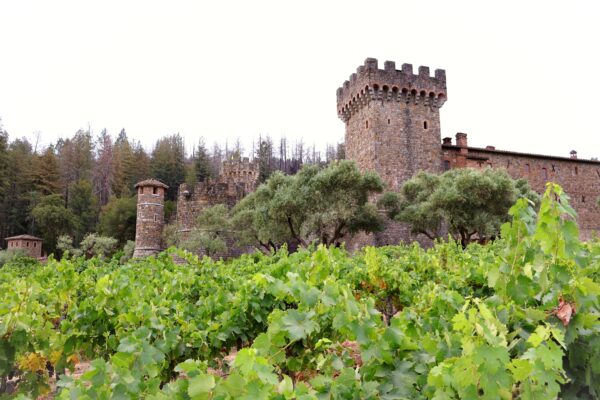 In total, Castello di Amorosa has about 120 acres of vineyards, with different grapes ripening at different times. Each variety has a distinct way of cultivation, starting with pruning from January to March.
Buds start coming out in late March and April. Then they flower, and grape clusters start forming.
"The vine is diffusing the energy into many clusters, so the quality won't be as good. You'll get a lot, but it won't be as good. So when we cut—you know it hurts me to see all these grape clusters go on the ground, but it's better for quality," Sattui said.
The harvest season begins in August and goes through October.
"We do everything by hand," he said. "We pick by hand, and then we will crush, press the grapes. And then white wines don't often go to barrels at all, except for the Chardonnay."
Wines that are stored go in underground rooms beneath the castle.
Chardonnay is fermented in French oak barrels. Sattui said each barrel costs about $900 to $1,000. They're used only twice to make vintage wines, and then they're sold as planters.
"So it's a very expensive way to make wine. We can buy American oak barrels for half to 60 percent of the costs, but American oak barrels are too aggressive, too tannic, where the French oak barrels have more spice and give … greater elegance to the wine. So we prefer to use those," he said.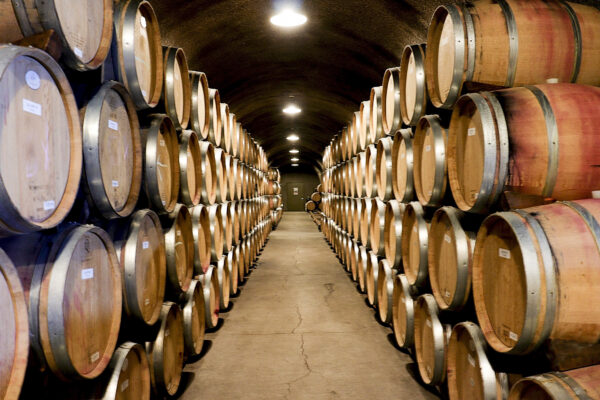 Red wines are aged anywhere from six months to two years, and bottle-aged for at least a year. Reserve wines age for at least three years before being sold.
"[Sattui] wanted to create wines that people could take home and enjoy with their friends and family, and he wanted to make food-friendly, approachable wines," Jim Sullivan, VP of marketing and public relations at Castello di Amorosa, told NTD. "We make those kinds of wines, those Italian-style wines. We want you to enjoy it around the table with your family and your friends."
The winery has had a lot of success selling wines directly from the winery. At the gift shop, the bottles are sold in staggered stacks.
"We stack our wine the way they've done for several centuries in Europe. It's a real efficient way to stack the wine, and then we sell right off the stacks," Sattui said.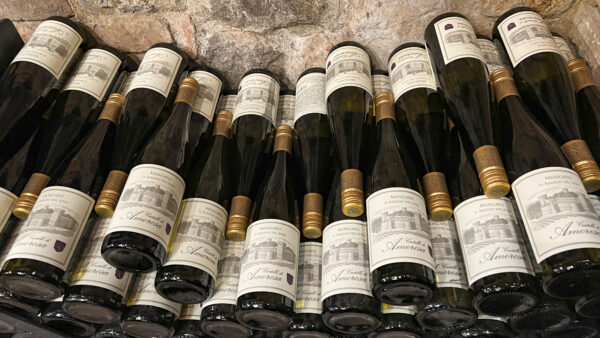 About 90 of the 107 castle rooms are dedicated to winemaking. The castle offers tours for wine tasting.
"I really like Cabernet Sauvignon," Sullivan said. "For me, it's a bigger, bolder wine—goes with my palate. But I do like the red blends as well. So we have a wine called La Castellana, which is a blend of Cabernet Sauvignon, Merlot, Sangiovese, Petit Verdot, and a little bit of Malbec. And I love that wine because it's so versatile. It's such a food-friendly wine."
"La Castellana in Italian means the feminine head of the castle," Sattui said. "So she was Castellano's wife. Castellano was the male administrator of the castle—not the owner, the male administrator—and La Castellana was the female administrator. Il Barone, which I guess I am now, is the baron and probably ruled the castle."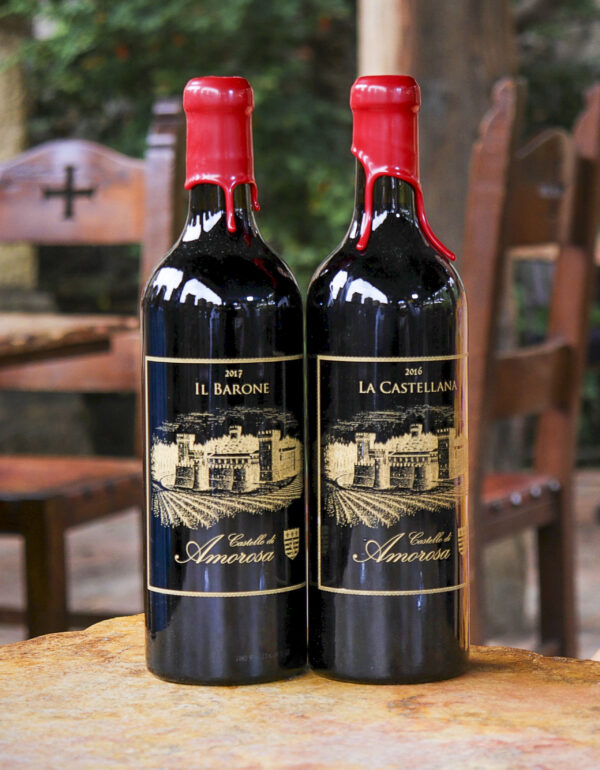 With their years of experience, Sattui and Sullivan know the land like the back of their hands.
"The best grapes are usually hillside grapes, and we have a lot of hillside vineyards where the exposure is southwest or west, because you need a lot of sunlight," Sattui said.
Napa Valley has been at the forefront of California winemaking since 1976. That's due to factors such as its rich volcanic soil and strong swings in temperature. It can drop as much as 40 degrees between day and night.
But the climate doesn't always work in their favor.
This year, "we had what's called shatter, where the berries split, and that took place probably in April. And then we had a real heat spell, and so it will be an early harvest and it will probably be a lighter harvest overall," Sattui said. "Every variety is different. Some varieties are a little heavier than others, but it will be a lighter harvest and an earlier harvest this year."

Wildfire season is another threat. Sattui said the smoke gets into the grapes, making them unusable for winemaking.
"We throw it away, or if we make wine, trying to salvage it, we end up selling it for vinegar," he said.
In 2020, a wildfire burned down a building where they stored reserve wine. They lost over 100,000 bottles. After that, they took precautions.
"We've organized our own fire department. We've trained them—we even have uniforms for them. We bought several fire pumps. We have a small lake up here where we can feed water into the pump. And we spent over $100,000 clearing out a lot of brush, dead trees around the castle, so we think we're pretty prepared," he said.
They're currently rebuilding the structure and recovering from their losses. But the costs that go into fire safety and other pursuits are not a primary concern for Sattui.
"Whatever I touch, I want it to be the best it could possibly be," he said. "So I try to buy the best equipment. We have a great winemaker named Brooks Painter—and Peter Velleno—the two winemakers we have. And so we have really good vineyards. We're devoted to making the best possible wines we can."
The castle vineyard also sells grape juice. Except for a little bit of sulfur, there are no additives.
Wine tasting tours are available with online reservations.