Israel Folau reportedly offered to make a public apology in May over his controversial social media post and acknowledged that it could have been offensive to some people, court documents filed by Rugby Australia claim, according to reports.
According to news.com.au, court documents filed by Rugby Australia on Sept. 20 showed that in May, at a Rugby Australia tribunal hearing about Folau's alleged "high-level" breach of contract, Folau acknowledged that his comments were not aligned with Rugby Australia's code of conduct.
"Mr. Folau, in his evidence [before the tribunal], conceded that people who are homosexual, or who had a homosexual friend or a child struggling with homosexuality, may have been offended by the 2019 Instagram post and that he understood that at the time of making it," Rugby Australia said in its defence filed on Sept. 20, reported news.com.au.
Rugby Australia also claims that Folau acknowledged that as a result of his social media post, transgender people may have been offended, and that some Rugby Australia stakeholders may have felt uneasy to associate their brands with the rugby union governing body.
"Mr. Folau, in his evidence, offered to make a public apology for the 2019 posts," Rugby Australia said in the court documents, according to The Australian.
The paper also reported that Rugby Australia said Folau had indicated that he would refuse to take down the social media posts if he was directed to do so by Rugby NSW or Rugby Australia, but that going forward, his social media posts could be subject to prior approval by Rugby Australia.
"Mr. Folau submitted that the specific nature of the 2019 posts and Mr. Folau's 'right' to make such posts were matters about which the community and public opinion was divided," Rugby Australia claimed, reported The Australian.
Contract Terminated Over 'Homophobic' Post
The 30-year-old Folau had his four-year, AU$1.25 million ($866,000) per year Rugby Australia contract terminated in May after a social media post citing the Bible was deemed by some as homophobic.
Folau, a Christian, had uploaded an image referencing 1 Corinthians 6:9 to Instagram, which stated that drunks, homosexuals, adulterers, liars, fornicators, thieves, atheists, and idolaters would go to hell unless they repented.
His post was ruled by Rugby Australia's independent, three-person code of conduct panel to be a "high level" breach and his employment contract, signed in 2018, was terminated.
Unfair Dismissal Claim
Shortly after the panel's ruling, Folau on June 6 lodged an unfair dismissal claim with the state's Fair Work Commission, saying that Rugby Australia and Rugby NSW had sacked him for his religious beliefs. Folau asserted that his dismissal was unlawful and breached Section 772 of the New South Wales Fair Work Act, which states that it is unlawful to terminate employment on the grounds of ­religion.
Representatives from both parties met at the Fair Work Commission on June 28 for a mediation hearing—the first formal step in the unfair dismissal case.
In a video posted on his website before the meeting, Folau said he hoped Rugby Australia would accept his termination was unlawful and reach an agreement about how to fix the "mistake."
"I am hoping for an apology from Rugby Australia and an acknowledgment that even if they disagree with my views, that I should be free to peacefully express my religious beliefs without fear of retribution or exclusion," he said at the time.
Folau said on June 27 that Rugby Australia had offered him money to remove the post at the centre of the dispute, and he had declined because sharing the Bible was one of his duties as a Christian.
But Rugby Australia said Folau's assertion was "completely untrue" and it never offered him money to remove the posts.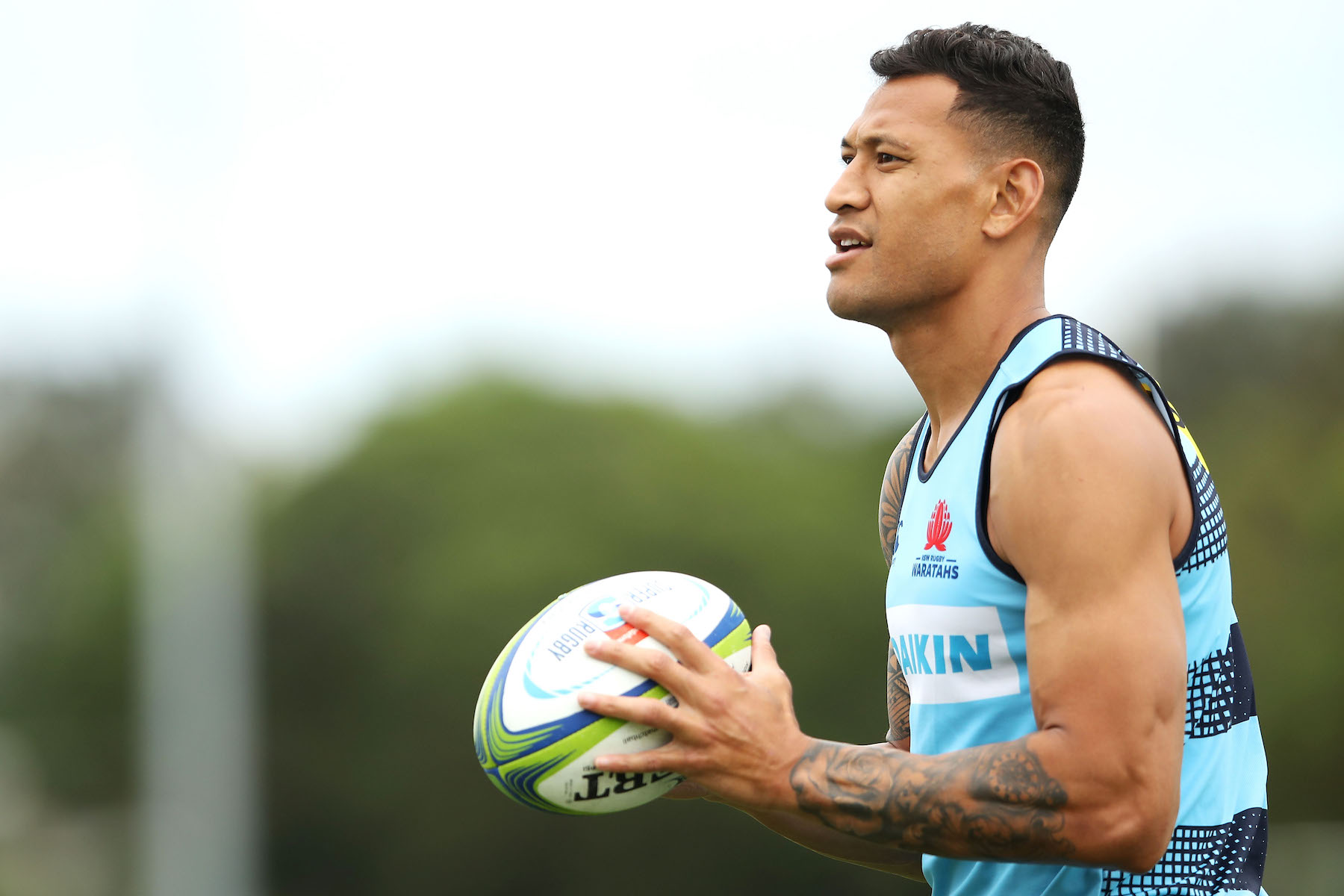 Trial in February 2020
After a failed settlement between the two parties, Folau is seeking up to $10 million in damages from Rugby Australia and the NSW Waratahs for unlawful termination under the Fair Work Act. He is also seeking a reinstatement of his contract and an apology. The case is set for trial in February next year.
In its defence, Rugby Australia said that Folau's expressions of faith had always been supported, "provided that these were done in a respectful and inclusive manner."
"Rugby Australia's objection to the posts at issue was not their religious content but rather their tone and attributes," the defence said, according to AAP.
The NSW Waratahs filed their defence on Sept. 25. According to The Australian, the Super Rugby franchise said that it and Rugby Australia had spoken to Folau in April 2018 when he posted what they called a "similarly homophobic" social media post, and they were assured by Folau that he understood that his conduct could not be tolerated.
"It was of concern to [the Waratahs] that [Folau] continued, unrepentantly, to assert an entitlement to express homophobic views on an Instagram feed reaching many hundreds of thousands of rugby followers," the Waratahs said in its defence, according to AAP.
They also said that Folau's termination does not stop him playing other sporting codes professionally, including internationally.
Folau is hoping to make a return to international rugby in October, with a bid to play for Tonga in tests against Great Britain and Australia.
Australian Rugby League Chairman Peter Beattie has already ruled out Folau making a return to league in Australia but the International Federation is expected to discuss his return on Sept. 26.
Epoch Times reporter Isabel van Brugen and AAP contributed to this report